Analysis
Refurbished medical equipment market is expected to witness a significant growth in the coming five years owing to the large patient population base coupled with increasing chronic diseases ( Cancer, cardiovascular diseases and etc.) globally. For example; as per the International Cardiovascular Disease Statistic; it's been projected that by 2020, chronic diseases will account for almost three-fourths of all deaths. 71% of deaths due to ischemic heart disease, 75 percent due to stroke and 70% due to diabetes will occur in developing countries, 60 percent of the burden of chronic diseases will occur in developing countries and cardiovascular disease is now more numerous in India and China than in all economically developed countries in the world added together. So the medical institutions and healthcare professionals must ensure that their medical equipment meets the needs of every patient. New medical equipment can cost thousands and thousands of dollars. So to meet the demand and to provide patients with the best quality of care possible, refurbished medical equipment are becoming so popular.
Increasing incidences of cardiovascular diseases (CVD) and other chronic diseases, development of better healthcare infrastructure and more efficient healthcare technologies are some of the driving factors for the growth in this market in coming five years. In addition, the benefits of refurbished medical equipment such as cost-effectiveness and increased successful outcomes are expected to foster the growth in this market. Furthermore, increasing number of partnerships and agreements among original equipment manufacturers and third-party refurbishes. However, lack of awareness about the benefits of refurbished medical equipment is expected to hamper the growth in this market. In spite of these barriers, emerging markets in developing regions can be an opportunity in this market.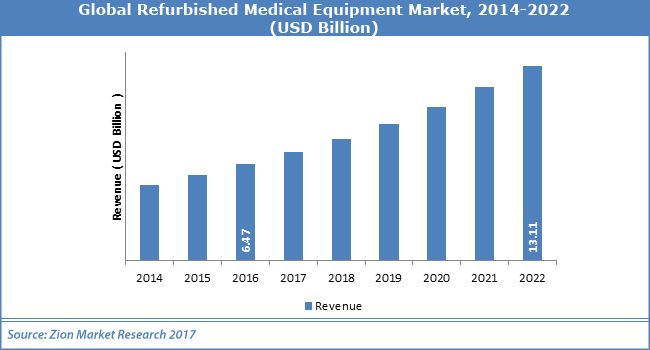 The global market for refurbished medical equipment is segmented on the basis of product and region. On the basis of product, the global market for refurbished medical equipment can be categorized into; operating room equipment & surgical equipment, patient monitors, medical imaging equipment, defibrillators, cardiovascular & cardiology equipment, neurology equipment, endoscopy equipment, intensive care systems, neonatal intensive care systems, iv therapy systems, and other equipments. This segment is expected to dominate by the patient monitor equipment by accounting for the largest share in the market owing to increasing awareness about chronic diseases and technological advancements to develop more innovative products.
In terms of geography, refurbished medical equipment market can be segmented into North America, Europe, Asia Pacific, Latin America and the Middle East and Africa with its further bifurcation into major countries including China, Japan, India, U.S. Germany, France, UK, and Brazil. North America is anticipated to dominate the refurbished medical equipment market by capturing the largest market share within the forecast period owing to the increasing geriatric population coupled with the increasing incidences of chronic diseases. For example, U.S. Census Bureau, 2013, in North America, population aged 65 and over is projected to reach 20.7% by 2030 and 21.4% by 2050 of the total world population. Europe is expected to follow the North America in this market within the forecast period. Refurbished medical equipment market of Europe is undergoing tremendous changes with increasing expenditure for healthcare infrastructure.
Asia Pacific is expected to witness the fastest growth with the highest CAGR in the coming five years. Major driving factors in this region are increasing medical expenditure and raising awareness about refurbished medical devices. Latin America and Middle East & Africa are expected to show a healthy market growth for refurbished medical equipment within the forecast period. Especially in Brazil, the high growth rate in the over-60 population over the next 15 years and increasing prevalence of chronic diseases are expected to fuel the market growth in this market.
Some of the key players of refurbished medical equipment market such as Philips Healthcare, GE Healthcare, Siemens Healthineers, Agito Medical A/S, DRE Medical, Inc., Block Imaging International, Inc., Radiology Oncology Systems, Inc., Soma Technology, Inc., Everx Pvt Ltd. and Integrity Medical Systems, Inc. among others.