Reclaimed Rubber Market Overview
The global Reclaimed Rubber market accounted for USD 2.5 Billion in 2020 and is expected to reach USD 5.6 Billion by 2028, growing at a CAGR of around 10.5% between 2021 and 2028.
Reclaim rubber used as a substitute for natural & synthetic rubber. Reclaim rubber from a scrap of whole tires; tread peelings, natural rubber tubes used for different applications both for tires and on tires rubber products. Reclaiming or recycling is the widest spread method allowing fractional recycling and use of waste rubber. The common principle of the most existing methods of reclaiming is the destruction of turgid vulcanized rubber or thermal-oxidative.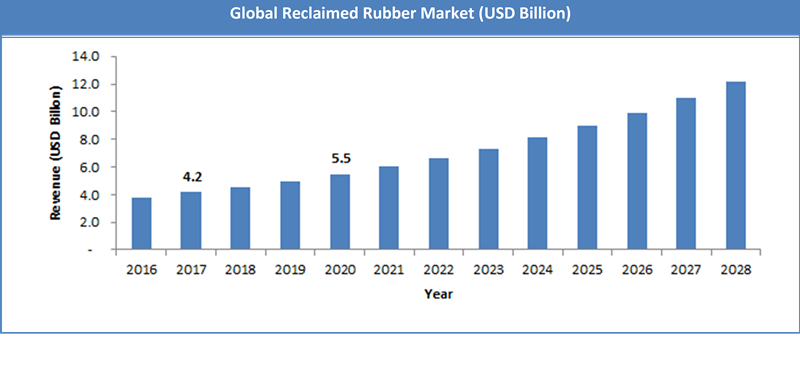 Request Free Sample
Reclaim rubber finds an array of application such as automotive and aircraft tires, footwear, cycle tires, molded rubber goods, belts and hoses, retreading.
COVID-19 Impact Analysis:
Due to government-imposed lockdowns to prevent the spreading of COVID, the global Reclaimed Rubber industry has seen a small decrease in revenues in the short term. Because of the increasing infections and curbs, sales of rubber are likely to suffer across the globe. Owing to the pandemic, paints & coatings, adhesives, composites, and electronic encapsulation industries have been shut down across all economies, potentially reducing the production and its usage. However, in the midst of the pandemic, there has been a surge in product demand for applications such as paints and coating, and polymers, which in turn, provides an opportunity post covid.
The significant decrease in the global Reclaimed Rubber market size in 2020 is estimated on the basis of the COVID-19 outbreak and its negative impact on the economies and industries across the globe. Various scenarios have been analyzed on the basis of inputs from various secondary sources and the current data available about the situation.
Growth Factors
Increasing preference for self-administered pen injectors, Reclaimed Rubber, and auto-injectors is also claimed to bolster the Reclaimed Rubber market. Furthermore, Reclaimed Rubber provide various advantages such as accurate dosing, ease of administration, and lowered risk of contamination. There are various advantages of Reclaimed Rubber in comparison to traditional delivery systems such as accurate dosing, improved safety, reduced risk of contamination, and ease of administration. These benefits from the groundwork for the success of Reclaimed Rubber and are expected to continue boosting the Reclaimed Rubber market in the years to come. On the other hand, the attendance of optional means of drug delivery and the high price related with the manufacturing of Reclaimed Rubber might hamper the growth of the Reclaimed Rubber market in the coming years.
Report Scope:
Report Attributes
Report Details
Report Name
Reclaimed Rubber Market Size Size Report
Market Size in 2020
USD 2.5 Billion
Market Forecast in 2028
USD 5.6 Billion
Compound Annual Growth Rate
CAGR of 10.5%
Number of Pages
174
Forecast Units
Value (USD Billion), and Volume (Units)
Key Companies Covered
GRP (Gujarat Reclaim & Rubber Product Ltd.), J. Allcock & Sons, Rolex Reclaim Pvt. Ltd., Sun Exims (India) Pvt. Ltd., Huxar Reclamation, Star Polymers, Genan, Titan International Ltd., Balaji Rubber Reclaim, Swani Rubber Industries
Segments Covered
By Type,By end-user, And By Region
Regions Covered
North America, Europe, Asia Pacific (APAC), Latin America, Middle East and Africa (MEA)
Countries Covered
North America: U.S and Canada
Europe: Germany, Italy, Russia, U.K, Spain, France, Rest of Europe
APAC: China, Australia, Japan, India, South Korea, South East Asia, Rest of Asia Pacific
Latin America: Brazil, Argentina, Chile
The Middle East And Africa: South Africa, GCC, Rest of MEA
Base Year
2021
Historical Year
2016 to 2020
Forecast Year
2022 - 2030
Customization Scope
Avail customized purchase options to meet your exact research needs. Request For Customization
Segment Analysis Preview
On the basis of Product, Reclaimed Rubber market has been divided as Whole Tire Reclaim (WTR) and Butyl Reclaim. Whole Tire Reclaim (WTR) segment held the major share in the market. Whole Tire Reclaim was the most popular segment until recently when the introduction of new elastomer-based nitrile and silicon tires corroded its market share.
On the basis of Application, the market is segmented into Automotive & Aircraft Tires, Cycle Tires, and Belts & Hoses. Automotive & Aircraft Tires dominated the Reclaimed Rubber industry in 2020, accounting for almost 44.2% of total Reclaimed Rubber sales.
Regional Analysis Preview
Asia-Pacific was the largest market for reclaimed rubber in 2020 and is expected to continue being a major market during the forecast period. It accounted for more than 62% share of the total revenue of reclaimed rubber market. The growth in the region is mainly attributed to the growing industrial manufacturing activities. Developed countries are expected to witness growth at below-average rates as compared to other regions across the globe. However, rebounding rubber market coupled with recovery in the automobile sector is expected to drive reclaimed rubber consumption in North America & Europe.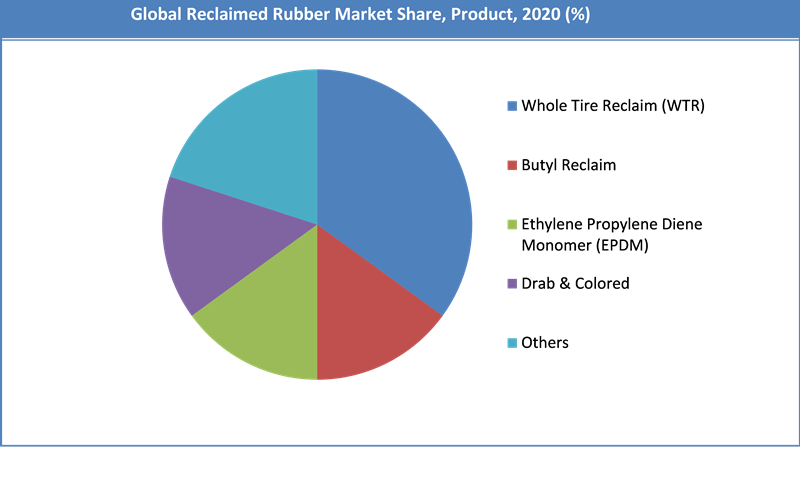 Request Free Sample
Key Market Players & Competitive Landscape
The major players operating Reclaimed Rubber market are GRP (Gujarat Reclaim & Rubber Product Ltd.), J. Allcock & Sons, Rolex Reclaim Pvt. Ltd., Sun Exims (India) Pvt. Ltd., Huxar Reclamation, Star Polymers, Genan, Titan International Ltd., Balaji Rubber Reclaim, Swani Rubber Industries, and Michelin among others.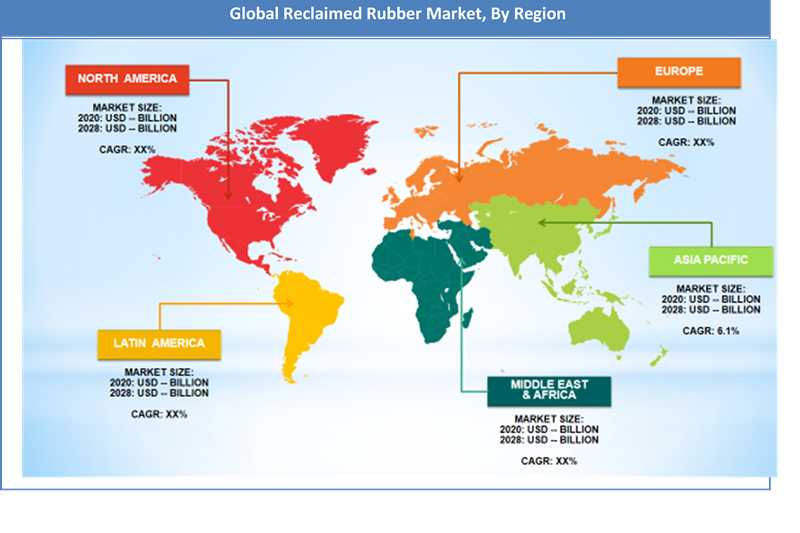 Request Free Sample
The global Reclaimed Rubber Market is segmented as follows:
By Product
Whole Tire Reclaim (WTR)
Butyl Reclaim
Ethylene Propylene Diene Monomer (EPDM)
Drab & Colored
Others
By Application
Automotive & Aircraft Tires
Cycle Tires
Belts & Hoses
Footwear
Molded Rubber Goods
Others
By Region
North America
Europe

France
The UK
Spain
Germany
Italy
Rest of Europe

Asia Pacific

China
Japan
India
South Korea
Southeast Asia
Rest of Asia Pacific

Latin America

Brazil
Mexico
Rest of Latin America

Middle East & Africa

GCC
South Africa
Rest of Middle East & Africa