The report analyzes and forecasts the aircraft tires market on a global and regional level. The study offers historical data from 2016 to 2018 along with a forecast from 2018 to 2025 based on revenue (USD Billion) and volume (K Units). The assessment of aircraft tires market dynamics gives a brief insight into the drivers and restraints of the aircraft tires market along with their impact on the demand in the years to come. Additionally, the report also includes the study of opportunities available in the aircraft tires market on a global level.
The report gives a transparent view of the aircraft tires market. We have included a detailed competitive scenario and portfolio of leading vendors operating in the market. To understand the competitive landscape in the market, an analysis of Porter's Five Forces model for the market has also been included. The study encompasses a market attractiveness analysis, wherein all the segments are benchmarked based on their market size, growth rate, and general attractiveness.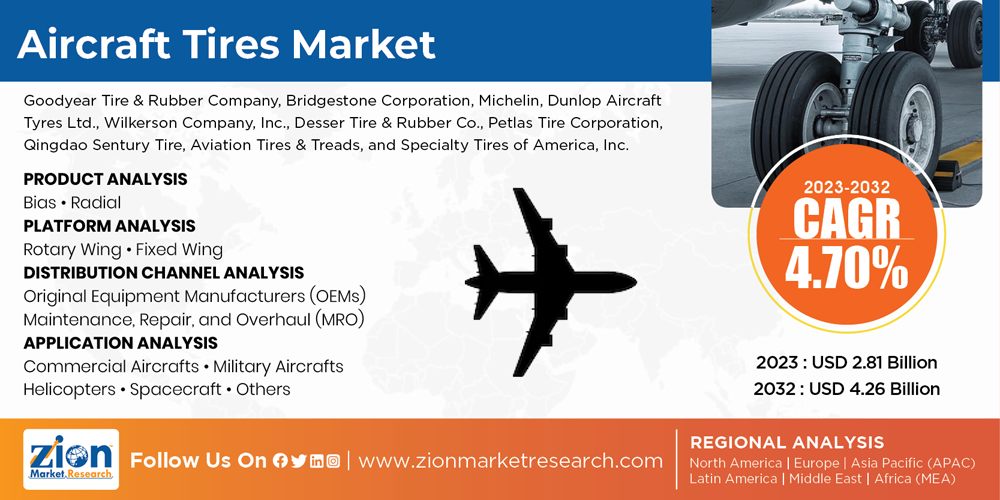 Request Free Sample
The study provides a crucial view of the aircraft tires market based on the product, platform, distribution channel, application, and region. All the segments have been analyzed based on present and future trends and the market is estimated from 2019 to 2025. The regional segment comprises the current and forecast demand for the Middle East and Africa, North America, Asia Pacific, Latin America, and Europe.
Some major players of the global aircraft tires market are Goodyear Tire & Rubber Company, Bridgestone Corporation, Michelin, Dunlop Aircraft Tyres Ltd., Wilkerson Company, Inc., Desser Tire & Rubber Co., Petlas Tire Corporation, Qingdao Sentury Tire, Aviation Tires & Treads, and Specialty Tires of America, Inc.
This report segments the global aircraft tires market into:
Global Aircraft Tires Market: Product Analysis
Global Aircraft Tires market: Platform Analysis
Global Aircraft Tires Market: Distribution Channel Analysis
Original Equipment Manufacturers (OEMs)
Maintenance, Repair, and Overhaul (MRO)
Global Aircraft Tires market: Application Analysis
Commercial Aircrafts
Military Aircrafts
Helicopters
Spacecraft
Others
Global Aircraft Tires market: Regional Analysis
North America
Europe
Asia Pacific
Latin America
Middle East and Africa