Industry Prospective:
The global Hybrid Aircraft market was worth around USD 839.50 million in 2021 and is estimated to grow to about USD 1392.496373 million by 2028, with a compound annual growth rate (CAGR) of approximately 8.80 percent over the forecast period. The report analyzes the Hybrid Aircraft market's drivers, restraints/challenges, and the effect they have on the demands during the projection period. In addition, the report explores emerging opportunities in the Hybrid Aircraft market.
Hybrid Aircraft Market: Overview
A hybrid aircraft has fixed wings and is powered by a motor. Long-distance flights are best served by hybrid aircraft, whereas heavy-lift applications are best served by rotary wings. The primary source of power for hybrid aircraft is electricity. These aircraft, on the other hand, demand a lot of power during take-off and ascension, which can be balanced by the energy produced. Turbine generators create minimal noise, and these aircrafts can use the excess power to replenish the onboard batteries using hybrid power. A hybrid engine is coupled to an electric generator, which creates electricity and feeds it to the plane during periods of peak power demand.
Factors contributing to the growth of the hybrid aircraft market is fueled by an increase in defense spending in advanced emerging economies, a rise in geopolitical tensions, and a surge in demand for lower-emission aircraft in developed economies. The aviation sector is facing economic issues, and the high production and maintenance costs of hybrid aircrafts are stifling the market's growth. The hybrid aircraft market will benefit from an increase in demand for energy conservation and environmental protection, as well as the adoption of electric propulsion technologies.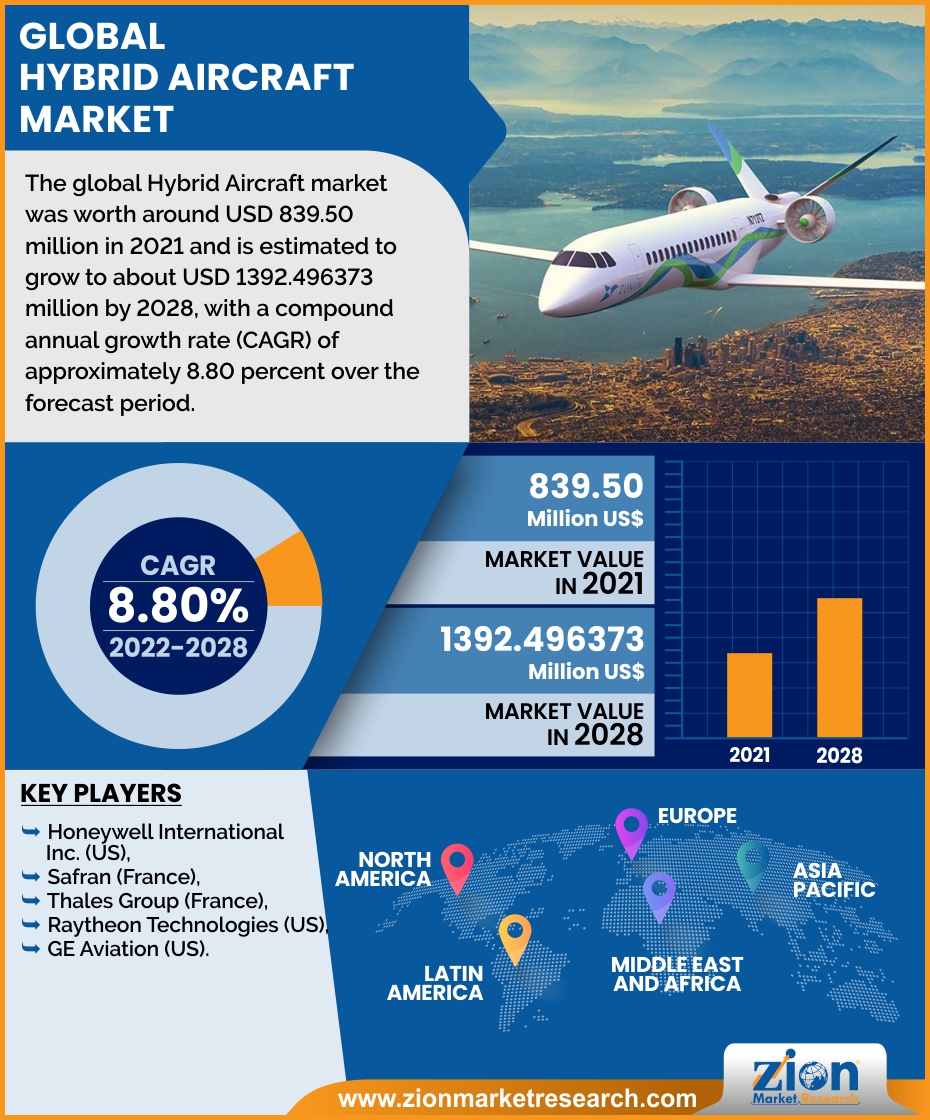 Request Free Sample
COVID-19 Impact:
As a result of the COVID-19 epidemic, several governments have declared complete or partial lockdowns. The lockdown has had an impact on many enterprises, especially those regarded as non-essential, such as the aviation and defence industries. COVID-19's spread and the aviation industry's response have resulted in a historic decline in worldwide air traffic. Furthermore, commercial air traffic plummeted in March 2019 when various countries around the world implemented limits on air travel, significantly reducing demand for hybrid aircrafts. VID-19 is a global public health concern that has impacted practically every industry, with long-term implications that are projected to impede hybrid aircraft market growth over the forecast period.
Hybrid Aircraft Market: Growth Drivers
Drivers: Growing need for airplanes that are cleaner and quieter.
With the growing size of the global aircraft fleet and increased air travel, pollution levels are likely to climb even more. As a result, there is a desire for electric aircraft, which will aid in the reduction of carbon emissions. Organizations and regulatory bodies such as the International Civil Aviation Organization, the Federal Aviation Administration, and the European Union Aviation Safety Agency have called for sustainable aircraft fuel alternatives, estimating that aircraft-generated emissions will triple in volume.
Restraint:
Major restraints in hybrid aircraft market are- Electric aircraft have a limited range, Electric propulsion technology's power density limitations, High voltage and thermal issues in aircraft electrical systems and Increased aircraft weight as a result of heavy batteries
Report Scope:
Opportunities: Alternative energy sources for electric power generation are becoming more prevalent.
The use of fuel cells to produce electrical generation onboard aircraft is helping companies in the aviation industry reduce pollution. Through a chemical process, fuel cells may convert chemical energy from a fuel into electricity. The use of fuel cells in aircraft electrification can help conserve fuel by generating electricity more efficiently.
Challenges: Higher-energy-density batteries are being developed.
The poor energy density of batteries is one of the most significant issues that hybrid aircraft manufacturers confront when it comes to long-distance flights. For airplane propulsion, the watt-hours per kilogram (Wh/kg) unit of measurement is often used. The energy density of contemporary lithium-ion batteries is 250 Wh/kg, which is significantly lower than the energy density of conventional jet fuel.
Global Hybrid Aircraft Market: Segmentation
The global Hybrid Aircraft market is segregated based on Component, Technology, Application and System.
By Component, the market is classified into Batteries, Fuel Cells, Solar Cells, Electric Actuators, Electric Pumps, Generators, Motors, Power Electronics and Distribution Devices. The category had a significant share in 2021 and is expected to maintain its dominance throughout the forecast period. The battery category is expected to lead the market over the forecast period. Lithium-sulfur is one of the battery technologies vying to replace lithium-ion as the next-primary generation's battery technology.
By Technology, the market is divided into the More Electric, Hybrid Electric and Fully Electric. During the forecast period, the hybrid electric category is expected to have the greatest CAGR in the aircraft electrification market. The propulsion system in hybrid electric technology is powered by both aviation fuel and electricity. For single-aisle passenger aircraft, this technique helps minimize fuel burn, energy consumption, pollutants, and noise.
Recent Developments
In February 2022, Boeing was chosen by GE Aviation to assist flying tests of their hybrid-electric propulsion system, which will be carried out on a modified Saab 340B aircraft with CT7-9B turboprop engines. Boeing and its subsidiary Aurora Flight Sciences will provide GE Aviation with airplane modification, system integration, and flight-testing services.
In December 2021, BAE Systems and Embraer Defense & Security have announced plans to collaborate on the development of Eve's electric Vertical Take-Off and Landing (eVTOL) vehicle for the defense and security industry. The joint study will build on Eve's development for the urban air transportation market, looking at how the aircraft could deliver a defense variant that is cost-effective, long-lasting, and versatile.
Regional Landscape
North America is seeing a boost in the adoption of high technology in a variety of business sectors, which is seen as a major factor driving the growth of the hybrid aircraft market. Furthermore, there is a high demand of new aircraft in this region. The region's research and development of next-generation aircraft is accelerating, which is likely to increase demand for hybrid in the future years. The growing upcoming projects and emergence of startups in aviation industry are additional factors for growth of hybrid aircraft market.
Increased terrorism and a growing economy are expected to propel Asia Pacific's growth in the global market over the forecast period.
Competitive Landscape
Some of the main competitors dominating the global Hybrid Aircraft market include – Honeywell International Inc. (US), Safran (France), Thales Group (France), Raytheon Technologies (US), GE Aviation (US).
Global Hybrid aircraft market is segmented as follows:
By Component
Batteries
Fuel Cells
Solar Cells
Electric Actuators
Electric Pumps
Generators
Motors
Power Electronics
Distribution Devices
By Technology
More Electric
Hybrid Electric
Fully Electric
By Application
Power Generation
Power Distribution
Power Conversion
Energy Storage
By Platform
Fixed Wing
Rotary Wing
Unmanned Aerial Vehicles (UAVs)
Advanced Air Mobility
By System
Propulsion System
Environmental Control System
Landing Gear System
Ice Protection System
Flight Control System
Thrust Reverser System
By Region
North America
Europe

France
The UK
Spain
Germany
Italy
Rest of Europe

Asia Pacific

China
Japan
India
South Korea
Southeast Asia
Rest of Asia Pacific

Latin America

Brazil
Mexico
Rest of Latin America

Middle East & Africa

GCC
South Africa
Rest of Middle East & Africa