Free Analysis
Reclaimed rubber is cured via a thermo-chemical process. This process softens and swells the rubber. The viscosity of the rubber is reduced by shortening the polymer chain by mechanical shear and chemical action. Reclaimed rubber is available in a variety of quality grades and smoothness. Reclaimed rubber has several advantages, including a faster mixing cycle and improved die swell. Reclaim rubber is an innovative and cost effective alternative to natural rubber and synthetic rubber.
The global market for reclaimed rubber is expected to grow at significant rate in the forecast period. Increasing consumer awareness regarding environment-friendly materials with lower processing costs & enhanced properties are the major factors driving the growth of the reclaimed rubber market globally. Furthermore, rising rubber costs, increasing concerns about the damage caused to the environment because of dumping used rubber in rivers, and greater energy efficiency has contributed largely to market growth in recent years. However, the emergence of innovative elastomer-based products may hamper the market growth in near future.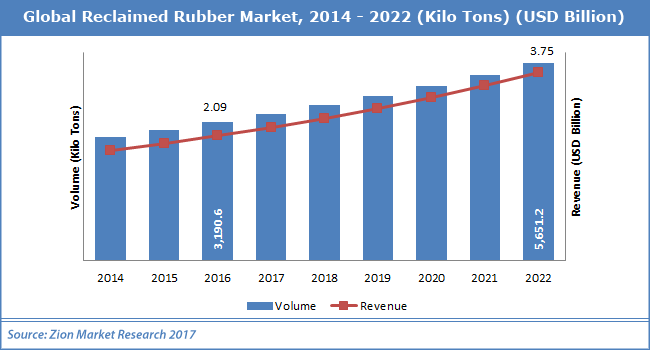 Global reclaimed rubber market has been segmented on the basis of product, application, and region. On the basis of product, reclaimed rubber market is classified into WTR, butyl reclaim, EPDM, drab & colored, and others. WTR rubber is the most dominant product, accounting for a major market share in 2016. However, the demand of EPDM is anticipated to increase in the coming years owing to technological advancements that have contributed largely to improved product properties and greater sustainability.
Reclaimed rubber finds application in automotive & aircraft tires, cycle tires, retreading, belts & hoses, footwear, and molded rubber goods among others. In 2016, automotive & aircraft tires segment dominates the reclaimed rubber market. Rising awareness about the cost-effective and eco-friendly alternatives for virgin rubber is expected to drive the demand for reclaimed rubber in the automotive sector. The growth of the global footwear industry has also contributed to growth in the reclaim footwear market due to high consumption in heels, soles and inner linings.
In 2016, Asia-Pacific held the largest share of the reclaimed rubber market. This growth is mainly attributed to the huge domestic market, availability of cheap and skilled workforce and rapid industrial development. Additionally, fast-expanding automotive and aerospace industry, especially in China, Thailand, and India is expected to boost the market in the forecast period. The growth for reclaimed rubber is expected to be slower in North America and Europe region due to a ban on landfills in this regions.
The key players of global reclaimed rubber market include GRP (Gujarat Reclaim & Rubber Product Ltd.), Star Polymers, J. Allcock & Sons, Huxar Reclamation, Rolex Reclaim Pvt. Ltd., Genan, Sun Exims (India) Pvt. Ltd., Titan International Ltd., Balaji Rubber Reclaim, Swani Rubber Industries, Michelin and among others.