Market Overview
The Rainwater Harvesting System Market accounted for USD 1,811 Million in 2020 and is expected to reach more than USD 3,343 Million by 2028, growing at a CAGR of 8.6% from 2021 to 2028.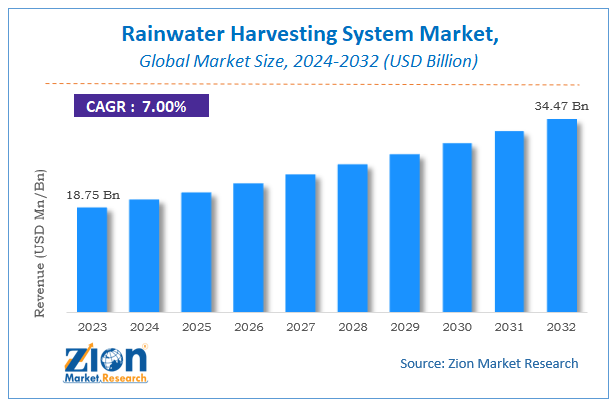 Request Free Sample
Rainwater harvesting system collects and stores rainwater for human use. Rainwater harvesting systems range from simple rain barrels to more elaborate structures with pumps, tanks, and purification systems. The non-potable water can be used to irrigate landscaping, flush toilets, wash cars, or launder clothes, and it can even be purified for human consumption. With water scarcity a pressing problem for many densely populated regions, rainwater harvesting systems can supply households and businesses with water for use in dry seasons and lessen the demand on municipal systems.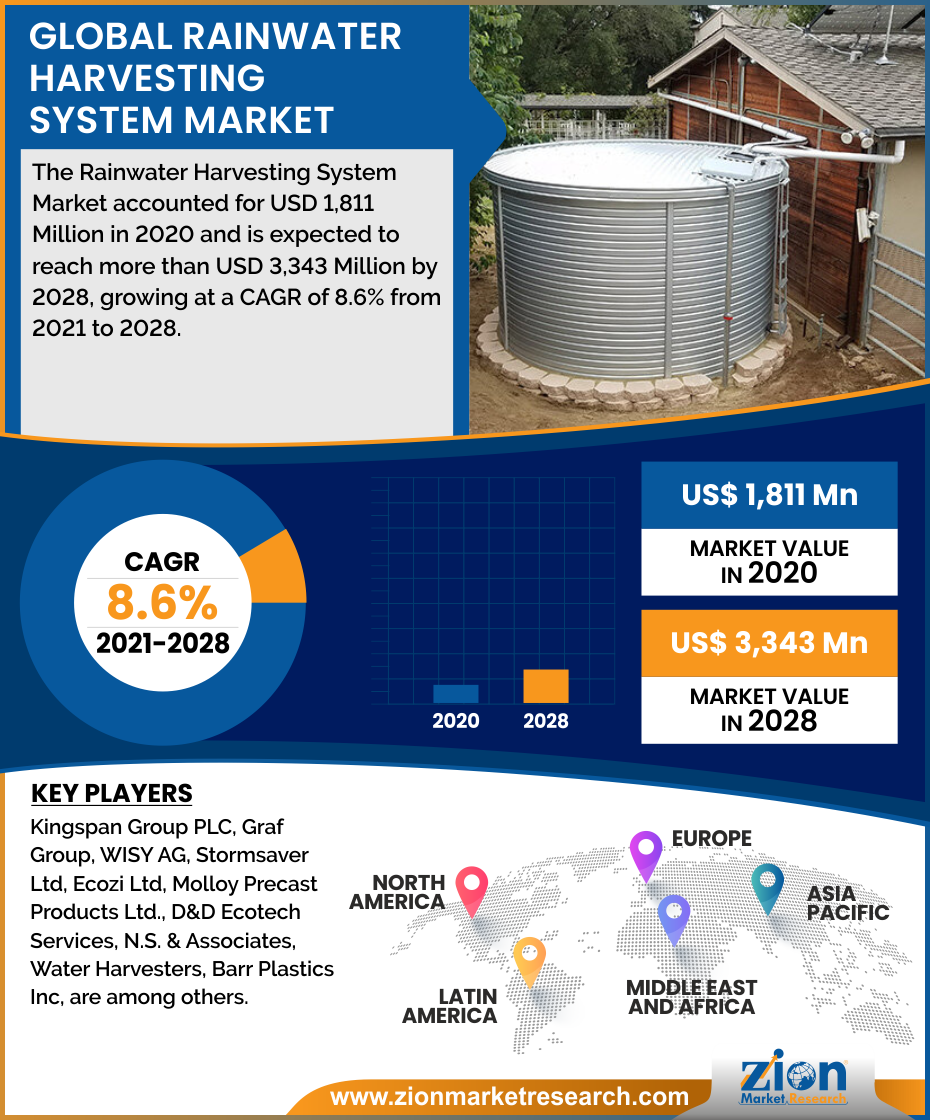 Request Free Sample
COVID-19 Impact Analysis
In an era of the COVID-19 pandemic, the Water Supply, Sanitation and Hygiene (WASH) sector is gaining much more (deserved) attention due to its importance in containing and mitigating the spread of the deadly virus. However, rain water harvesting system market did not witness any negative impact in term of growth perspective. The market continued experiencing steady growth as earlier year.
In fact, the market witnesses a significant growth in the demand for rain water harvesting system in some part of the world especially in Asia Pacific and Europe. The growth is primarily driven by the growing awareness among end-users regarding the spread of the infection through river and other water bodies. This has encouraged people to start harvesting rain water for daily use and gardening. In some of the Indian state including Karnataka and Kerala, people have started installing rooftop rain harvesting system due to scarcity of water and meet the water demand in the future due to depleted ground water level and shortage in the supply of municipal water.
Growth Factors
Emerging economies are late adopters when it comes to innovation and technology. Rapid industrialization and urbanization have increased the demand for a range of products that efficient, cost-effective, and time-efficient. In addition to this, the global market is 7witnessing strong demand for various raw material required in the construction industry such steel, cement, glass, building block, steel joist, chemicals, paper, and ceramics, among others. Construction workers rely on Rainwater Harvesting Systems to carry and transport heavy building materials to certain distances and even on rough terrain. In construction sites, Rainwater Harvesting Systems serve both as lifting equipment and a vehicle. Rainwater Harvesting Systems are best used in unloading pallets of blocks/bricks, steel joists, and construction equipment and materials, especially in hauling them from the delivery truck and carrying them to the site.
Rainwater Harvesting System Market Report Scope :
Report Attributes
Report Details
Report Name
Rainwater Harvesting System Market Research Report
Market Size in 2020
USD 1,811 Million
Market Forecast in 2028
USD 3,343 Million
Compound Annual Growth Rate
CAGR of 8.6%
Number of Pages
183
Forecast Units
Value (USD Billion), and Volume (Units)
Key Companies Covered
ICI Services Corporation, Lockheed Martin Corporation, Leonardo-Finmeccanica, Raytheon Company, Thales Group, Elbit Systems Ltd, DCS Corporation, Qinetiq Group, Saab AB and BAE Systems
Segments Covered
By Type, By End-user and By Region
Regions Covered
North America, Europe, Asia Pacific (APAC), Latin America, Middle East and Africa (MEA)
Countries Covered
North America: U.S and Canada
Europe: Germany, Italy, Russia, U.K, Spain, France, Rest of Europe
APAC: China, Australia, Japan, India, South Korea, South East Asia, Rest of Asia Pacific
Latin America: Brazil, Argentina, Chile
The Middle East And Africa: South Africa, GCC, Rest of MEA
Base Year
2022
Historical Year
2018 - 2022
Forecast Year
2023 - 2030
Customization Scope
Avail customized purchase options to meet your exact research needs. Request For Customization
Type Segment Analysis Preview
Type segment held a substantial share in 2020. By system, the market is categorized into land-based harvesting and roof-based harvesting. Wherein, land-based harvesting is holding the largest market share. In arid and semi-arid regions of the world, water is the limiting factor for food production; especially in areas where rain-fed agriculture dominates. Rainwater harvesting systems have the potential to provide a sustainable source of water, while helping to achieve food security, combat soil erosion and flood hazards, simultaneously, if designed correctly.
These systems can also be used for storm water management and flood control in areas with a high and unpredictable rainfall rate. Additionally, they can be applied as an erosion control mechanism. However, in spite of their potential, the implementation of these techniques is not as widely distributed amongst farmers as it should be, due to a lack of technical know-how, socio-economic and policy factors, as well as a lack of community participation in the development and implementation of occurring projects.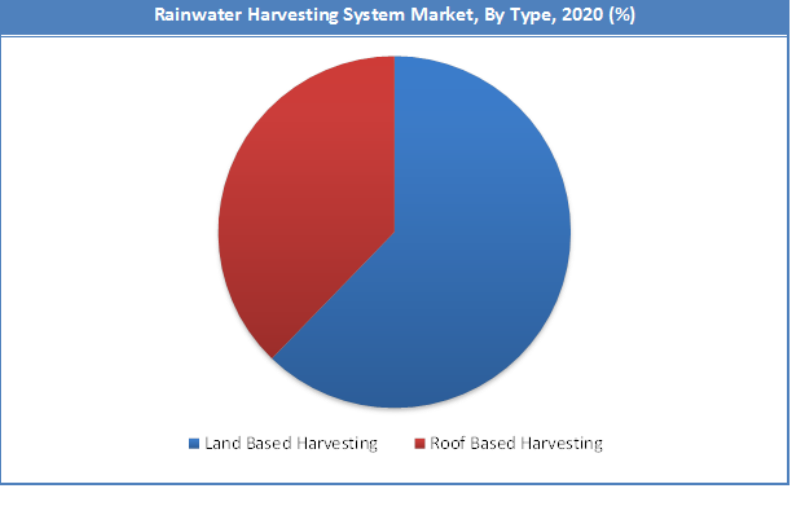 Request Free Sample
End User Segment Analysis Preview
By end use, the global rain water harvesting market is segmented into industrial, commercial and residential. Wherein, the commercial segment is dominating the market on account of largescale adoption of complex harvesting systems. Two types of rain water harvesting systems namely rooftop and ground systems are used for residential applications, wherein, roof top segment holds the major market share. The commercial use of rainwater harvesting systems is intended to using the harvested water for non-potable purposes (though, the businesses may use the system for obtaining drinking water too).
Regional Analysis Preview
By region, the global rain water harvesting system market is segmented into Europe, North America, Asia Pacific, Middle East, and Latin America. Wherein, Europe is holding the largest market share.
Europe has emerged as the largest market for rainwater harvesting system on account of widescale adoption of the rainwater harvesting. In addition to this, several countries in the Europe have made it mandatory to install such systems, especially in commercial building and industrial places to counter the problem of freshwater shortage. On the other hand, Asia Pacific is projected to continue growing at the fastest CAGR as result of rapidly growing efforts from state and federal governments. In addition to this, several countries in the region are already facing water crises, which have compelled them to utilize most advanced systems for harvesting rainwater, especially in Singapore, Thailand, the Philippines, and China.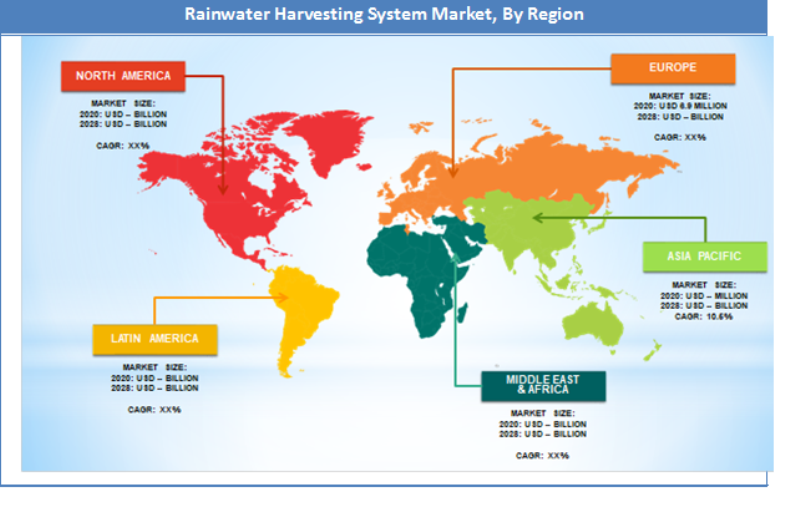 Request Free Sample
Key Market Players & Competitive Landscape
Some of key players in Rainwater Harvesting System Market are Kingspan Group PLC, Graf Group, WISY AG, Stormsaver Ltd, Ecozi Ltd, Molloy Precast Products Ltd., D&D Ecotech Services, N.S. & Associates, Water Harvesters, Barr Plastics Inc, are among others.
The Rainwater Harvesting System Market is segmented as follows:
By Type
Land-Based Harvesting
Roof-Based Harvesting
By End-user
Residential
Commercial
Industrial
Others
By Region
North America
Europe

France
The UK
Spain
Germany
Italy
Rest of Europe

Asia Pacific

China
Japan
India
South Korea
Southeast Asia
Rest of Asia Pacific

Latin America

Brazil
Mexico
Rest of Latin America

Middle East & Africa

GCC
South Africa
Rest of Middle East & Africa