Quantum Technology Industry Prospective:
The global quantum technology market size was worth around USD 875.49 million in 2022 and is predicted to grow to around USD 4312.09 million by 2030 with a compound annual growth rate (CAGR) of roughly 22.06% between 2023 and 2030.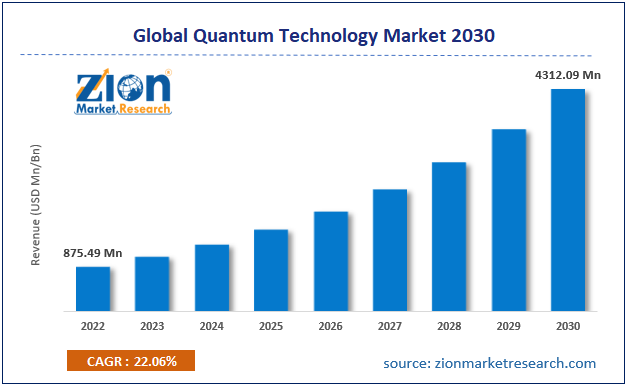 Request Free Sample
Quantum Technology Market: Overview
Quantum technology is an upcoming and promising class of advanced technology that works on the core principles of ground-breaking concepts of quantum mechanics. The technologies included in quantum-based innovations include quantum superposition and entanglement. Quantum mechanics deals with the mathematical description of the interaction & motion of subatomic particles and includes concepts of wave–particle duality, quantization of energy, correspondence principle, and the uncertainty principle. Quantum concepts are relatively new for the science community as researchers continue to learn about quantum technologies and the best possible ways to harness them for developing live applications. Field experts conclude that quantum technologies are expected to deliver exceptional performance in the coming years as the interest of global economies continues to grow. It has applications in several fields including cryptography, chemistry, computing, imaging, simulation, and others. The four main domains of quantum technology include quantum sensing & meteorology, quantum computation, quantum communication, and quantum simulation.
Key Insights:
As per the analysis shared by our research analyst, the global quantum technology market is estimated to grow annually at a CAGR of around 22.06% over the forecast period (2023-2030)
In terms of revenue, the global quantum technology market size was valued at around USD 875.49 million in 2022 and is projected to reach USD 4312.09 million, by 2030.
The quantum technology market is projected to grow at a significant rate due to the growing use of highly advanced quantum computers in research and space exploration
Based on end-user segmentation, banking & finance was predicted to show maximum market share in the year 2022
Based on applications segmentation, computing was the leading segment in 2022
On the basis of region, North America was the leading revenue generator in 2022
Quantum Technology Market: Growth Drivers
Growing use of highly advanced quantum computers in research and space exploration activities to drive market growth
The global quantum technology market is expected to grow due to the increasing use of supercomputers powered by quantum concepts and technologies for several research purposes including space exploration. A quantum computer can run multi-dimensional quantum algorithms using qubits. Although these computers are not as widely commercially available as traditional computers, the investments in the development of quantum computers have increased significantly in the past few years. These computers are equipped with technology that can solve the world's most complex and unsolved science-based problems. Furthermore, their applications are not limited to only space exploration events but extend to other growing industries as well.
In June 2023, IBM, a global technology company and a significant player in the quantum technology industry, announced a new breakthrough. The company, for the first time, demonstrated that quantum computers are capable of producing accurate results at a scale of 100+ qubits. This discovery shows the tremendous potential of quantum computers in solving problems far beyond the capacities of other currently available and leading approaches. IBM successfully demonstrated that quantum computers learn and mitigate errors in the system thus outperforming leading classical simulations. In November 2022, IBM launched the world's most powerful supercomputer equipped with 433 qubits. As per industry projections, the world is nearing a period in which quantum computers will be able to speed up certain calculations a million times faster than the latest and fastest supercomputers.
Quantum Technology Market: Restraints
Limited supporting infrastructure and lack of technical experts to restrict market growth
The global quantum technology market growth is projected to be limited during the projection period. Quantum technology and its corresponding sectors are in the preliminary stages of development. These technologies are regarded as world-changing systems and require significant investments in terms of supporting infrastructure including facilities for housing quantum technology devices and skilled experts that can build, maintain, and operate these advanced tools. However, in the present time, there is a large gap in the supply and availability of these essential starting resources. For instance, quantum computers and other devices must be kept in a near cryogenic environment which is difficult to achieve especially if the technologies are to be made commercially available in large quantities.
Quantum Technology Market: Opportunities
Growing demand for improving more secure data transfer and communication systems to create expansion opportunities
Quantum technologies can be leveraged to create a highly secure and impenetrable communication infrastructure. Quantum technologies work on laws of quantum physics and hence if an attempt is made to hack information being shared through quantum communication tools, the super fragile state of qubits gets affected. The shared information, in the form of qubits, will collapse into their original and definite state of either 0 or 1 leaving behind a trace of the hacking attempt. Several companies are working toward taking advantage of this attribute and creating communication networks transmitting sensitive information that cannot be altered in any way and impacting the growth rate in the global quantum technology industry.
The ongoing political tension between global countries and the rising national security threat has resulted in an urgent and inescapable need for secure networks in the defense and military sectors. In October 2023, researchers at the Indian Institute of Technology (IIT) - Delhi, achieved a monumental feat by securing quantum communication over a distance of 380 kilometers using standard fiber used in the telecom industry. The experiment showed an extremely low error rate and can be used for communicating secret codes or financial transactions through digital mediums. 380 kilometers is the longest secure length achieved globally. Furthermore, global leaders have commissioned more resources to be invested in further research and development in the field of quantum technology across sectors.
Quantum Technology Market: Challenges
Managing error correction in devices running on quantum technology is an ongoing challenge
One of the leading challenges faced by researchers working in the quantum technology industry is managing error correction in quantum technology devices. The corresponding computers, for instance, are highly susceptible to changes in their environment and the interactions can lead to significant error rates. The quality or computation may degrade resulting in an imperative need to develop significant, efficient, and reliable error mitigation techniques. Other factors such as difficulty in hardware & software development and overall expense are added growth barriers.
Quantum Technology Market: Segmentation
The global quantum technology market is segmented based on end-user, application, and region.
Based on the end-user, the global market segments are transport & logistics, banking & finance, aerospace & defense, education, IT & telecommunication, healthcare & pharmaceuticals, automotive, and others. In 2022, the highest growth was observed in the banking & finance sector driven by the growing need to secure financial transactions in the backdrop of rising cybercrimes and financial fraud. As per research, more than USD 8 billion was lost in 2022 due to financial scams and fraud. Additionally, one of the key areas of interest for quantum technology is in the field of IT & telecommunication as the industry is working toward improving data transmission speed and security.
Based on applications, the global quantum industry is fragmented into defense, Internet-of-Things (IoT), computing, sensing, supply chain logistics, cyber security, meteorology, cryptography, and others. The year 2022 was led by the computing segment as quantum computing is a crucial part of quantum technology with wide-scale applications across other sectors. These machines are capable of advanced calculation including optimization, quantum simulation, factorization, and others. Quantum computers are expensive and cost between USD 10 million to USD 15 million.
Quantum Technology Market: Report Scope
Report Attributes
Report Details
Report Name
Quantum Technology Market
Market Size in 2022
USD 875.49 Million
Market Forecast in 2030
USD 4312.09 Million
Growth Rate
CAGR of 22.06%
Number of Pages
221
Key Companies Covered
Google, IBM, Alibaba Group, D-Wave Systems, Toshiba, IonQ, Rigetti Computing, QC Ware, Microsoft, Xanadu, Honeywell Quantum Solutions, Zapata Computing, Amazon Web Services, Rigetti Computing, Intel, and others.
Segments Covered
By End-User, By Type, By Application, By Deployment, and By Region
Regions Covered
North America, Europe, Asia Pacific (APAC), Latin America, Middle East, and Africa (MEA)
Base Year
2022
Historical Year
2017 to 2021
Forecast Year
2023 - 2030
Customization Scope
Avail customized purchase options to meet your exact research needs. Request For Customization
Quantum Technology Market: Regional Analysis
North America to lead the way during the forecast period
The global quantum technology market will be led by North America during the forecast period. The US is the largest regional market share holder since it is one of the few countries that initiates quantum physics and mechanics-based research & development. The US enjoys all of the first-mover advantages that further impact the presence of crucial companies with large stakes in quantum technology including IBM, Intel, Quantinuum, IonQ, Atos, Google, and others. In March 2023, the National Aeronautics and Space Administration (NASA) launched a new quantum detector in a joint effort by JPL and Caltech. The detector is expected to transform the ways in which geographically separated quantum computers over large distances will be able to share huge quantities of quantum information. In May 2023, IBM signed a USD 100 million partnership with global universities to develop a 100,000 qubit quantum-centric supercomputer.
Europe is expected to grow at a significant pace as it continues to invest in quantum technology. In February 2023, Europe launched a new project to help quantum startups deal with the need for accelerated hardware production using currently existing pilot infrastructure lines.
Quantum Technology Market: Competitive Analysis
The global quantum technology market is led by players like:
Google
IBM
Alibaba Group
D-Wave Systems
Toshiba
IonQ
Rigetti Computing
QC Ware
Microsoft
Xanadu
Honeywell Quantum Solutions
Zapata Computing
Amazon Web Services
Rigetti Computing
Intel
The global quantum technology market is segmented as follows:
By End-User
Transport & Logistics
Banking & Finance
Aerospace & Defense
Education
IT & Telecommunication
Healthcare & Pharmaceuticals
Automotive
Others
By Applications
Defense
Internet-of-Things (IoT)
Computing
Sensing
Supply Chain Logistics
Cyber Security
Meteorology
Cryptography
Others
By Region
North America
Europe

France
The UK
Spain
Germany
Italy
Rest of Europe

Asia Pacific

China
Japan
India
South Korea
Southeast Asia
Rest of Asia Pacific

Latin America

Brazil
Mexico
Rest of Latin America

Middle East & Africa

GCC
South Africa
Rest of Middle East & Africa