Programmable Power Supply Industry Prospective:
The global programmable power supply market size was worth around USD 415.76 million in 2022 and is predicted to grow to around USD 614.25 million by 2030 with a compound annual growth rate (CAGR) of roughly 5.03% between 2023 and 2030.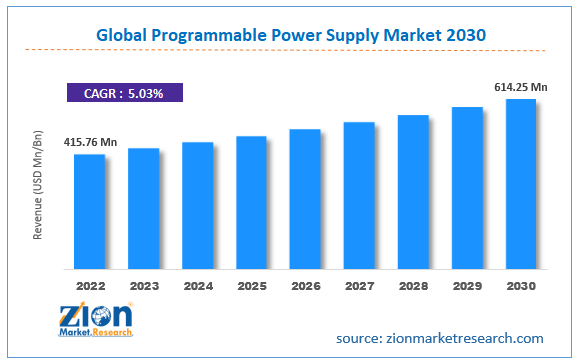 Request Free Sample
Programmable Power Supply Market: Overview
A programmable power supply (PPS) is defined as a digitally controlled power source with the ability to supply adjustable and accurate levels of essential power components such as current, voltage, and frequency. These devices are made of different parts with varying roles including a processor, current shunt, and voltage or current programming circuits along with read-back circuits. Traditional power supplies only provide a fixed set of power-related parameters whereas programmable power supplies offer more flexibility and are equipped with multiple operating modes. They are digitally controlled devices and include options to change current, voltage, power, and operation mode for maximum efficiency depending on the end requirement. They are typically used in power demand and differ from standard offerings available in the market. For instance, PPS can be used in applications in which the voltage requirement is previously unknown or voltage may dynamically change between the processes. The programmable power supply market is growing at a significant pace and will continue the trend during the forecast period.
Key Insights:
As per the analysis shared by our research analyst, the global programmable power supply market is estimated to grow annually at a CAGR of around 5.03% over the forecast period (2023-2030)
In terms of revenue, the global programmable power supply market size was valued at around USD 415.76 million in 2022 and is projected to reach USD 614.25 million, by 2030.
The programmable power supply market is projected to grow at a significant rate due to the growing advancements and investments in radar and communication systems
Based on applications segmentation, semiconductor fabrication was predicted to show maximum market share in the year 2022
Based on voltage segmentation, low voltage was the leading segment in 2022
On the basis of region, 2023 was the leading revenue generator in 2022
Programmable Power Supply Market: Growth Drivers
Growing advancements and investments in radar and communication systems to drive market growth
The global programmable power supply market is projected to grow due to the increasing rate of investments in the development of advanced and efficient radar or communications systems. PPS units have several applications in the expanding telecommunication and networking industry since these devices are used across processes ranging from field testing to voltage biasing of certain radar and communication systems such as Gallium Arsenide devices and Field-Effect Transistors. Furthermore, programmable power supplies are also used for providing radio frequency devices such as transmitters and amplifiers with stable and required power supplies. Since PPSs can be managed digitally, they become an ideal choice for operations aspects of the radio and communication systems sector.
The increased interest in 5G infrastructure along with demand for novel and advanced telecommunication tools used for space exploration and military purposes are likely to create more growth scope for programmable power supply. The 5G network will lead to demand for higher power, thus pushing the application of PPS systems that can meet the growing power needs. A July 2023 report discussing in detail the Chinese 5G infrastructure investments, stated China Mobile Limited is expected to invest CNY 83 billion in 5G networks in 2023. As of December 2022, the state-owned company had already signed over 18000 deals related to 5G commercial projects across industries.
Programmable Power Supply Market: Restraints
Specific technical drawbacks associated with each type of PPS may restrict market growth
PPS devices are complex machines made with extreme diligence and sophisticated technology. For instance, they are designed to provide digitally controlled accurate voltage and power thus demanding the use of superior-grade highly advanced analog circuits and digital-to-analog converters (DACs). The complexity is responsible for the excellent performance attributes of the devices but it also leads to specific limitations or drawbacks associated with each type of programmable power supply thus impacting programmable power supply market revenue. For instance, switched PPS offers polarity versatility and is considered more efficient than linear PPS. However, they are also associated with pollution of alternating current (AC) mains, high operating frequency, and noise levels requiring the use of additional shielding agents.
Programmable Power Supply Market: Opportunities
Increasing research and innovation in PPS technology are projected to deliver substantial growth opportunities
The global programmable power supply industry is expected to benefit from the increasing research & development (R&D) in PPS technology allowing the device to have greater applications and deliver superior performance. For instance, in April 2023, GW Instek, a global leader in digital storage oscilloscope, direct current (DC) power supply, and other related solutions, launched the new GPP-3650 Triple-Channel Programmable DC Power Supply.
The new model is expected to boost the sales of GPP-3060/6030 as it offers a maximum output power of 385W. It is equipped with read back resolution (0.1mV/0.1mA) and high program resolution (1mV/0.1mA) while also offering low-ripple noise characteristics. In September 2023, Magna-Power Electronics launched SLx Series 1U high power density PPS in DC power variant. The tool works on a combination of MagnaLINK™ distributed digital signal processing (DSP) digital control architecture and the company's current-fed power processing topology. It is currently available in over 30,000 model configurations while the next development phase will deal with current ratings up to 600 Adc and voltage ratings up to 10,000 Vdc.
Growing applications in electric vehicle (EV) charging stations will create higher requirements for PPS
The programmable power supply industry is registering high demand in the growing market for EV charging stations. The device is helpful in ensuring the systems have an uninterrupted supply of electric power and the technology is beneficial to ensure optimum EV charging. The rising investments in the development of a comprehensive EV charging station ecosystem will work in the favor of the market. As per the latest reports, the Australian government will be spending $500 million to deliver around 117 EV chargers across highway routes.
Programmable Power Supply Market: Challenges
Lack of portability in PPS devices may challenge the market growth rate
The global programmable power supply market growth rate is expected to be challenged by the heavy weight of significant types of programmable power supplies. Companies operating in the PPS sector are working to reduce the size and weight of the device but attaining the same high level of output power in compact size is a significant difficulty affecting product adoption.
Programmable Power Supply Market: Segmentation
The global programmable power supply market is segmented based on applications, component, voltage, power rating, and region.
Based on applications, the global market segments are university & laboratory, semiconductor fabrication, consumer electronics, automotive electronics test, telecommunications, aerospace & defense, industrial production, energy & power, and others. In 2022, the highest growth was observed in the semiconductor fabrication segment. The procedure deals with the manufacturing of essential components of electronic devices such as chips and integrated circuits. The growing demand for advanced consumer electronics and rapid innovation in the field are driving the segmental growth trend. As per research-based estimates, over 1.1 trillion chips were sold in 2021.
Based on component, the global market divisions are software, hardware, and services.
Based on voltage, the global programmable power supply industry is segmented into high voltage, medium voltage, and low voltage. In 2022, the low voltage segment created the highest revenue since these PPS offer greater flexibility and control in terms of power. High voltage variants are difficult to produce and have specific applications. Rack-mounted PPS typically achieve outputs up to 1500 V.
Based on power rating, the global market is divided into high power, medium power, and low power.
Programmable Power Supply Market: Report Scope
Report Attributes
Report Details
Report Name
Programmable Power Supply Market
Market Size in 2022
USD 415.76 Million
Market Forecast in 2030
USD 614.25 Million
Growth Rate
CAGR of 5.03%
Number of Pages
214
Key Companies Covered
Tektronix Inc., Keysight Technologies, Rigol Technologies, Keithley Instruments, Chroma ATE Inc., EA Elektro-Automatik, AMETEK Programmable Power, National Instruments, Delta Electronic, TDK-Lambda Corporation, Manson Engineering Industrial, B&K Precision Corporation, Kepco Inc., GW Instek, Rohde & Schwarz, and others.
Segments Covered
By Applications, By Component, By Voltage, By Power Rating, and By Region
Regions Covered
North America, Europe, Asia Pacific (APAC), Latin America, Middle East, and Africa (MEA)
Base Year
2022
Historical Year
2017 to 2021
Forecast Year
2023 - 2030
Customization Scope
Avail customized purchase options to meet your exact research needs. Request For Customization
Programmable Power Supply Market: Regional Analysis
North America to register the highest growth rate as compared to other regions
The global programmable power supply market will be led by North America during the forecast period with the US acting as the most dominant nation. The region has a high demand for advanced programmable power supplies as regional end-user verticals continue to evolve. The ongoing investments in 5G infrastructure along with the rapid proliferation of EV charging stations as demand for electric vehicles continues to grow will allow North America to flourish during the projection period. The US is home to more than 160,000 electric vehicle charging stations. By the end of 2023, the region is expected to add more than 100,000 new public chargers for all EVs.
Asia-Pacific will play a crucial role in shaping the global industry as countries such as China, India, and South Korea continue to experiment with new PPS offerings with customized solutions. The regional nations boast of an excellent ecosystem where companies manufacturing advanced electronic tools thrive and favorable manufacturing policies will push for higher demand for PPS manufactured in Asian nations.
Programmable Power Supply Market: Competitive Analysis
The global programmable power supply market is led by players like:
Tektronix Inc.
Keysight Technologies
Rigol Technologies
Keithley Instruments
Chroma ATE Inc.
EA Elektro-Automatik
AMETEK Programmable Power
National Instruments
Delta Electronic
TDK-Lambda Corporation
Manson Engineering Industrial
B&K Precision Corporation
Kepco Inc.
GW Instek
Rohde & Schwarz
The global programmable power supply market is segmented as follows:
By Applications
University & Laboratory
Semiconductor Fabrication
Consumer Electronics
Telecommunications
Aerospace & Defense
Industrial Production
Energy & Power
Others
By Component
Software
Hardware
Services
By Voltage
Medium Voltage
Low Voltage
By Power Rating
High Power
Medium Power
Low Power
By Region
North America
Europe

France
The UK
Spain
Germany
Italy
Rest of Europe

Asia Pacific

China
Japan
India
South Korea
Southeast Asia
Rest of Asia Pacific

Latin America

Brazil
Mexico
Rest of Latin America

Middle East & Africa

GCC
South Africa
Rest of Middle East & Africa