Power Banks Industry Prospective:
The global power banks market size was worth around USD 14.25 billion in 2022 and is predicted to grow to around USD 27.46 billion by 2030 with a compound annual growth rate (CAGR) of roughly 8.59% between 2023 and 2030.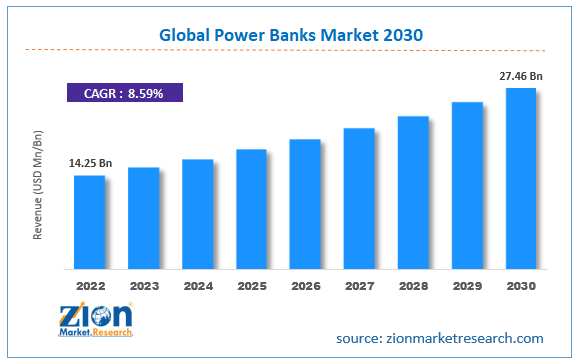 Request Free Sample
Power Banks Market: Overview
A power bank is defined as a portable charger equipped with a battery pack. It is a compact electronic device capable of holding enough power to charge other electronic devices such as smartphones, tablets, global positioning (GPS) devices, Bluetooth ear accessories, gaming consoles, laptops, portable speakers, and other items. Power banks are available in several sizes and capacities. They are generally pocket-sized but power banks with higher capacity are typically bulkier than their other counterparts. The special battery pack used in power banks comprises a specially designed circuit that controls power flow. It allows electrical energy to be stored in the battery pack by charging it and using the energy at a later time to charge another electronic device. Several factors such as improved battery life and product miniaturization have allowed the market to thrive in addition to ongoing research & development (R&D) for achieving product improvements. The forecast period is showing promising signs of growth and the power banks market players can expect new expansion possibilities.
Key Insights:
As per the analysis shared by our research analyst, the global power banks market is estimated to grow annually at a CAGR of around 8.59% over the forecast period (2023-2030)
In terms of revenue, the global power banks market size was valued at around USD 14.25 billion in 2022 and is projected to reach USD 27.46 billion, by 2030.
The power banks market is projected to grow at a significant rate due to the increasing launch of new and improved power banks
Based on energy source segmentation, electric was predicted to show maximum market share in the year 2022
Based on distribution channel segmentation, e-commerce platforms was the leading segment in 2022
On the basis of region, Asia-Pacific was the leading revenue generator in 2022
Power Banks Market: Growth Drivers
Increasing launch of new and improved power banks to drive market growth
The global power banks market is expected to grow due to the increasing launch rate of new, advanced, safer, and user-friendly power banks offering high charging capacity for an extensive range of electronic devices. The market players have been investing in advanced charging technology that allows quick transfer of electric power from the charging device to the final product along with working on reducing energy loss observed in most portable banks. In February 2023, UBON, an emerging and popular Indian brand of electronic accessories, announced the launch of the Transparent PB-X35 power bank priced at INR 3699 whereas the same month also witnessed another launch by Stuffcool as the company unveiled its Plam power bank. Transparent PB-X35 power bank is transparent in design and equipped with a battery capacity of 10,000 mAh. The company has also added features such as short circuit protection, overheating protection, and overcharge protection to ensure superior device safety.
Abundant growth in the sale of consumer electronics across product ranges will create more demand for power banks
Power banks have become an essential tool for users owning multiple electronic devices such as Bluetooth-enabled wearables including earphones and health monitoring devices. Additionally, smartphones and tablets are a necessity in the modern digital age. The rising number of laptop-based tasks including professional or academic has resulted in a higher demand for electronic devices. As per research, an average person owns more than 3 electronic devices and uses all of them regularly. The growing sale of personal electronic products will create more demand in the global power banks market since these devices provide extra assistance needed to charge other digital gadgets.
Power Banks Market: Restraints
Rising sale and use of counterfeit or poor-grade power banks may restrict the market expansion trend
The power bank market players are expected to face growth restrictions due to the rising number of poor-grade or counterfeit sellers of portable power banks. These devices are not as safe as their authentic counterparts as a consequence of poor quality products used in manufacturing. In addition to this, there is a general lack of policies or measures in place to curb such transactions especially as online sale of counterfeit variants is on the rise. They pose serious hazard risks and are known to affect the performance of other devices that are charged using poor-grade power banks.
Power Banks Market: Opportunities
Increased reach of e-commerce websites and ongoing advancements to deliver exceptional growth opportunities
The power bank industry growth trajectory will gain excellent growth momentum due to the increasing reach of e-commerce websites such as AliExpress, Amazon, Flipkart, Walmart, and others. While sales through brick-and-mortar channels are rising at a steady rate, the extensive consumer base of e-commerce and online sales channels helps the market thrive further as more people continue to shop online. Furthermore, these websites tend to offer excellent deals in the form of discounts, cashback offers, gift cards, and other strategic methods. Consumers have higher options to choose from allowing them to make informed decisions. The sale of electronic items such as power banks rises during festive seasons as final prices are reduced by over 50% in some cases. The e-commerce industry is one of the leading contributors to the global economy and companies operating in the sectors are focusing on improving consumer experience with better supply chain management and quick delivery.
In addition to this, the technological advancements in the field of power banks are expected to attract more consumers during the projection period. For instance, in March 2020, Xiomi, a leading giant in the consumer electronics segment, launched its first wireless power bank in the Indian market. The charging tool has a capacity of 10000 mAh and 12 layers of protective design.
Power Banks Market: Challenges
Strict regulatory challenges and growing competition from wireless chargers may challenge market growth rate
The global power banks industry players will face challenges due to the strict regulatory compliance laws that regulate the production and sale of power banks. For instance, the United States market is governed by testing and safety regulations laid down by agencies such as the Federal Communications Commission (FCC), Underwriters Laboratories (UL), Restriction of Hazardous Substances Directive (RoHS), and others. Furthermore, the growing competition from wireless charging devices may further impede the market growth rate.
Power Banks Market: Segmentation
The global power banks market is segmented based on energy sources, capacity, distribution channel, battery type, and region.
Based on energy source, the global market segments are solar and electric. In 2022, around 79% of the total share was led by the electric segment due to higher sales of electric energy-storing power banks. Providers or solar power banks are limited due to the sophisticated technology requirement and high price and the segment is expected to grow at a CAGR of 9.35% during the projection period.
Based on capacity, the global power banks market is divided into above 20,000 mAh, 8001 mAh to 20 mAh, 3001 mAh to 8000 mAh, and up to 3000 mAh.
Based on distribution channel, the power bank industry is divided into brick-and-mortar and e-commerce platforms. In 2022, around 53% of the market share was held by the e-commerce platforms segment due to the exponential rise in online shopping patterns and increased consumer reach of digital platforms. A growing number of brand-owned stores may drive the brick-and-mortar segment by 2030.
Based on battery type, the global market is divided into Li-ion and Li-polymer.
Power Banks Market: Report Scope
Report Attributes
Report Details
Report Name
Power Banks Market
Market Size in 2022
USD 14.25 Billion
Market Forecast in 2030
USD 27.46 Billion
Growth Rate
CAGR of 8.59%
Number of Pages
218
Key Companies Covered
Belkin, Anker, Samsung, RavPower, iMuto, Aukey, EasyAcc, Mophie, Tronsmart, Xiaomi, Goal Zero, TP-Link, Sony, Jackery, Zendure., and others.
Segments Covered
By Energy Source, By Capacity, By Distribution Channel, By Battery Type, and By Region
Regions Covered
North America, Europe, Asia Pacific (APAC), Latin America, Middle East, and Africa (MEA)
Base Year
2022
Historical Year
2017 to 2021
Forecast Year
2023 - 2030
Customization Scope
Avail customized purchase options to meet your exact research needs. Request For Customization
Power Banks Market: Regional Analysis
Asia-Pacific to continue holding dominance until 2030
The global power banks market will be dominated by Asia-Pacific during the projection period. In 2022, the region controlled over 51.67% of the total market share driven by factors such as increasing sales of consumer electronics across regions including India, China, South Korea, Singapore, Japan, and others. The regional consumer electronics market is one of the largest compared to other regions primarily because of high population density and an emerging section of middle to high-income groups. Furthermore, Asia-Pacific has a presence of multiple brands dealing with several product portfolios in the consumer electronics segment producing devices at affordable prices. The replacement cycle of electronic products in the region is significantly higher. Furthermore, factors such as investments in product technology improvement and thriving sales through e-commerce giants such as Amazon and AliExpress are significant regional growth drivers.
North America is a lucrative market as the proliferation rate of electronic and smart devices is one of the highest in the US and Canada regions. The rising number of premium-grade power banks with high charging capacity will fuel regional growth.
Power Banks Market: Competitive Analysis
The global power banks market is led by players like:
Belkin
Anker
Samsung
RavPower
iMuto
Aukey
EasyAcc
Mophie
Tronsmart
Xiaomi
Goal Zero
TP-Link
Sony
Jackery
Zendure
The global power banks market is segmented as follows:
By Energy Source
By Capacity
Above 20,000 mAh
8001 mAh to 20 mAh
3001 mAh to 8000 mAh
Up to 3,000 mAh
By Distribution Channel
Brick-and-Mortar
E-Commerce Platforms
By Battery Type
By Region
North America
Europe

France
The UK
Spain
Germany
Italy
Rest of Europe

Asia Pacific

China
Japan
India
South Korea
Southeast Asia
Rest of Asia Pacific

Latin America

Brazil
Mexico
Rest of Latin America

Middle East & Africa

GCC
South Africa
Rest of Middle East & Africa