Polyetherketoneketone (PEKK) Industry Prospective:
The global polyetherketoneketone (PEKK) market size was worth around USD 456.39 million in 2022 and is predicted to grow to around USD 742.39 million by 2030 with a compound annual growth rate (CAGR) of roughly 6.25% between 2023 and 2030.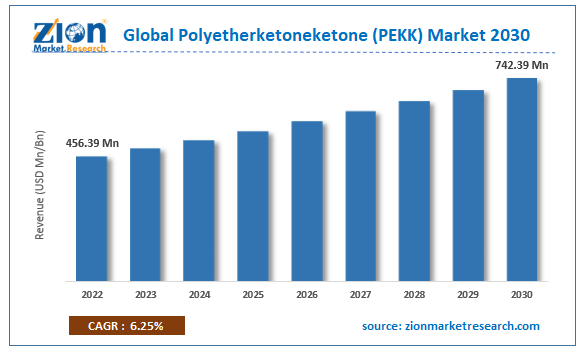 Request Free Sample
Polyetherketoneketone (PEKK) Market: Overview
Polyetherketoneketone (PEKK) is a thermoplastic belonging to the polyaryletherketone polymer family. A thermoplastic is defined as any plastic polymer that can be molded at a specific high temperature and when cooled it solidifies in the form of a certain structure. PEKK possesses excellent chemical, thermal, and mechanical properties making it one of the most preferred materials for several applications across medical and aerospace fields. It is one of the most widely researched polymeric materials that continues to evolve with the aid of new technology and integration with other ancillary materials. Some of the highest-selling attributes of PEKK include its high resistance to extreme heat, harsh chemicals, and superior mechanical load-bearing capacity. Studies indicate that PEKK's glass transition temperature is around 162 °C. On the other hand, research proves that PEKK biomaterials offer additional advantages including fracture resistance and good shock absorbency. The industry for PEKK continues to be explored for wider applications apart from the currently existing ones.
Key Insights:
As per the analysis shared by our research analyst, the global polyetherketoneketone (PEKK) market is estimated to grow annually at a CAGR of around 6.25% over the forecast period (2023-2030)
In terms of revenue, the global polyetherketoneketone (PEKK) market size was valued at around USD 456.39 million in 2022 and is projected to reach USD 742.39 million, by 2030.
The polyetherketoneketone market is projected to grow at a significant rate due to the growing construction of new PEKK production facilities
Based on application segmentation, aerospace was predicted to show maximum market share in the year 2022
Based on product type segmentation, injection molding was the leading segment in 2022
On the basis of region, North America was the leading revenue generator in 2022
Polyetherketoneketone (PEKK) Market: Growth Drivers
Growing construction of new PEKK production facilities may drive market growth
The global polyetherketoneketone (PEKK) market is projected to grow owing to the increasing investments in the construction of new and expansive dedicated production facilities across several regions. The units will ensure that the growing demand for PEKK is seamlessly met without any challenges in managing the supply chain. For instance, in May 2019, Arkema, a global leader in specialty materials, inaugurated its Kepstan® PEKK (Poly-Ether-Ketone-Ketone) plant in the US. The move was in line with the company's vision to dominate the market of high-performance polymers and advanced materials and complemented another facility held by ARKEMA in France and the production of Kepstan® PEKK resin capacities. As per the latest developments, after extensive research and development (R&D), ARKEMA is already planning to set up another manufacturing unit in the US to enhance PEKK's applications. In 2017, another giant corporation SOLVAY announced its entry into the production of PEKK polymers especially targeting the aerospace sector.
Rising deals in the aviation industry to continue fueling market growth trend
The aerospace industry has been one of the primary and most essential end-consumers of PEKK. The high-performance polymer is used to manufacture several parts of aircraft due to its excellent mechanical strength and other properties. The growing number of deals between countries for the production and supply of advanced aircraft is projected to continue fueling the polyetherketoneketone market growth rate. For instance, the Boeing Company, an American multinational corporation dealing in designing, manufacturing, and selling of aircraft, satellites, and other advanced products, uses PEKK material for producing Boeing aircraft. The company is aggressively expanding its market reach by collaborating with emerging nations with a significant investment ratio. In October 2023, Boeing signed a deal with Thyssenkrupp, a German industrial engineering firm, to establish a strategic partnership that will deal with supply management and raw material procurement.
Polyetherketoneketone (PEKK) Market: Restraints
High production cost of PEKK to restrict market growth
The polyetherketoneketone industry growth trend is projected to be restricted due to the high cost of producing polyetherketoneketone. It is a highly engineered and superior-performance material with exceptional features as compared to other polymers. The production process requires the use of advanced and sophisticated technology leading to the overall high production cost. Currently, there are only a few companies that are actively working toward producing sufficient amounts of polyetherketoneketone leading to elevated prices. Furthermore, PEKK production occurs at extremely high temperatures and pressures such as 649°F requiring extensive use of resources to reach such temperatures and maintain the range.
Polyetherketoneketone (PEKK) Market: Opportunities
Increasing research & development aimed at performance improvement and higher applications may create growth opportunities
The demand in PEKK industry is expected to further gain momentum due to the increasing research & development (R&D) aimed at improving the applications of the thermoplastic polymer. Such innovation activities are not restricted to only the producers of polyetherketoneketone but also companies that use the advanced material for producing high-strength products. In August 2023, Stratasys, a global leader in industrial additive manufacturing and 3D printing solutions announced that leveraged the intelligence offered by the Manufacturing Intelligence division of Hexagon, domineering digital reality solutions and autonomous technologies company, to produce ultra-lightweight Antero reinforced polyetherketoneketone (PEKK) along with its additive that can be used in manufacturing procedures. As per Stratasys, Additive Manufacturing is the answer to several challenges faced while integrating structural components in the aerospace industry. The partnering firms are of the view that making simulation tools accessible to engineering teams can help them make better breakthroughs.
Polyetherketoneketone (PEKK) Market: Challenges
Large-scale presence of substitute materials may challenge market growth
The global polyetherketoneketone market growth is projected to be challenged by the presence of an extensive market for efficient alternatives to polyetherketoneketone. Some most commonly used alternatives include options such as polyphenylene sulfide (PPS), polyetheretherketone (PEEK), polypropylene (PP), and polytetrafluoroethylene (PTFE). Most of these alternatives offer specific advantages such as PTFE has a low friction coefficient whereas PPS provides superior flame retardancy. The market share of these substitutes is growing at a steady pace which hinders the demand for PEKK and poses challenges for market players. Other factors such as supply chain disruptions and limited availability or application of polyetherketoneketone may further limit market expansion trends.
Polyetherketoneketone (PEKK) Market: Segmentation
The global polyetherketoneketone (PEKK) market is segmented based on application, type, and region.
Based on application, the global market segments are automotive, medical, aerospace, oil & gas, and others. In 2022, the aerospace segment was the highest revenue generator since PEKK is used extensively for manufacturing high-grade aircraft parts. The growing rate of R&D in the global aerospace industry along with the rising number of new PEKK-producing companies targeting the aerospace sector may further lead to higher growth. The global aerospace materials market was valued at USD 24 billion in 2022 and is projected to grow at a steady pace during the projection period.
Based on product type, the global market divisions are injection molding, 3D printing, and extrusion. In 2022, the injection molding method was the highest revenue-generating segment since it is one of the most well-suited methods for producing PEKK. This method is ideal for producing specific parts for all end-user verticals, even the ones with complex structures. In 2022, the global injection molding market was valued at USD 10.45 billion.
Polyetherketoneketone (PEKK) Market: Report Scope
Report Attributes
Report Details
Report Name
Polyetherketoneketone (PEKK) Market
Market Size in 2022
USD 456.39 Million
Market Forecast in 2030
USD 742.36 Million
Growth Rate
CAGR of 6.25%
Number of Pages
216
Key Companies Covered
Solvay S.A., Arkema S.A., SABIC (Saudi Basic Industries Corporation), Victrex plc, Oxford Performance Materials Inc., Evonik Industries AG, PlastiComp Inc., Ensinger GmbH, Caledonia Plastics, Panjin Zhongrun High-Performance Polymers Co. Ltd., Zyex Ltd., Drake Plastics Ltd., RTP Company, Quadrant AG, Carbon Composites Inc., Röchling Group, Darter Plastics Inc., Lehmann & Voss & Co. KG, A. Schulman Inc., RTP Company, and others.
Segments Covered
By Application, By Product Type, and By Region
Regions Covered
North America, Europe, Asia Pacific (APAC), Latin America, Middle East, and Africa (MEA)
Base Year
2022
Historical Year
2017 to 2021
Forecast Year
2023 - 2030
Customization Scope
Avail customized purchase options to meet your exact research needs. Request For Customization
Polyetherketoneketone (PEKK) Market: Regional Analysis
North America to register the highest growth rate during the projected period
The global polyetherketoneketone (PEKK) market is expected to witness the highest growth in North America. The growth driver is the presence of extensive producer and consumer markets for polyetherketoneketone. Hexcel, an American public industrial materials company and a leading firm in terms of PEKK production, has managed to change the regional and global ecosystem around the high-performing advanced material. The company has continued to evolve with time. In August 2020, Hexcel announced the launch of HexAM® materials technology. As per company claims HexPEKK® EM is an electrically conductive, high-performance, PEKK-based thermoplastic carbon fiber composite additive manufacturing material that offers industry-leading performance. Hexcel employs 3D printing technology to meet consumer demand and produce world-class PEKK-based parts.
Similar advancements are also made in supporting industries leading to further growth. In September 2021, Essentium, a leading manufacturer of High-Speed Extrusion (HSE) 3D printer series, announced the launch of a new Essentium PEKK 3D printing filament made using Arkema 6002 Kepstan resin. Asia-Pacific is a growing market and holds tremendous growth potential. China's chemical industry and growing PEKK production will drive a regional expansion trajectory. In January 2020, Victrex and Yingkou Xingfu announced a joint venture to establish a new PEKK production plant in the China region. Victrex is announced to hold the highest partnership share.
Polyetherketoneketone (PEKK) Market: Competitive Analysis
The global polyetherketoneketone (PEKK) market is led by players like:
Solvay S.A.
Arkema S.A.
SABIC (Saudi Basic Industries Corporation)
Victrex plc
Oxford Performance Materials Inc.
Evonik Industries AG
PlastiComp Inc.
Ensinger GmbH
Caledonia Plastics
Panjin Zhongrun High-Performance Polymers Co. Ltd.
Zyex Ltd.
Drake Plastics Ltd.
RTP Company
Quadrant AG
Carbon Composites Inc.
Röchling Group
Darter Plastics Inc.
Lehmann & Voss & Co. KG
A. Schulman Inc.
RTP Company
The global polyetherketoneketone (PEKK) market is segmented as follows:
By Application
Automotive
Medical
Aerospace
Oil & Gas
Others
By Product Type
Injection Molding
3D Printing
Extrusion
By Region
North America
Europe

France
The UK
Spain
Germany
Italy
Rest of Europe

Asia Pacific

China
Japan
India
South Korea
Southeast Asia
Rest of Asia Pacific

Latin America

Brazil
Mexico
Rest of Latin America

Middle East & Africa

GCC
South Africa
Rest of Middle East & Africa