According to the report published by Zion Market Research, global demand for Plastic Polymer market was valued at approximately USD 571.34 Billion in 2019, and is expected to generate revenue of around USD 682 Billion by end of 2026, growing at a CAGR of around 2.99% between 2020 and 2026.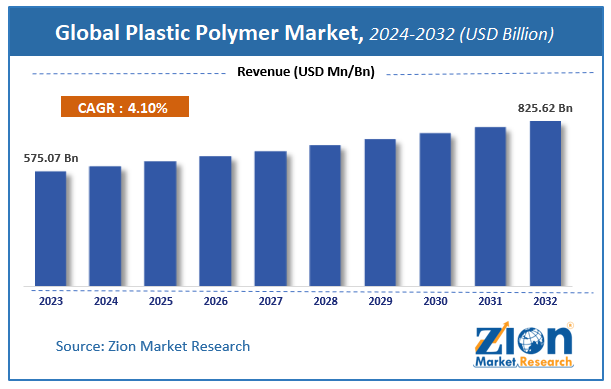 Request Free Sample
Global Plastic Polymer Market: Overview
Polymer is made from the combination of several monomers, which produce different types of polymers based on their molecular chain. Plastic polymers are chained molecules with high molecular weight. They are synthetic polymers that can be remolded or reshaped owing to their elasticity property. They are also called as organic polymers.
Global Plastic Polymer Market: Growth Factors
Increasing urbanization, growing income and rising demand from the end-user segments are resulting in high growth of the global market. Utilization of the plastic in food processing industry due to consumer preference and changing food practice to store the food products such as raw meat, fish, and vegetables in consumable state without degrading the nutritional qualities of the food are key factors augmenting the growth of the global plastic polymer market. Application of plastic in road safety and constructional equipment such as helmets, safety goggles, sign boards, and barricades as preventive measures in order to avoid hazardous mishap is also one of the factors driving the global plastic polymer market. Research and development for new innovations and better alternatives respective to plastic polymers is also a vital factor growing the market globally. Moreover, development of plastic types which can be recycled after single-use has boosted growth rate of the plastic polymer market. On the other hand, government taking initiatives to ban un-degradable plastic material that are hazardous to ecosystem may hinder the growth of the plastic polymers in future.
Global Plastic Polymer Market: Segmentation
The global plastic polymer market is segmented based on various types of plastic application such as engineering plastics, commodity plastics, and specialty plastics. On the basis of resin materials, the global market is segmented as thermoplastic and thermosetting polymers. Further, thermoplastic polymers segment is sub-segmented as polyvinyl chloride (PVC), polypropylene (PP), polyethylene (PE), and polystyrene. Of which, polythyene is of high demand in plastic material segments. However, thermosetting plastics are further sub-segmented based on material as melamine formaldehyde, polyster resin, polyimides, duroplast, and others. On the basis of end-user, the global plastic polymer market is segmented as packaging, transportation, agriculture equipments, textiles, film and sheet, automotive, and toys.
Region-wise, the global market is segregated into North America, Europe, Asia Pacific, Latin America, and Middle East & Africa.
Global Plastic Polymer Market: Regional Analysis
Based on the region, the global Plastic Polymer market can be divided into five main regions: Latin America, North America, Europe, Asia Pacific, and the Middle East and Africa. Asia Pacific is the largest market for plastic polymer market mainly owing to rising constructional projects and automotive industries. North America is expected to grow at a steady pace due to its constant focus on developing sustainable alternatives.
Global Plastic Polymer Market: Competitive Players
Some main participants of the Plastic Polymer market are BASF, SABIC, E. I. du Pont de Nemours and Company, Dow Chemical Company, Lyondell Basell Industries, ExxonMobil Corporation, Formosa Plastic Group, Total SA, Bayer Material Science, Arkema, Celanese Corporation, Chi Mei Corporation, Eastman Chemical Company, and Mitsubishi Chemical Holdings Corporation.
Report Scope:
Plastic Polymer Market: Regional Segment Analysis
North America
Europe

France
The UK
Spain
Germany
Italy
Rest of Europe

Asia Pacific

China
Japan
India
South Korea
Southeast Asia
Rest of Asia Pacific

Latin America

Brazil
Mexico
Rest of Latin America

Middle East & Africa

GCC
South Africa
Rest of Middle East & Africa