Plastic Straps Market: Industry Prospective
The global plastic straps market grasps a total revenue of USD 2.39 billion in 2021 and is assessed to reach around USD 6.85 billion by 2028, with a compound annual growth rate (CAGR) of nearly 15.9 percent over the forecast period. The report analyzes the plastic straps market's drivers, restraints/challenges, and the effect they have on the demands during the projection period. In addition, the report explores emerging opportunities in the plastic straps market.
Plastic Straps Market: Overview
Plastic straps are long, narrow sheets of plastic. In industrial settings and even public venues, such plastic strip variations are frequently installed in entrances for climate control purposes. The length and inflexibility of most other plastic strip variants define them. They're utilized as construction trim, nail gun collators, furniture components, car trim, and a variety of other things. Many plastic materials may be used to make rigid plastic strips. High and low-density PET, polyethylene, polystyrene, and a variety of other plastic polymers are among them. Each material is chosen for its strength, weather resistance, durability, and other important characteristics.
COVID-19 Impact:
The pandemic of COVID-19 wreaked havoc on the automobile and electronics industries. Import-export restrictions imposed by governments in various locations caused a heavy delay in electronic item imports and exports. Furthermore, vehicle production has been disrupted in the last two years, resulting in a significant loss in the whole automotive sector. As per the association of European Automobile Manufacturers, demand for new commercial cars in the EU remained sluggish in June 2020 (-20 percent), however, the rate of fall reduced from April and May of 2020. In 2020, three of the region's four major markets Germany, Spain, and Italy had double-digit percentage declines. The decline in vehicle manufacturing has resulted in a considerable drop in demand for car packaging, which has a big influence on the plastic straps industry.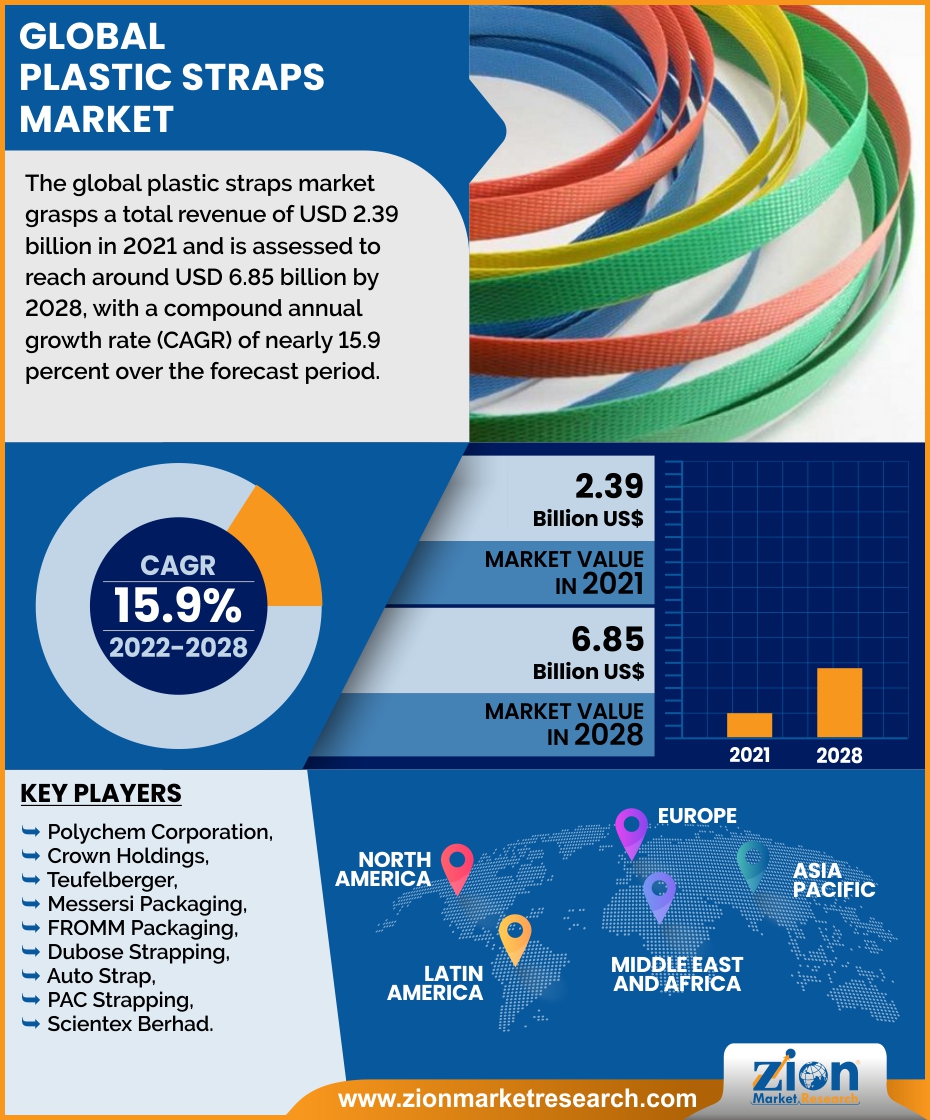 Request Free Sample
Plastic Straps Market: Growth Drivers
Increasing automotive production and expanding the building and construction sector
Automobile production is rapidly increasing across the world, for instance, Malaysian passenger vehicle manufacturing climbed by 2.6 percent in 2019. China is the world's largest automotive market, with the Chinese government expecting 35 million automobiles to be produced by 2025. The number of automobile manufacturers is rapidly increasing in the Indian market. Furthermore, plastic straps, such as polyester straps, are chosen over paper straps for packing building supplies because they have more flexibility and weather resilience, and they work well under stress loading. As a result, they're utilized to pack building materials including clay bricks, plasterboards, roofing tiles, lumber, plywood, and chipboard. The rate of building construction has increased tremendously in developing countries such as China, India, and Africa which is strongly supporting the demand for plastic straps.
Plastic Straps Market: Restraints
Restrictions and stringent regulations on plastic use in many nations may hamper market growth.
Plastics are harmful to the environment. They are not environmentally friendly as the plastic products do not decompose naturally which can affect the environment if not disposed of or recycled properly. which has slowed down their production. And currently, the customers prefer to employ bio-based goods, which aid in realizing the potentiality of customers while also posing risks and raising environmental consciousness. These factors are primarily affecting the growth of the global plastic straps market.
Plastic Straps Market: Opportunities
Low price and durability of plastic straps offer several opportunities for their use in many end-use industries.
The increase in opportunities occurs owing to the increased flexibility, high tensile strength, and ease of handling of plastic straps. Furthermore, the expansion of the middle and upper classes in the Asia Pacific region, along with an increase in discretionary money, has boosted the end-user industries such as paper, steel, and brick industries in China, Japan, and India. Moreover, the major utilizers of plastic straps such as automobiles and constructions are also expanding at a rapid rate in these countries. All these factors are expected to expand the global plastic straps market growth during the forecast period.
Plastic Straps Market: Challenges.
Fluctuation in raw material prices poses a major challenge to market growth.
Polyester and polypropylene, which are end products of crude oil, are recurrently employed as raw ingredients in the fabrication of plastic straps. As a result, the price of raw materials used for plastic straps manufacturing is affected by the fluctuation of crude oil prices. The price volatility of crude oil has grown in the recent year, according to the major crude oil extractors, BP showed the crude oil price increased from USD 43.73 in 2016 to USD 71.31 in 2018. On the other side, polyester and polypropylene prices are also rising due to the unpredictable crude oil prices. Raw material prices fluctuate as crude oil prices fluctuate, which is predicted to be a big problem for the plastic straps market producers.
Report Scope:
Plastic Straps Market: Segmentation
The global plastic straps market is bifurcated based on types, end-use, and region. Based on type, the market is categorized into polypropylene straps, nylon straps, polyester straps, and others. The end-user segment of the market is segmented as paper, steel, cotton, bricks & tiles, fiber, and others.
Recent Developments
October 2021, at the PACK EXPO in Las Vegas, Singode introduced the SGP strapping machine series. The new strapping machines from Signode are meant to boost production by imitating a pressured wash-down environment. For cycles without product, the SGP automated machine has a close strap arch system, as well as an automatic strap feeder and automatic strap end ejection.
August 2020, Crown Holdings Inc. established Twentyby30, a "strong program that defines 20 quantifiable environmental, social, and governance (ESG) targets to be accomplished by 2030 or sooner," according to the company. The firm promises to increase metal can recycling rates and utilize recycled plastic strapping.
Plastic Straps Market: Regional Landscape
Asia Pacific to lead the global market during the forecast period.
Due to increased demand for plastic straps from the automobile, food & beverage, paper, and electronics industries, the Asia Pacific region had the highest share of the global plastic straps market in 2021, which accounts for up to 45 percent of the global market. Flourishing paper industry in Japan, electronic industries in India, and automobile, consumer goods, and packaging sectors in China, the regional plastic straps market expanded significantly. Similarly, the plastic straps market in North America is likely to grow at a healthy rate over the forecast period. Factors such as the well-developed packaging and automobile industry in the United States are fostering the market growth. Europe is also expected to have ample growth opportunities for market expansion during the forecast period.
Plastic Straps Market: Competitive Landscape
Major players operating in this highly fragmented global plastic straps market include Polychem Corporation, Crown Holdings, Teufelberger, Messersi Packaging, FROMM Packaging, Dubose Strapping, Auto Strap, PAC Strapping, and Scientex Berhad.
Global plastic straps market is segmented as follows:
By Type
Polyester Straps
Polypropylene Straps
Nylon Straps
Others
By End User
Steel
Cotton
Paper
Fiber
Bricks & Tiles
Others
By Region
North America
Europe

France
The UK
Spain
Germany
Italy
Rest of Europe

Asia Pacific

China
Japan
India
South Korea
Southeast Asia
Rest of Asia Pacific

Latin America

Brazil
Mexico
Rest of Latin America

Middle East & Africa

GCC
South Africa
Rest of The Middle East & Africa