Abstract
Plastic jar packaging is considered to be highly protective. Plastic jar packaging is designed to withstand rough handling and is impact-resistant. It is highly suitable for consumer convenience and attractive retail display.
The plastic jar packaging market is likely to experience significant growth globally in the upcoming years, owing to the growing demand for lightweight, durable, impact-resistance, and cost-effective packaging formats. The demand for effective and budget-friendly packaging formats across various industries, particularly in the food and beverages sector, is expected to further fuel the plastic jar packaging market over the forecast time period. Rapid urbanization and improving living standards of people will also increase the demand for plastic jar packaging in the years to come. However, the growing raw material prices of plastic jar packaging may hamper the plastic jar packaging market development on a global scale. The flourishing food and beverages sector in emerging countries and advancements in plastic jar packaging technology will generate new opportunities for the major market players.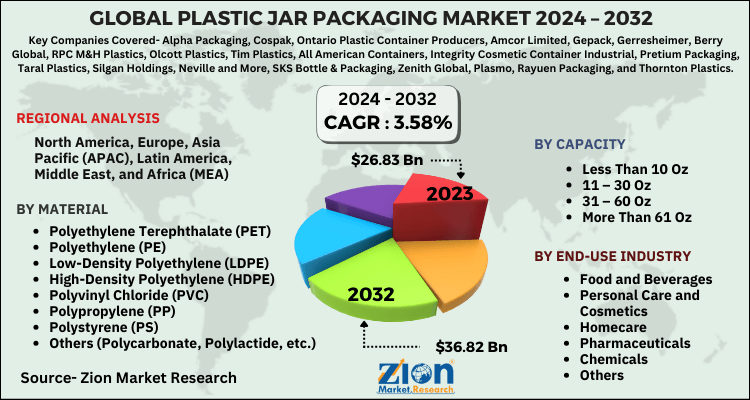 The plastic jar packaging market is fragmented based on material, capacity, and end-use industry. By material, the plastic jar packaging market includes polyethylene, polyethylene terephthalate, polystyrene, low-density polyethylene, polypropylene, high-density polyethylene, polyvinyl chloride, and others (polycarbonate, polylactide, etc). Polyethylene terephthalate was the fastest-growing segment in the market and accounted for a significant share in 2018. By capacity, the market is segmented into more than 61 Oz, 31 – 60 Oz, 11 – 30 Oz, and less than 10 Oz. By end-use industry, the market comprises food and beverages, chemicals, personal care and cosmetics, pharmaceuticals, homecare, and others. In 2018, the food and beverages segment led the plastic jar packaging market.
In 2018, the Asia Pacific was the largest plastic jar packaging market due to the rising use of plastic jar packaging in food and beverages, personal care and cosmetics, homecare, pharmaceuticals, and chemical industries. Moreover, the region is anticipated to be the fastest-growing market for plastic jar packaging in the years ahead, owing to rising urbanization and industrialization in the region.
Some major players of the plastic jar packaging market are Alpha Packaging, Cospak, Ontario Plastic Container Producers, Amcor Limited, Gepack, Gerresheimer, Berry Global, RPC M&H Plastics, Olcott Plastics, Tim Plastics, All American Containers, Integrity Cosmetic Container Industrial, Pretium Packaging, Taral Plastics, Silgan Holdings, Neville and More, SKS Bottle & Packaging, Zenith Global, Plasmo, Rayuen Packaging, and Thornton Plastics.
This report segments the global plastic jar packaging market into:
Global Plastic Jar Packaging Market: Material Analysis
Polyethylene Terephthalate (PET)
Polyethylene (PE)
Low-Density Polyethylene (LDPE)
High-Density Polyethylene (HDPE)
Polyvinyl Chloride (PVC)
Polypropylene (PP)
Polystyrene (PS)
Others (Polycarbonate, Polylactide, etc.)
Global Plastic Jar Packaging Market: Capacity Analysis
Less Than 10 Oz
11 – 30 Oz
31 – 60 Oz
More Than 61 Oz
Global Plastic Jar Packaging Market: End-Use Industry Analysis
Food and Beverages
Personal Care and Cosmetics
Homecare
Pharmaceuticals
Chemicals
Others
Global Plastic Jar Packaging Market: Regional Analysis
North America
Europe
Asia Pacific
Latin America
Middle East and Africa