Paper Shredder Industry Perspective:
The global paper shredder market size was worth around USD 2298 million in 2022 and is predicted to grow to around USD 4123 million by 2030 with a compound annual growth rate (CAGR) of roughly 7.58% between 2023 and 2030.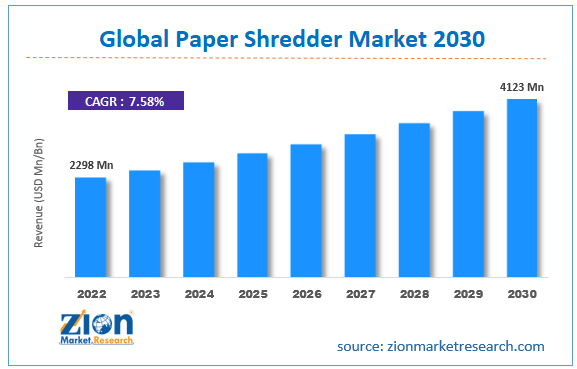 Request Free Sample
The report delves deeper into several crucial aspects of the global paper shredder industry. It includes a detailed discussion of existing growth factors and restraints. Future growth opportunities and challenges that impact the paper shredder market are comprehensively addressed in the report.
Paper Shredder Market: Overview
Paper shredders are mechanical devices that are used for shredding pieces of paper into fine particles or strips. They are used across private companies, government units, and other places to destroy confidential or private papers beyond recognition. These devices are available in various shapes or sizes ranging from small and inexpensive units to more complicated and expensive shredders. With time, the industry for manufacturing paper shredders and distributing them has undergone massive changes with the addition of new features and the removal or changes in redundant features that were not useful. Paper shredders have seen increased commercial adoption since people have started taking individual privacy more seriously. There are several factors responsible for higher growth in the market for paper shredders but there are also several challenges and limitations that impact growth trajectory.
Key Insights:
As per the analysis shared by our research analyst, the global paper shredder market is estimated to grow annually at a CAGR of around 7.58% over the forecast period (2023-2030)
In terms of revenue, the global paper shredder market size was valued at around USD 2298 million in 2022 and is predicted to grow to around USD 4123 million, by 2030.
The paper shredder market is projected to grow at a significant rate due to the growing demand for sustainable packaging
Based on bin capacity segmentation, 21-70 liters was predicted to show maximum market share in the year 2022
Based on application segmentation, commercial was the leading application in 2022
On the basis of region, North America was the leading revenue generator in 2022
Paper Shredder Market: Growth Drivers
Increased emphasis on data privacy and protection to drive market growth
The global paper shredder market is expected to grow due to the increasing emphasis on deploying innovative measures that promote data privacy and protection. Several regions, aided by government laws and regulations, have strict rules surrounding data protection. For instance, in 2018, the European region witnessed the launch of the General Data Protection Regulation (GDPR) Act which is considered the toughest security and protection law across the globe. There are several laws associated with this act and one such corresponds to the duration for which commercial facilities such as employers, medical centers, and government organizations are allowed to have the personal information of employees, patients, or the general population in offline ways. In Spain, employers cannot hold data for ex-employees for more than 5 years. After which, any form of information including the ones stored in offline or online ways, has to be discarded. In May 2023, Meta, previously known as Facebook, was fined 1.2 billion euros by European territory for data privacy infringement. Such factors are likely to trigger higher demand for paper shredders across commercial centers.
Paper Shredder Market: Restraints
Increasing use of digital systems for data storage to restrict market expansion
Although currently, a lot of information is still stored using papers and other ways of offline documentation, the world is gradually moving toward digital systems to main data and records. This is mainly due to the ease of communication and data exchange that is offered by online mediums. This shift toward technology directly impacts the consumption of papers for recording information which could cause a dip in the demand for paper shredders.
Limited application of shredders to restraint further growth
Certain paper shredders showcase limited applications. They are mainly used for shredding papers only. Consumers may have doubts about the cost-efficiency of these devices. Moreover, countries lacking digital infrastructure may not find many takers of paper shredders, especially the ones on the premium side of the price tag.
Paper Shredder Market: Opportunities
Growing innovation to drive market expansion trajectory
Paper shredders, with time, have undergone massive changes with the addition of new and innovative features. This includes updated security levels depending on client needs. Modern paper shredders showcase 7 levels of security. For instance, a higher level means a smaller size of shredded paper removing any scope of data theft. Additionally, other factors such as shredding speed and approval from regulatory authorities such as the Central Security Service (CSS) of the National Security Agency (NSA) have helped in improving product performance. Manufacturers are also aiming at reducing cool-down time or eradicating it. This will help in improving product efficiency, especially in commercial centers. In July 2021, Formax, a leading player in the industry, launched FD 8732HS High-Security Multimedia Shredder. The mobile uni offers high security along with optical media destruction. It is also equipped with the EvenFlow™ Automatic Internal Oiling System.
Paper Shredder Market: Challenges
High cost of shredders along with other factors to challenge market growth
Several factors may oppose the global paper shredder market growth during the forecast period. The advanced shredders are extremely expensive which decreases their cost-efficiency in terms of residential use. Additionally, the presence of other and less-expensive forms for discarding papers along with changing prices in raw materials could lead to higher challenges. Paper shredders running on electricity may not establish a strong consumer base in regions with limited electricity infrastructure.
Paper Shredder Market: Segmentation
The global paper shredder market is segmented based on bin capacity, type, application, and region.
Based on bin capacity, the global market segments are above 135 liters, 71 to 135 liters, 21-70 liters, and up to 20 liters. The highest CAGR was observed in the 21 to 70 liters segment in 2022. This is mainly due to the high adoption of these variants of paper shredders in terms of bin capacity. They are mostly found in several commercial spaces as they are suitable for moderate to large amounts of shredded paper. Additionally, 71 to 135 liters shredders may be used in facilities that work regularly with offline data and may require shredding or larger amounts of confidential information. Currently, shredders with security level P-7 are the most secure device for shredding ≤ 5 mm² particles in a width of ≤ 1 mm.
Based on type, the paper shredder industry is divided into micro cut, strip cut, and cross cut. The micro cut segment dominated close to 45.1% of the market share in 2022 driven by the excellent features of the machine including its speed and performance. They are also less expensive and highly durable when compared to other variants. Factors such as ease of maintenance and installation could drive segmental growth during the projection period.
Based on application, residential and commercial are the main segments. The latter is the largest contributor in the paper shredder industry driven by the extensive use of complex and advanced paper shredders in commercial spaces which includes government units, defense offices, medical facilities, and in offices. These segments house extremely confidential data and any theft of information managed by them could have serious repercussions. In April 2023, more than 100 documents containing sensitive information about American national security secrets surfaced on social media creating a major breach in the region's national security plans.
Paper Shredder Market: Report Scope
Report Attributes
Report Details
Report Name
Paper Shredder Market Research Report
Market Size in 2022
USD 2298 Million
Market Forecast in 2030
USD 4123 Million
Growth Rate
CAGR of 7.58%
Number of Pages
220
Key Companies Covered
Staples, Fellowes, AmazonBasics, Royal, HSM, Swingline, Rexel, Bonsaii, Aurora, Acco Brands, ShredCare, Sentinel, Dahle, Swordfish, GoECOlife, Powershred, Kobra, Ideal, Destroyit, GBC and others.
Segments Covered
By Bin Capacity, By Type, By Application, and By Region
Regions Covered
North America, Europe, Asia Pacific (APAC), Latin America, Middle East, and Africa (MEA)
Base Year
2022
Historical Year
2017 to 2021
Forecast Year
2023 - 2030
Customization Scope
Avail customized purchase options to meet your exact research needs. Request For Customization
Paper Shredder Market: Regional Analysis
North America to hold dominance over a major share of the market
The global paper shredder market will be led by North America during the forecast period due to the growing adoption of paper shredders across commercial and residential centers. Regions such as the US and Canada have several commercial units that spend extensively on managing data privacy. Regional manufacturers have played a crucial role in strengthening the demand for innovative paper shredders by investing in research and development. Moreover, the growing supply of these devices from the US to other regions could foster regional revenue. Additionally, the recent incidence of multiple data leaks in the US influenced by changing geopolitical scenarios has caused the national defense teams to upgrade systems and measures that contribute to maintaining regional data confidentiality.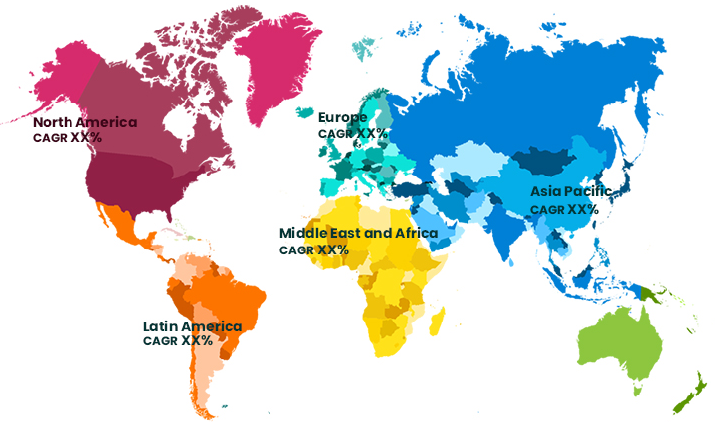 Request Free Sample
Asia-Pacific is likely to register the fastest CAGR owing to the increasing adoption of these devices in China, Japan, India, and other nations that are registering a growing emergence of commercial establishments. Increased interest of domestic players in producing superior-grade machines could work in favor of Asia-Pacific growth.
Paper Shredder Market: Competitive Analysis
The global paper shredder market is led by players like:
Staples
Fellowes
AmazonBasics
Royal
HSM
Swingline
Rexel
Bonsaii
Aurora
Acco Brands
ShredCare
Sentinel
Dahle
Swordfish
GoECOlife
Powershred
Kobra
Ideal
Destroyit
GBC
Others
The global paper shredder market is segmented as follows:
By Bin Capacity
Above 135 Liters
71 to 135 Liters
21-70 Liters
Up to 20 Liters
By Type
Micro Cut
Strip Cut
Cross Cut
By Application
By Region
North America
Europe

France
The UK
Spain
Germany
Italy
Rest of Europe

Asia Pacific

China
Japan
India
South Korea
Southeast Asia
Rest of Asia Pacific

Latin America

Brazil
Mexico
Rest of Latin America

Middle East & Africa

GCC
South Africa
Rest of Middle East & Africa