The global oxygen scavenger Masterbatch market was estimated at over USD 17.5 million in 2018 and is projected to accrue 25 (USD Million) by 2025 growing at a CAGR of over 7% during 2019-2025. The report offers valuation and analysis of the oxygen scavenger Masterbatch market on a global as well as regional level. The study offers a comprehensive assessment of the industry competition, limitations, sales estimates, avenues, current & emerging trends, and industry-validated market data. The report offers historical data from 2016 to 2018 along with a forecast from 2019 to 2025 based on value (USD Million).
Key Driving Factors
Technological breakthroughs witnessed across the food & beverage packaging sector is predicted to steer the growth of the oxygen scavenger Masterbatch industry over the forecast timeline. Apparently, the oxygen scavenger Masterbatch helps in retaining the freshness, color, and taste of packaged foods such as processed meat, dried meat, ready-to-eat diet, and coffee powder. Furthermore, end-user proclivity towards portable, resealable, and tamperproof food packaging is predicted to embellish the product demand over the forthcoming years.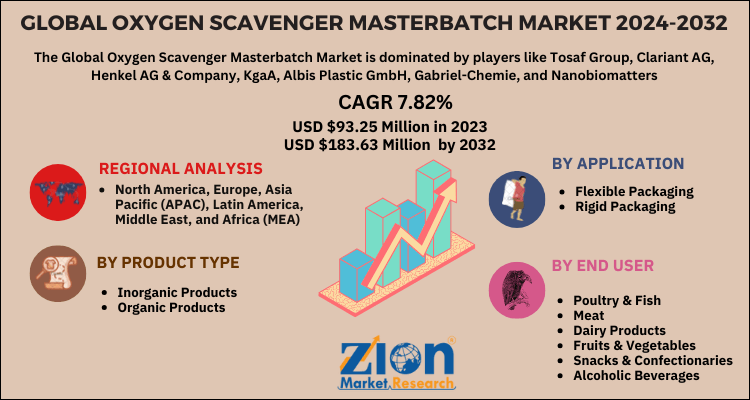 Our study includes the current events witnessed across the industry coupled with the competitive moves & competitive strategies adopted by the key market players to surpass their profit margins. Let us discuss some of the reputed brands in the oxygen scavenger Masterbatch industry.
Clariant AG
In October 2019. Clariant AG, a renowned specialty chemicals manufacturing firm, launched & patented an oxygen scavenger additive Masterbatch in its new product referred to as Cesa® ProTect brand. The target market for the novel product is monolayer PET (polyethylene terephthalate) packaging. Furthermore, the product is also likely to find a spectrum of applications in polyester packing over the forthcoming years.
Moreover, the specialty firm, in February 2020 has developed a novel Product Typeula referred to as MEVOPUR ProTect, a new oxygen-scavenging additive Masterbatch, used in packaging of pharmaceutical items & medical equipment. Additionally, the product restricts the oxidation of medicines & nutraceuticals stored in PET bottles, thereby increasing the shelf life of pharma products.
North America To Dominate Overall Market Growth By 2025
The regional market growth over 2019-2025 is owing to a rise in the intake of meat & dairy items across the region. Furthermore, the U.S. is anticipated to be the key regional demand pocket for the product over the forthcoming years with its changing lifestyles and high consumption of dairy items.
Key players involved in the oxygen scavenger Masterbatch business and profiled in the oxygen scavenger Masterbatch market report include Tosaf Group, Clariant AG, Henkel AG & Company, KgaA, Albis Plastic GmbH, Gabriel-Chemie, and Nanobiomatters.
The global oxygen scavenger Masterbatch market is segmented as follows:
By Product Type
Inorganic Products

Iron-based Products
Other Inorganic Products

Organic Products
By Application
Flexible Packaging
Rigid Packaging
By End User
Poultry & Fish
Meat
Dairy Products
Fruits & Vegetables
Snacks & Confectionaries
Alcoholic Beverages
Others
By Region
North America
Europe

France
The UK
Spain
Germany
Italy
Rest of Europe

Asia Pacific

China
Japan
India
South Korea
Southeast Asia
Rest of Asia Pacific

Latin America

Brazil
Mexico
Rest of Latin America

Middle East & Africa

GCC
South Africa
Rest of Middle East & Africa