Orotic Aciduria Industry Prospective:
The global orotic aciduria market size was worth around USD 341.22 million in 2022 and is predicted to grow to around USD 507.96 million by 2030 with a compound annual growth rate (CAGR) of roughly 5.10% between 2023 and 2030.
The report analyzes the global orotic aciduria market drivers, restraints/challenges, and the effect they have on the demands during the projection period. In addition, the report explores emerging opportunities in the orotic aciduria industry.
Request Free Sample
Orotic Aciduria Market: Overview
Orotic aciduria is also known as hereditary orotic aciduria. It is a rare genetic condition that tends to impact the metabolism of pyrimidine which is a building block for important nucleic acids such as Deoxyribonucleic acid and ribonucleic acid (RNA). The condition is a result of a deficiency of the enzyme orotate phosphoribosyltransferase (OPRT) or uridine monophosphate synthase (UMPS). People living with this condition have problems in synthesizing uridine monophosphate (UMP) and this leads to the accumulation of orotic acid in blood and urine. The symptoms of orotic aciduria typically become visible or apparent during early childhood and the intensity may vary between patients. Certain common symptoms include developmental delay, failure to thrive, enlarged spleen & liver, intellectual disability, and megaloblastic anemia. The orotic aciduria market revolves around the economic aspects of the disease diagnosis and treatment.
Key Insights:
As per the analysis shared by our research analyst, the global orotic aciduria market is estimated to grow annually at a CAGR of around 5.10% over the forecast period (2023-2030)
In terms of revenue, the global orotic aciduria market size was valued at around USD 341.22 million in 2022 and is projected to reach USD 507.96 million, by 2030.
The orotic aciduria market is projected to grow at a significant rate due to the growing awareness rate
Based on drug type segmentation, uridine monophosphate was predicted to show maximum market share in the year 2022
Based on type segmentation, type I was the leading segment in 2022
On the basis of region, North America was the leading revenue generator in 2022
Orotic Aciduria Market: Growth Drivers
Increasing awareness rate to drive market growth
The global orotic aciduria market is projected to grow owing to the increasing awareness rate about several aspects of the condition amongst the population. Regional governments with the aid of pharmaceutical and healthcare companies have undertaken massive public awareness initiatives to educate people about the symptoms of the condition and available treatment programs. Such activities also improve the environment around diagnosis of the condition which further contributes to early care. The chances of bringing the symptoms under control are higher if the condition is diagnosed at early stages. In addition to this, the increasing rate of research and development activities aimed at finding more information about the underlying causes of the disease and the development of effective treatment plans could also result in higher revenue during the forecast period.
Orotic Aciduria Market: Restraints
Rarity rate to limit market growth
One of the primary reasons for limited growth in the global orotic aciduria industry is the low rate of disease prevalence. Orotic aciduria is an extremely rare medical disorder and there are only a limited number of cases globally. Since there is a small set of patients, it is difficult to conduct large-scale clinical trials which in turn impacts gaining more confidence for research funding.
Orotic Aciduria Market: Opportunities
Investments in personalized medicine approach to provide several growth opportunities
The global orotic aciduria industry can expect a higher number of growth opportunities if the market players focus on developing personalized medicine including genomic sequencing and precision therapies. By gaining more understanding of the specific genetic mutation that causes orotic aciduria, it will be easier to develop effective targeted therapies. Gene therapy approaches and other precision medicine techniques hold promise for treating orotic aciduria more effectively.
Orotic Aciduria Market: Challenges
Inaccurate diagnosis to challenge the market expansion
In several cases, orotic aciduria is either misdiagnosed or underdiagnosed mainly due to the rarity of the disease. It could also be due to a lack of expertise in the medical professional handling the case. These symptoms associated with the condition are nonspecific and generally tend to overlap with other conditions which can delay the diagnosis process. Such factors may challenge the orotic aciduria market expansion trajectory.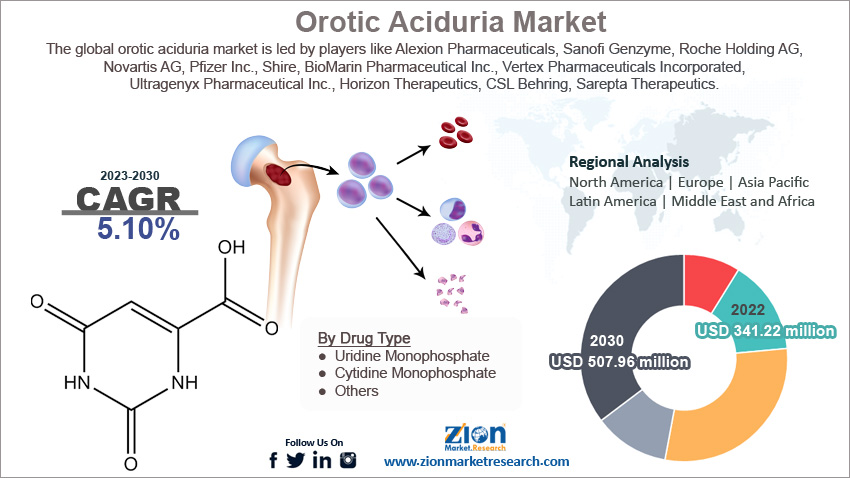 Request Free Sample
Orotic Aciduria Market: Segmentation
The global orotic aciduria market is segmented based on drug type, type, and region.
Based on drug type, the global market segments are uridine monophosphate, cytidine monophosphate, and others. The industry registered the highest growth in the uridine monophosphate segment in 2022 since it is one of the most widely used drugs in treating the condition. It is typically administered as a therapeutic agent and it can bypass the deficiency of the enzyme uridine monophosphate synthase (UMPS). By providing this drug, medical professionals can restore the impaired pyrimidine synthesis pathway and aid in the reduction of orotic acid accumulation. However, it should be noted that the specific medication and treatment plan depends on the patient and the intensity of the disease. As of 2018, only 20 patients with this condition had been diagnosed.
Based on type, the orotic aciduria industry segments are type II and type I. Out of the two types, the latter is more common and it is also known as UMP synthase deficiency. The counterpart is referred to as hereditary orotic aciduria II or orotate phosphoribosyltransferase deficiency and this version is much rarer than type I. In type II, there is a deficiency in the enzyme orotate phosphoribosyltransferase (OPRT), which affects the conversion of orotic acid to orotidine-5'-monophosphate (OMP) in the pyrimidine synthesis pathway. As per the National Institute of Health, there are around 7000 rare conditions that are noted in the medical literature.
Recent Developments:
In March 2023, Sanofi, a France-based multinational pharmaceutical and healthcare company, announced its plan to launch new products for rare conditions in the Indian market. The announcement was made on Rare Disease Day. Currently, the company will market Nexviazyme and Xenpozyme. The former is for Pompe disease while the latter can be used to treat Niemann-Pick disease (ASMD)
In February 2023, the Delhi High Court of India directed the Central Government of the country to release INR 5 crore to one of the most prestigious medical facilities in the country. The money will be provided to the All Indian Institute of Medical Sciences (AIIMS) and will be used to treat children with rare medical conditions like Guacher and Duchenne Muscular Dystrophy (DMD)
In November 2021, National Organization for Rare Disorders (NORD) made a crucial announcement in the form of providing a green signal to 31 NORD Rare Disease Centers of Excellence across the US
Orotic Aciduria Market: Report Scope
Report Attributes
Report Details
Report Name
Orotic Aciduria Market Research Report
Market Size in 2022
USD 341.22 Million
Market Forecast in 2030
USD 507.96 Million
Growth Rate
CAGR of 5.10%
Number of Pages
216
Key Companies Covered
Alexion Pharmaceuticals, Sanofi Genzyme, Roche Holding AG, Novartis AG, Pfizer Inc., Shire, BioMarin Pharmaceutical Inc., Vertex Pharmaceuticals Incorporated, Ultragenyx Pharmaceutical Inc., Horizon Therapeutics, CSL Behring, Sarepta Therapeutics, Regeneron Pharmaceuticals Inc., Moderna, Inc., bluebird bio, Sangamo Therapeutics, Amicus Therapeutics, Orchard Therapeutics, Abeona Therapeutics, PTC Therapeutics, Akcea Therapeutics, Catabasis Pharmaceuticals, Translate Bio, Homology Medicines, and Harmony Biosciences.
Segments Covered
By Drug Type, By Type, and By Region
Regions Covered
North America, Europe, Asia Pacific (APAC), Latin America, Middle East, and Africa (MEA)
Base Year
2022
Historical Year
2017 to 2021
Forecast Year
2023 - 2030
Customization Scope
Avail customized purchase options to meet your exact research needs. Request For Customization
Orotic Aciduria Market: Regional Analysis
North America to witness the highest growth
The global orotic aciduria market is projected to be dominated by North America in the coming years. It must be noted that the condition is extremely rare and there is no concrete information to conclude which region has the largest set of patients. However, North America, particularly, the United States is home to some of the most well-funded research institutes as well as pharmaceutical giants equipped with the necessary resources to gather more information about the disease in terms of origin and treatment plan. This factor could be responsible for higher growth in the region. Furthermore, the hospitals in the US are armored with excellent and advanced diagnostic tools which allow for early diagnosis of the disease. In regions such as Latin America and the Middle East, the condition has not been diagnosed in a significant number of people so far and hence the regional market may witness extremely slow growth during the forecast period.
Orotic Aciduria Market: Competitive Analysis
The global orotic aciduria market is led by players like:
Alexion Pharmaceuticals
Sanofi Genzyme
Roche Holding AG
Novartis AG
Pfizer Inc.
Shire
BioMarin Pharmaceutical Inc.
Vertex Pharmaceuticals Incorporated
Ultragenyx Pharmaceutical Inc.
Horizon Therapeutics
CSL Behring
Sarepta Therapeutics
Regeneron Pharmaceuticals Inc.
Moderna Inc.
bluebird bio
Sangamo Therapeutics
Amicus Therapeutics
Orchard Therapeutics
Abeona Therapeutics
PTC Therapeutics
Akcea Therapeutics
Catabasis Pharmaceuticals
Translate Bio
Homology Medicines
Harmony Biosciences.
The global orotic aciduria market is segmented as follows:
By Drug Type
Uridine Monophosphate
Cytidine Monophosphate
Others
By Type
By Region
North America
Europe

France
The UK
Spain
Germany
Italy
Rest of Europe

Asia Pacific

China
Japan
India
South Korea
Southeast Asia
Rest of Asia Pacific

Latin America

Brazil
Mexico
Rest of Latin America

Middle East & Africa

GCC
South Africa
Rest of Middle East & Africa