Oral Spray Industry Prospective:
The global oral spray market size was worth around USD 437.15 million in 2022 and is predicted to grow to around USD 497.82 million by 2030 with a compound annual growth rate (CAGR) of roughly 1.64% between 2023 and 2030.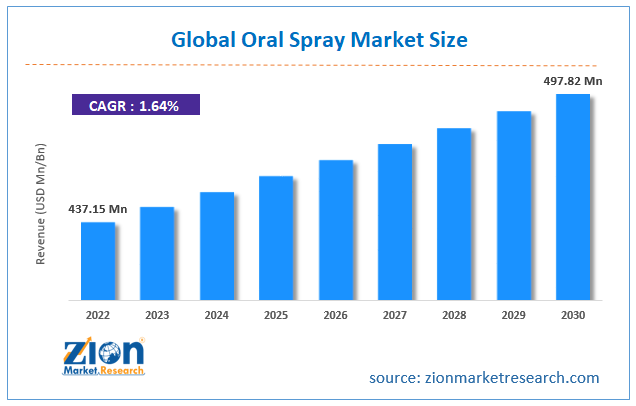 Request Free Sample
The report analyzes the global oral spray market drivers, restraints/challenges, and the effect they have on the demands during the projection period. In addition, the report explores emerging opportunities in the oral spray market.
Oral Spray Market: Overview
The oral spray industry deals with the production and distribution of oral spray as a means of delivering compounds or substances into the body. These devices are used to spray liquid formulations of active ingredients or medicines into the mouth so that the mucous membrane can directly absorb the essential medicine in the mouth and the throat area. Oral sprays are used in a variety of industries. For instance, in the pharmaceutical sector, oral sprays are used to deliver medication such as pain relievers, allergy medications, and oral health products directly into the bloodstream of the patient through the oral mucosa. In the nutraceutical segment, oral sprays are getting increasingly popular for delivering vitamins, minerals, herbal extracts, and dietary supplements. There are several advantages associated with oral spray and hence the industry has been registering significant growth in recent times.
Key Insights:
As per the analysis shared by our research analyst, the global oral spray market is estimated to grow annually at a CAGR of around 1.64% over the forecast period (2023-2030)
In terms of revenue, the global oral spray market size was valued at around USD 437.15 million in 2022 and is projected to reach USD 497.82 million, by 2030.
The oral spray market is projected to grow at a significant rate due to the higher convenience and ease of use
Based on application segmentation, medicine was predicted to show maximum market share in the year 2022
Based on type segmentation, drug oral spray was the leading type in 2022
On the basis of region, North America was the leading revenue generator in 2022
Oral Spray Market: Growth Drivers
Convenience and ease of use to drive market growth
The global oral spray market is projected to grow owing to the convenience and ease of use offered by oral sprays across applications. They are more user-friendly in terms of delivering substances into the body. Consumers do not have to swallow pills or capsules, which some people are not comfortable while some are unable to consume due to several reasons. Hence, for such individuals, oral sprays become more appealing, and find it difficult to swallow pills. Furthermore, these devices are designed to deliver active ingredients directly into the bloodstream through the oral mucosa. This translates to higher bioavailability and faster absorption when compared to traditional forms of dosage delivery. Rapid absorption translates to quicker onset of action and is hence more desirable, especially for delivering painkillers and allergy medications. For these compounds, the timing of the action onset is the most crucial
Oral Spray Market: Restraints
Limited awareness and acceptance to restrict market
The global oral spray industry may register restricted growth owing to the limited awareness and acceptance of the product. The majority of the world population is more familiar with traditional forms of product delivery which is either oral swallowing or using injections. Furthermore, some people may not be comfortable with oral spraying due to a lack of awareness or misconception. This could potentially damage the industry's growth trajectory.
Oral Spray Market: Opportunities
Growing demand for non-invasive delivery to provide growth opportunities
The global oral spray industry can benefit from the rising demand for non-invasive and convenient delivery methods for medications, supplements, and personal care products. Oral sprays are an ideal option to deliver a non-invasive alternative to injections. The growing number of people living with Trypanophobia, and the extreme fear of injections, is an indication of why pharmaceutical and healthcare companies should focus on developing more user-friendly drug delivery mechanisms. As per estimates derived from a Harvard study, the condition impacts nearly 25% of adults and leads to around 16% of the US population skipping vaccinations.
Oral Spray Market: Challenges
Regulatory compliance to challenge the market expansion
The global oral spray market could face growth challenges owing to the industry being subject to intense regulatory compliance across countries. Companies operating in the segment must obtain the necessary certifications and licenses to sell the product in the commercial market. The process can be time-consuming and may require intense investment. Moreover, any issues with labeling or false marketing claims can severely impact brand value.
Oral Spray Market: Segmentation
The global oral spray market is segmented based on application, type, and region.
Based on application, the global market segments are skincare products, medicine, nutraceuticals, cannabis & CBS products, and others. The highest industry growth was observed in the medicine segment as oral sprays are commonly used to deliver several medicines including throat sprays and oral healthcare products. They provide users with a convenient and targeted method of delivering pharmaceutical substances into the body. The oral spray industry is gaining high momentum in the nutraceutical segment as well. These are products that provide a combined benefit of nutrition and pharmaceuticals and are essential to provide health benefits that go beyond basic nutrition. The increasing number of players experimenting with oral sprays could lead to higher segmental growth. The global mouth freshener market, of which oral spray is an important part, was valued at more than USD 18 billion in 2022.
Based on type, the global market divisions are drug oral spray and daily oral care spray, The drug oral spray segment had a larger oral spray market share in 2022. They are used to deliver medications and pharmaceutical substances that have wide adoption in the healthcare sector. They are used for purposes such as pain relief, allergy relief, nasal decongestants, oral health, and throat sprays. On the other side, daily oral care spray consists of everyday used products such as mouthwashes, breath fresheners, and oral hygiene products, which have a more limited market presence. However, the usage is largely limited to only certain segments of the population since there are multiple oral care products available in several forms. Traditional oral care products such as toothpaste and mouthwash still dominate the oral care market. Around 200 million people in the US use mouthwash regularly.
Recent Developments:
In February 2023, Arlak Biotech, an Indian pharmaceutical company, launched Melatonin oral spray. The spray is a much-awaited product since it is highly effective. It actively supplements the body's production of melatonin which promotes better sleep. People struggling with falling asleep are likely to be hugely impacted by the product launch. It can also be used to adjust to new sleeping patterns or stay asleep for a longer duration
In January 2023, MGC Pharma and HempStreet entered a collaboration to launch ArtemicC, a mouth spray that can actively minimize symptoms related to Covid-19. The product is a nutraceutical mouth spray and has been reported to improve recovery periods in Covid-19 patients. MGC Pharma has been at the forefront of developing cannabis and other phytopharmaceuticals based polyherbal formulations
Oral Spray Market: Report Scope
Report Attributes
Report Details
Report Name
Oral Spray Market Research Report
Market Size in 2022
USD 437.15 Million
Market Forecast in 2030
USD 497.82 Million
Growth Rate
CAGR of 1.64%
Number of Pages
221
Key Companies Covered
OraCoat, Sunstar Group, Johnson & Johnson, GlaxoSmithKline plc, Merck & Co. Inc., Pfizer Inc., Church & Dwight Co. Inc., Allergan plc, Perrigo Company plc, Procter & Gamble Co., Reckitt Benckiser Group plc, Dr. Fresh LLC, Xlear Inc., EUSA Pharma, Prestige Consumer Healthcare Inc., Life Extension, Dr. Reddy's Laboratories Ltd., Wockhardt Ltd., Dynarex Corporation, Comvita Ltd., Geo Pharma LLC, Primex Pharmaceuticals AG, Hikma Pharmaceuticals PLC, GSK Consumer Healthcare, and Teva Pharmaceuticals Industries Ltd.
Segments Covered
By Application, By Type, and By Region
Regions Covered
North America, Europe, Asia Pacific (APAC), Latin America, Middle East, and Africa (MEA)
Base Year
2022
Historical Year
2017 to 2021
Forecast Year
2023 - 2030
Customization Scope
Avail customized purchase options to meet your exact research needs. Request For Customization
Oral Spray Market: Regional Analysis
North America to register the highest growth
The global oral spray market is projected to witness the highest growth in North America driven by factors such as deeper product penetration and higher consumer awareness rate. Moreover, the healthcare infrastructure of the US and Canada are highly advanced with the majority of the population having access to basic medical care. The governments along with regional healthcare bodies regularly conduct drives to educate the masses about precautionary care and oral spray products have become an integral part of maintaining oral hygiene for the majority of the regional population. In addition to this, there is a growing demand for non-invasive drug delivery methods which could lead to greater adoption of oral spray for medicine delivery. Latin America is an emerging market for the industry and factors such as increasing healthcare expenditure, and rising awareness about non-invasive drug delivery methods could assist in a better growth rate.
Oral Spray Market: Competitive Analysis
The global oral spray market is led by players like:
OraCoat
Sunstar Group
Johnson & Johnson
GlaxoSmithKline plc
Merck & Co. Inc.
Pfizer Inc.
Church & Dwight Co. Inc.
Allergan plc
Perrigo Company plc
Procter & Gamble Co.
Reckitt Benckiser Group plc
Dr. Fresh LLC
Xlear Inc.
EUSA Pharma
Prestige Consumer Healthcare Inc.
Life Extension
Dr. Reddy's Laboratories Ltd.
Wockhardt Ltd.
Dynarex Corporation
Comvita Ltd.
Geo Pharma LLC
Primex Pharmaceuticals AG
Hikma Pharmaceuticals PLC
GSK Consumer Healthcare
Teva Pharmaceuticals Industries Ltd.
The global oral spray market is segmented as follows:
By Application
Skincare Products
Medicine
Nutraceuticals
Cannabis & CBD Products
Others
By Type
Drug Oral Spray
Daily Oral Care Spray
By Region
North America
Europe

France
The UK
Spain
Germany
Italy
Rest of Europe

Asia Pacific

China
Japan
India
South Korea
Southeast Asia
Rest of Asia Pacific

Latin America

Brazil
Mexico
Rest of Latin America

Middle East & Africa

GCC
South Africa
Rest of Middle East & Africa