Nut Products Market: Industry Perspective
The global Nut Products market accrued earnings worth approximately 1.2(USD Billion) in 2019 and is predicted to gain revenue of about 2.9(USD Billion) by 2026, is set to record a CAGR of nearly 5.6% over the period from 2020 to 2026. The report offers assessment and analysis of the Nut Products market on a global and regional level. The study offers a comprehensive assessment of the market competition, constraints, revenue estimates, opportunities, evolving trends, and industry-validated data. The report provides historical data from 2017 to 2019 along with a forecast from 2020 to 2026 based on revenue (USD Billion).
Report Scope :
Nut Products Market: Overview
Intake of nuts is related to reducing the chronic disorder risks and its products such as cashew nut, peanut hull, and coconut shell exhibit anti-bacterial properties as well as food preserving features. Furthermore, the beneficial effects of the nut product consumption on human health are attributed to presence of fatty acids, vegetable protein, minerals, Phytosterols, fiber, vitamins, and Phenolic in these products. Nut intake results in low formation of atherogenic LDL sub-fraction resulting in less occurrence of heart stroke in persons due to the cholesterol-reducing effect of nut or its products & presence of low proportion of saturated fats in nut products. As per NCBI study, intake of nut products provides benefits to the consumers against oxidative stress, vascular reactivity, inflammation, hypertension, metabolic syndrome, and visceral adiposity.
As per the observations made by US FDA, nuts reduce the risk of type 2 diabetes in the subjects, regulate levels of blood glucose, and reduce coronary heart disease risks as they possess a high proportion of antioxidants. Moreover, large consumption of nits and its products is witnessed among the Mediterranean population. In addition to this, tree nuts including almonds, cashew nuts, walnuts, and pistachios & legume seeds like peanuts are dense diets having many ingredients benefitting human health.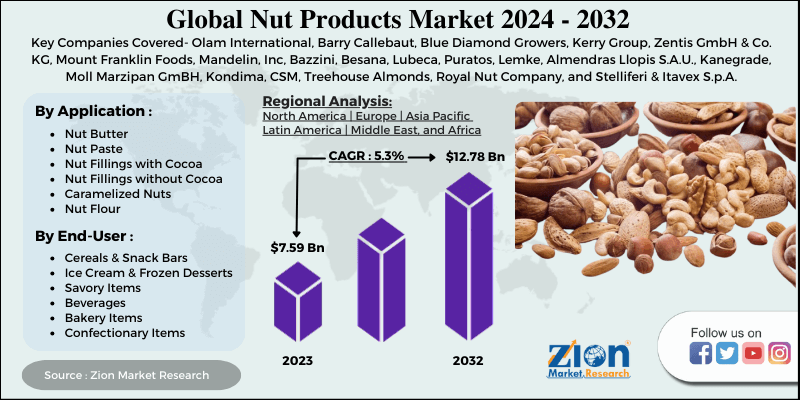 Request Free Sample
Nut Products Market: Growth Drivers
Escalating health awareness among the people and inclination towards consuming nutrient rich diet will proliferate the market space over the upcoming years. Changing lifestyles and availability of more nutrient-rich diets will prompt the expansion of nut products industry over the forecast period. Reportedly, nuts are prescribed as a key component to be consumed along with cardioprotective food. This aspect will further drive market trends. In addition to this, nuts are one of the few natural plant diets having highest proportion of fats possessing beneficial monounsaturated fatty acids and polyunsaturated fatty acids that can prove good for human health. Apparently, nuts are rich source of bioactive ingredients having huge potential of positively influencing cardiovascular & metabolic outcomes. All these aforementioned factors will steer the surge in nut products market size over the assessment period.
Furthermore, nuts as well as its products have favorable prebiotic effect on the human health. Additionally, rise in the use of food & beverages products with nut as ingredients will enlarge the scope of nut products industry over the prognostic period. Large-scale demand for nut products in bakery, processed foods, and confectionary has offered consumers with numerous options for healthy & tasty diet, thereby steering the business landscape. With the large-scale production of nut products like peanuts, hazelnuts, almonds, Brazil nuts, macadamia nuts, pine nuts, walnuts, and cashew nuts, the market for nut products will gain momentum over the years to come. In addition to this, surge in the disposable income leading to purchase of premium food items, will embellish nut products market size. With positioning of nut products as healthy diet, the nut products market is likely to expand geometrically over the forecast period.
North America To Make Lucrative Contributions Towards Overall Market Size By 2026
The growth of the nut products industry in North America over the forecast period is due to the growing demand for healthy & nutritive snacks in the countries such as Canada and the U.S. Need for maintaining a healthy lifestyle along with large consumption of edible nuts due to its enriched nutrient contents will vivify the nut products market penetration in the subcontinent in the coming decade. The presence of major nut product producers in the countries of the region will steer the business space over the years ahead.
Key participants profiled in the report include Olam International, Barry Callebaut, Blue Diamond Growers, Kerry Group, Zentis GmbH & Co. KG, Mount Franklin Foods, Mandelin, Inc, Bazzini, Besana, Lubeca, Puratos, Lemke, Almendras Llopis S.A.U., Kanegrade, Moll Marzipan GmBH, Kondima, CSM, Treehouse Almonds, Royal Nut Company, and Stelliferi & Itavex S.p.A.
The global Nut Products Market is segmented as follows:
By Product Type
Nut Butter

Nut Paste
Nut Fillings with Cocoa
Nut Fillings without Cocoa
Caramelized Nuts
Nut Flour
By End-User
Cereals & Snack Bars
Ice Cream & Frozen Desserts
Savory Items
Beverages
Bakery Items
Confectionary Items
By Region
North America
Europe

France
The UK
Spain
Germany
Italy
Rest of Europe

Asia Pacific

China
Japan
India
South Korea
Southeast Asia
Rest of Asia Pacific

Latin America

Brazil
Mexico
Rest of Latin America

Middle East & Africa

GCC
South Africa
Rest of the Middle East & Africa