The global Neo and Challenger Bank market, which was estimated at 18,604 (USD Million) in 2018 and is predicted to accrue earnings worth 394,648 (USD Million) by 2026, is set to record a CAGR of nearly 46.5% over 2019-2026. The report offers valuation and analysis of Neo and Challenger Bank market on a global as well as regional level. The study offers a comprehensive assessment of the industry competition, limitations, sales estimates, avenues, current & emerging trends, and industry-validated market data. The report offers historical data from 2016 to 2018 along with a forecast from 2019 to 2026 based on value (USD Million).
Introduction
Neobank is a type of digital bank that performs various banking operations online without having any branches established at physical locations. In addition to this, Neobank is consumer-centric and offer personalized online services to its customers. Precisely, these banks are FinTech firms offering only internet-based financial services to tech-savvy consumers. They provide value-added banking services, insurance, remittances, mobile payment services, money transfer services, and mortgage services to its customers online. Some of the examples of Neobank include Google Pay, Stash, PhonePe, Pockit, Cleo, Karat, Qube, and PayTm.
On other hand, Challenger banks are small and currently created retail financial institutions operating in the countries like the UK. They are the FinTech firms performing online-only operations without having any physical presence across the globe. These banks offer services like credit cards, mobile banking, lending, purchase & sale of cryptocurrency, and insurance products to the end-users.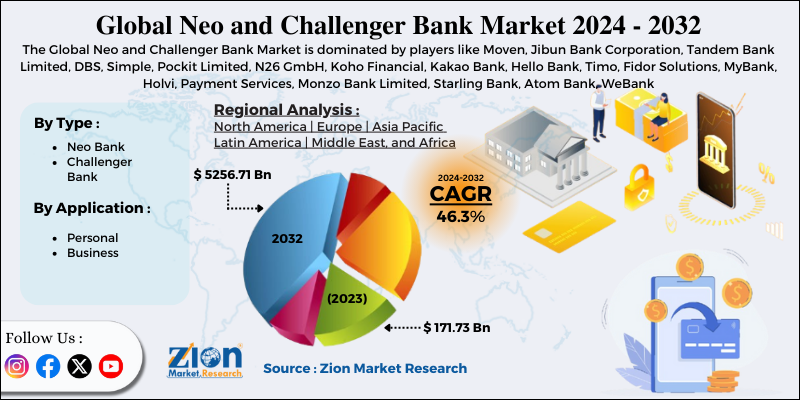 Market Growth Drivers
Easy & quick access to the online banking services, real-time financial transactions, personalized online financial services, and high rate of interest offered by neo and challenger banks are expected to provide new growth avenues for the market over the forthcoming years. Apart from this, escalating smartphone demand and onset of innovative technologies like IoT, Big Data, and AI are likely to serve as major tools of growth for the neo and challenger bank market over the forthcoming years. In addition to this, huge unexplored market growth potential in emerging economies is going to be one of the major factors that will determine the business growth over the next couple of years.
Furthermore, service industry has dominated the overall economy and has accounted majorly towards GDP share of both developed countries as well as developing economies. Moreover, Neo and challenger bank industry is no exception to this and its online services have resulted in value creation for the customers. This, in turn, is likely to result in immense business growth over the years ahead.
European Market To Witness Optimal Growth And ROI Over 2020-2026
The growth of the regional market over the forecast timespan is due to massive presence of these financial institutions in the countries like the UK. Apart from this, the country possesses largest number of small & medium-sized enterprises in Europe and is succeeded by Germany.
Key players leveraging the market growth include Moven, Jibun Bank Corporation, Tandem Bank Limited, DBS, Simple, Pockit Limited, N26 GmbH, Koho Financial, Kakao Bank, Hello Bank, Timo, Fidor Solutions, MyBank, Holvi Payment Services, Monzo Bank Limited, Starling Bank, Atom Bank, and WeBank.
This report segments the global neo and challenger bank market into:
Global Neo and Challenger Bank Market: Type Analysis
Global Neo and Challenger Bank Market: Application Analysis
By Region
North America
Europe

France
The UK
Spain
Germany
Italy
Rest of Europe

Asia Pacific

China
Japan
India
South Korea
Southeast Asia
Rest of Asia Pacific

Latin America

Brazil
Mexico
Rest of Latin America

Middle East & Africa

GCC
South Africa
Rest of Middle East & Africa