Molecular Diagnostics Market: Industry Perspective
The report covers a forecast and an analysis of the molecular diagnostics market on a global and regional level. The study provides historical data from 2016 to 2018 along with a forecast from 2019 to 2025 based on revenue (USD Billion). The study includes the drivers and restraints of the molecular diagnostics market along with their impact on the demand over the forecast period. Additionally, the report includes the study of opportunities available in the molecular diagnostics market on a global level.
In order to give the users of this report a comprehensive view of the molecular diagnostics market, we have included a competitive landscape and an analysis of Porter's Five Forces model for the market. The study encompasses a market attractiveness analysis, wherein all the segments are benchmarked based on their market size, growth rate, and general attractiveness.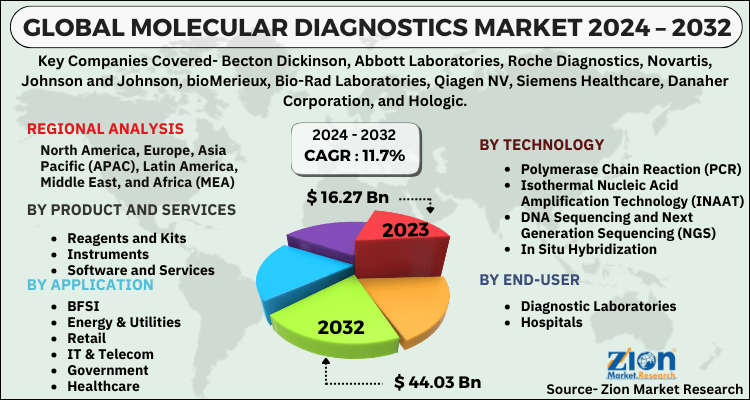 The report provides a company market share analysis to give a broader overview of the key players in the market. In addition, the report also covers key strategic developments of the market including acquisitions & mergers, new product launches, agreements, partnerships, collaborations & joint ventures, research & development, and regional expansion of major participants involved in the market.
The study provides a decisive view of the molecular diagnostics market by segmenting it on the basis of product and services, application, technology, end-user, and region. All the segments have been analyzed based on present and future trends and the market is estimated from 2019 to 2025. The regional segment includes the current and forecast demand for North America, Europe, Asia Pacific, Latin America, and the Middle East and Africa with its further classification into major countries including the U.S., UK, Germany, France, China, Japan, India, Brazil, etc.
Some major players in the global molecular diagnostics market are Becton Dickinson, Abbott Laboratories, Roche Diagnostics, Novartis, Johnson and Johnson, bioMerieux, Bio-Rad Laboratories, Qiagen NV, Siemens Healthcare, Danaher Corporation, and Hologic.
This report segments the global molecular diagnostics market into:
Global Molecular Diagnostics Market: Product and Services Analysis
Reagents and Kits
Instruments
Software and Services
Global Molecular Diagnostics Market: Application Analysis
Genetic Tests
Infectious Diseases
Hepatitis
HIV
CT/NG
HPV
TB
Influenza
Others
Breast Cancer
Lung Cancer
Colorectal Cancer
Prostate Cancer
Other Cancers
Global Molecular Diagnostics Market: Technology Analysis
Polymerase Chain Reaction (PCR)
Isothermal Nucleic Acid Amplification Technology (INAAT)
DNA Sequencing and Next Generation Sequencing (NGS)
In Situ Hybridization
DNA Microarrays
Others
Global Molecular Diagnostics Market: End-User Analysis
Diagnostic Laboratories
Hospitals
Others
Global Molecular Diagnostics Market: Regional Analysis
North America
Europe
Asia Pacific
Latin America
The Middle East and Africa