Analysis
Molecular diagnostics includes the molecular biology techniques that are used for the detection of biomarkers present in genomes or proteomes. Molecular diagnostic consist of a family of techniques like PCR, DNA or gene microarray, INAAT, NGS, etc. Molecular diagnostics is the result of the fruitful interplay between genomics knowledge, laboratory medicine, and technology in the field of molecular genetics.
According to the WHO, cancer is the second leading mortality cause worldwide. The growing cancer prevalence worldwide is fueling the research activities for cancer treatment. As per the National Cancer Institute, in 2018, about 1,700,000 new cancer cases were diagnosed in the U.S. According to the Centers for Disease Control and Prevention, about 9,272 new cases of tuberculosis were registered in the U.S. in 2016. This growing incidence of infectious diseases and cancer is increasing the demand for molecular diagnostics techniques. The rapid advancements witnessed in the molecular biology technologies, development of molecular diagnostic technologies to automated processes, growing awareness about molecular diagnostics usage for the detection of different diseases in developing countries, and increasing government funding for research in molecular biology are driving the global molecular diagnostics market. However, the high cost of technologies and the lack of a skilled workforce to handle the instruments are hindering the global molecular diagnostics market growth.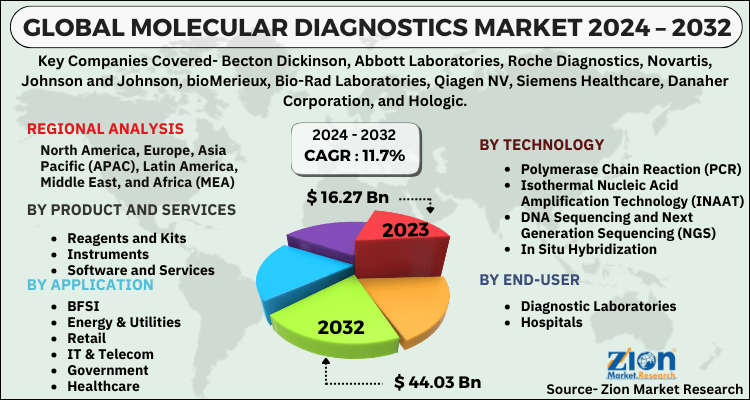 The molecular diagnostics market is fragmented into product and services, application, technology, and end-user. Based on product and services, the molecular diagnostics market includes instruments, reagents and kits, and software and services. The application segment of the molecular diagnostics market includes genetic tests, infectious diseases (HIV, hepatitis, HPV, CT/NG, influenza, TB, and others), oncology (life breast cancer, lung cancer, colorectal cancer, prostate cancer, and other cancers), and others. The oncology segment is projected to show the highest growth rate in the molecular diagnostics market in the years ahead. Based on technology, the market is fragmented into DNA microarrays, DNA sequencing and NGS, polymerase chain reaction, in situ hybridization, isothermal nucleic acid amplification technology, and others. The end-user segment comprises diagnostic laboratories, hospitals, and others.
By region, North America dominated the market in 2018, owing to the early introduction of highly developed equipment for research activities, the presence of highly skilled workforce, and an increase in the number of projects for the development of new molecular diagnostic technologies. The Asia Pacific molecular diagnostics market is anticipated to show the highest year-to-year growth in the upcoming years, due to the rising investments by government and leading companies for R&D, high prevalence of infectious diseases in the developing countries of China and India, and growing awareness about molecular diagnostics usage for different disease detection.
Some major players of the global molecular diagnostics market are Becton Dickinson, Abbott Laboratories, Roche Diagnostics, Novartis, Johnson and Johnson, bioMerieux, Bio-Rad Laboratories, Qiagen NV, Siemens Healthcare, Danaher Corporation, and Hologic.