Description
The Mobile Phone Insurance Ecosystem market is set for a rapid growth over the forecast period. In terms of revenue, the global Mobile Phone Insurance Ecosystem market accounted for USD 23.47 Billion in 2019 and is expected to reach USD 47.01 Billion by 2026, growing at a CAGR of 10.43%
Global Mobile Phone Insurance Ecosystem Market: Overview
Mobile insurance has become an important part just like having a smartphone these days. People reply on it for various purposes such as communication, business work, etc. Therefore, damage or loss of these devices would lead to a major issue. In such scenario, it is necessary to opt for financial assistance in the event of unintended damage or theft of the handset.
Mobile Phone insurance ecosystem is a network or interconnected infrastructure or system that allows consumers with integrated expertise to meet a range of needs and to provide insurance and customer services. Insurers use the ecosystem to offer improved and timely coverage to their customers. It also lets consumers check essential details on the internet.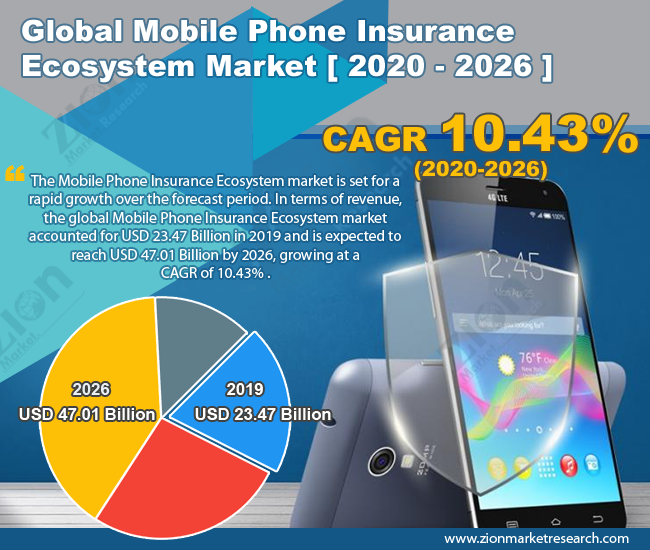 Global Mobile Phone Insurance Ecosystem Market: Growth Factors
The global market is experiencing robust growth due to the growing value of costly smart phones and rising cases of theft. Increased standards of living and massive spending on luxury consumer electronics are leading to the growth of the mobile phone insurance industry.
The rate of electrical or mechanical failure would also increase dramatically due to the sensitive output of a few smartphones that need to be carefully processed. Moreover, the increases sales of smart phones, device malfunction and loss are key factors driving growth in the demand for mobile phone insurance ecosystem market. However, due to increasing mobile phone rates, customers are less likely to opt for insurance plans and this trend is expected to impede market growth to some degree.
The rate of theft has risen dramatically in recent years. This has increased primarily due to the increasing population and high sales volumes of smartphones or mobile phones. The demand for the industry is expected to increase due to its penetration in the consumer electronics sector. Increased sales of mobile phones are projected to increase overall market growth.
Global Mobile Phone Insurance Ecosystem Market: Segmentation
The global mobile phone insurance ecosystem market is segmented on the basis of type and sales channel. By type the market is divided into accidental, electrical/mechanical breakdown, theft or loss, and others. In terms of sales channel, the market is categorized into direct channel, and indirect channel.
The theft or loss category is the most active issue for mobile phone insurance customers. In addition, technical difficulties often contribute to large quantities of customer expenditure on mobile phone repairs. The same would be true for virus infections. Growing trend of bullying and cyber-bullying by expensive handsets raises the tendency of consumers to ensure their devices. This aspect is driving the global mobile insurance ecosystem market by rising the demand for various insurance policies.
The electrical/mechanical damage insurance category was projected to account for the second-highest market share in 2019. The growing incidence of local or duplicate cell phone brands is likely to harm the phone internally. This may be a major factor contributing to the growth of the market during the forecast period.
Global Mobile Phone Insurance Ecosystem Market: Regional Analysis
By Geography, the Mobile Phone Insurance Ecosystem market is segmented into North America, Europe, Latin America, Asia Pacific, and Middle East and Africa.
North America dominates the worldwide market for mobile phone insurance ecosystem market. In particular, high penetration of smartphones in the United States with rising trend of purchasing an insurance plan due to accelerating prices of mobile phone and growing cases of smartphone theft are major factors driving the growth of the United States mobile phone insurance.
In 2019, Europe accounted for the second-largest market share in the mobile phone insurance ecosystem market and is predicted to post the highest CAGR over the forecast period. This can be due to the rising insurance sector in European countries; in particular in the United Kingdom and France. The growing affordable ownership of smartphones in these countries, and the increasing number of cases of smartphone theft are major factors fueling the growth of the European mobile phone insurance ecosystem market.
Global Mobile Phone Insurance Ecosystem Market: Competitive Players
The major players in the global mobile phone insurance ecosystem market include Apple Inc., AmTrust International, Allianz, Aviva, Asurion, ASSURANT, INC., American International Group, Inc., BlackBerry, Brightstar Corp., Microsoft Corporation, GoCare Warranty Group, IAG (Insurance Australia Group), Geek Squad, Xiaomi, Symantec Corporation, Sony Mobile Communications, Samsung Electronics and LG Electronics among others.
Global Mobile Phone Insurance Ecosystem Market: Regional Segment Analysis
North America
Europe

France
The UK
Spain
Germany
Italy
Rest of Europe

Asia Pacific

China
Japan
India
South Korea
Southeast Asia
Rest of Asia Pacific

Latin America

Brazil
Mexico
Rest of Latin America

Middle East & Africa

GCC
South Africa
Rest of Middle East & Africa