Market Overview
The global IoT Professional Services Market accounted for USD 91254 Million in 2020 and is expected to reach USD 162263.7 Million by 2028, growing at a CAGR of 6.7% from 2021 to 2028.
Internet of Things (IoT) services are a set of end-to-end services in which organisations hire outside companies to design, build, install, and run IoT solutions, as well as providing advisory services for IoT planning. Professional IoT services aid in the management of device vulnerability, assuring continuous communication, controlling the internet, and addressing data security issues linked with the usage of connected devices.
The market is expected to grow over the forecast period owing to the proliferation of connected devices around the world and the demand for highly customised IoT professional services in the industrial and transportation sectors. The introduction of IoT has resulted in an increased data traffic. By 2030, Cisco estimates that more than 500 billion IoT devices, including sensors, actuators, and medical equipment, will be connected to the internet. Additionally, with the advent of 5G next-generation mobile connection technology, a massive IoT ecosystem can be unleashed that would allow networks to serve billions of connected devices.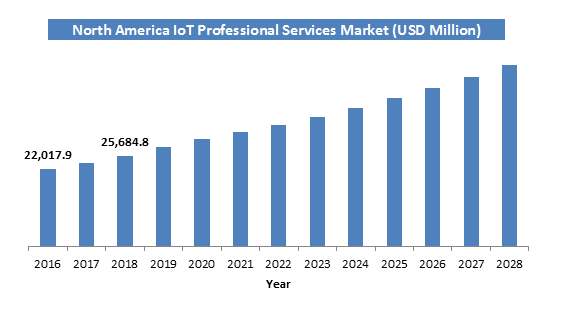 Request Free Sample
COVID-19 Impact Analysis
The Covid-29 pandemic has had a positive effect on the IoT professional services market. During the pandemic, IoT device usage has been on the rise in various industries, including healthcare, utilities, manufacturing, and transportation and logistics. In healthcare, for example, IoT professional services are rapidly being employed in telemedicine solutions such as remote patient monitoring and diagnostics. Intelligent asset management solutions for remote monitoring, alerts and notifications, remote services and control have being considered by businesses which can be expected to fuel the growth of the market.
Growth Factors
The growing computational power of IoT devices enables rapidly carrying out multiple functions in real time. Data analysis insights help drive actionable steps to improve the business, thereby increasing the adoption rate of IoT devices across the globe.
Rising need for reduction in capital and operational expenditure can also be expected to fuel the growth of the market. Moreover, as businesses and industries continue to navigate their way through the challenges posed by the Covid-19 pandemic, switching to the online mode and extensive adoption of online services is expected to have a positive affect on the growth trajectory.
Report Scope:
Request Free Sample
Service Type Segment Analysis Preview
IoT consulting services segment held a share of around 31.2% in 2020. As per a study conducted, IoT consulting has been on the rise in the recent past. IoT consulting services assist firms in fine-tuning their business processes and enable develop distinct strategies, develop use cases, plan roadmaps, assess technologies, and frame IoT architectures. They also assist businesses in developing new IoT infrastructures to supplement their existing systems and help non-IT organisations with limited IT knowledge in understanding such technologies.
Deployment Type Segment Analysis Preview
Cloud segment will grow at a CAGR of over 5.9% from 2021 to 2028. This is attributable to the scalability and agility that a cloud network has to offer. Businesses are moving to cloud-deployed IoT professional services as they are more affordable and offer a wider range of functions as compared to on-premises services.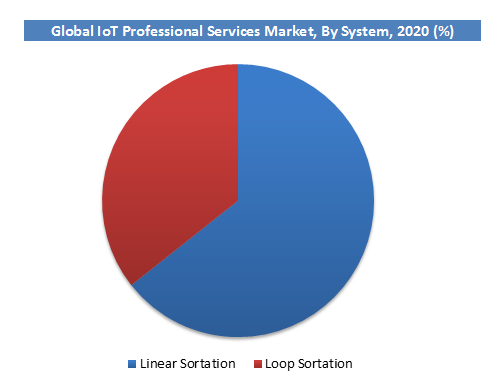 Request Free Sample
Regional Analysis Preview
The North American region held a share of 31.25% in 2020. This is attributable to the presence of top companies such as AT&T, IBM, and Cognizant among others. Moreover, the region is technologically advanced, and a number of government programmes, such as smart cities and Industrial IoT (IIoT), have been implemented. Businesses in this region are eager to incorporate IoT technology into their processes owing to the early adoption of trending technologies such as IoT, cloud, AI, big data, and mobility.
The Asia Pacific region is projected to grow at a CAGR of around 6.1% over the forecast period. This is attributable to the increased adoption of advanced technologies, clubbed with steady economic growth and smart city projects undertaken in the region. The presence of key players such as TCS, NTT DATA and Vodafone among others can also be expected to boost the market.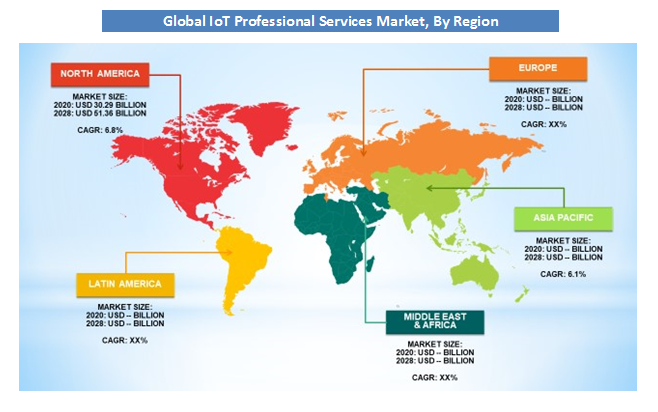 Request Free Sample
Key Market Players & Competitive Landscape
Some of key players in IoT Professional Services Market are Accenture, Atos SE, IBM, Cognizant, Deloitte, TCS, NTT DATA Corporation, AT&T, Wipro, Honeywell International Inc., HCL (India), Vodafone, DXC Technology and EY Global among others.
The ability to innovate their offerings through extensive research and development activities has allowed key players to gain competitive advantage in the market. Strategic collaborations and acquisitions among the players is also enabling a stronger foothold in the market. For instance, Atos and IBM partnered in January 2021 to enable businesses accelerate their digital transformation and improve business operations. Manufacturing, energy and utilities, oil and gas, retail, and transportation are among the industries where Atos and IBM will collaborate to address business difficulties. DXC Technology in August 2019 partnered with Google Cloud to enable enterprise clients modernize their mission-critical IT and integrate digital solutions on the Google Cloud Platform.
The global IoT professional services market is segmented as follows:
By Service Type
IoT Consulting Service,
System Designing and Integration Service
Support and Maintenance Service
Education and Training Service
By Organization Size
By Deployment Type
By End Use Industry
IT & Telecom
Retail
Manufacturing
Healthcare
BFSI
Others
By Region
North America
Europe

France
The UK
Spain
Germany
Italy
Rest of Europe

Asia Pacific

China
Japan
India
South Korea
Southeast Asia
Rest of Asia Pacific

Latin America

Brazil
Mexico
Rest of Latin America

Middle East & Africa

GCC
South Africa
Rest of Middle East & Africa