This report analyzes and estimates the microgrid market at global, regional, and country level. The research study provides historic data from 2015 to 2019 along with the forecast from 2020 to 2025 based on revenue (USD Billion). The report offers detailed insights of the microgrid market drivers and restraints along with their impact analysis at a global level from 2015 to 2025.
The report covers an in-depth analysis of the strategies adopted by major competitors in the global microgrid market. To understand the competitive landscape in the microgrid market, an analysis of Porter's Five Forces model is also included. The research study comprises of market attractiveness analysis, wherein all the segments are benchmarked on the basis of their market size and growth rate.
The research study provides a decisive view on the global microgrid market based on grid type, connectivity, storage, power source, application, and region. All the segments of the market have been analyzed based on the past, present, and future trends. The market is estimated from 2019 to 2025.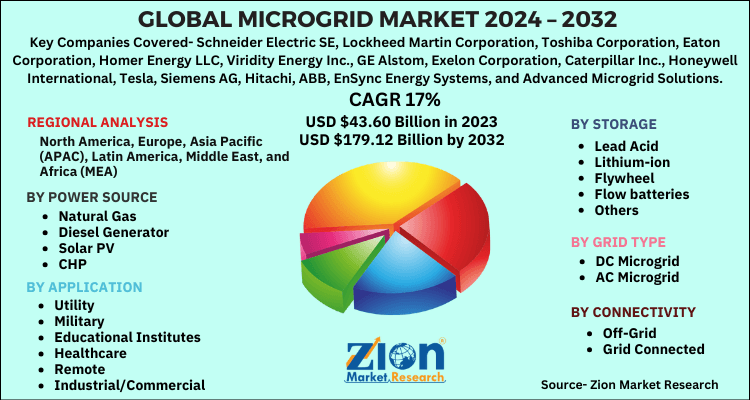 Recent government norms are endorsing the use of highly efficient and renewable power-generating sources that would considerably fuel the demand for natural gas power sources. Owing to the surging demand, the segment is likely to hold the major share of the global microgrid market during the forecast period. Moreover, the growing concerns over fuel diversification have strengthened the social & economic basis for the energy transition, which in turn has propelled the "natural gas" segment of the global sector.
The report encompasses the comprehensive analytical study of the global microgrid market by segmenting it on the basis of grid type, connectivity, storage, power source, application, and region. Based on the grid type, the global microgrid market is categorized into DC microgrid and AC microgrid. Connectivity-wise, the industry is bifurcated into off-grid and grid connected. On the basis of storage, the sector is divided into lead acid, lithium-ion, flywheel, flow batteries, and others. By power source, the global market is classified into natural gas, diesel generator, solar PV, CHP, and others. Based on the application, the market is segmented into utility, military, educational institutes, healthcare, remote, industrial/commercial, and others. The regional segmentation comprises the past, present, and estimated demand for the Middle East & Africa, North America, Asia Pacific, Latin America, and Europe. The regional segment is further split into the U.S., Canada, Mexico, UK, France, Germany, China, Japan, India, South Korea, Brazil, and Argentina among others.
Some of the essential players flourishing the global microgrid market, but not restricted to include Schneider Electric SE, Lockheed Martin Corporation, Toshiba Corporation, Eaton Corporation, Homer Energy LLC, Viridity Energy Inc., GE Alstom, Exelon Corporation, Caterpillar Inc., Honeywell International, Tesla, Siemens AG, Hitachi, ABB, EnSync Energy Systems, and Advanced Microgrid Solutions.
The global microgrid market is segmented as:
Global Microgrid Market: By Grid Type Segmentation Analysis
DC Microgrid
AC Microgrid
Global Microgrid Market: By Connectivity Segmentation Analysis
Global Microgrid Market: By Storage Segmentation Analysis
Lead Acid
Lithium-ion
Flywheel
Flow batteries
Others
Global Microgrid Market: By Power Source Segmentation Analysis
Natural Gas
Diesel Generator
Solar PV
CHP
Others
Global Microgrid Market: By Application Segmentation Analysis
Utility
Military
Educational Institutes
Healthcare
Remote
Industrial/Commercial
Others
Global Microgrid Market: Regional Segmentation Analysis
North America
Europe

France
The UK
Spain
Germany
Italy
Rest of Europe

Asia Pacific

China
Japan
India
South Korea
Southeast Asia
Rest of Asia Pacific

Latin America

Brazil
Mexico
Rest of Latin America

Middle East & Africa

GCC
South Africa
Rest of Middle East & Africa