Market Overview
The global medical polymer market accounted for USD 14.88 Billion in 2020 and is expected to reach USD 27.25 Billion by 2028, growing at a CAGR of 7.9% from 2021 to 2028.
Polymers are compounds that are usually of high molecular weight and are formed by combination of simpler molecules (monomers). Medical-grade polymers are an integral part of the global healthcare infrastructure and have been have been used in medical industry for decades. Polymers are used in a wide range of devices, from surgical instruments to implants and catheters. Metal substitution coupled with the growing awareness around maintaining proper health and hygiene are the driving factors for increasing demand for medical polymers, among others. Emergence of bioresorbables, use of polymers like PEEK and technological advancements in medical polymer industry are some of the trends witnessed by this industry in recent years.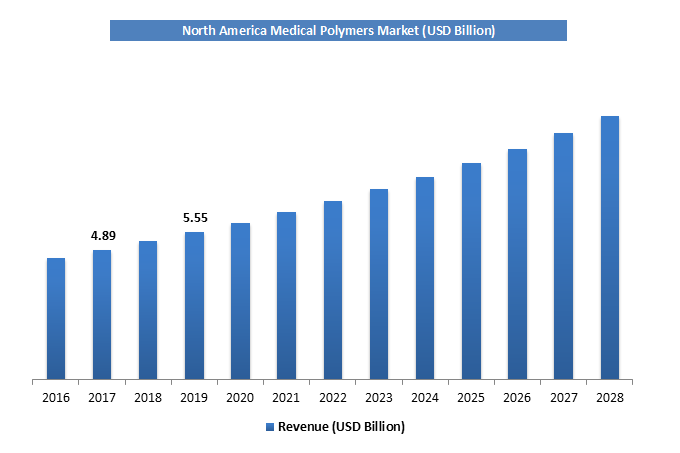 Request Free Sample
COVID-19 Impact Analysis
The COVID-19 pandemic highlighted the role of polymers in modern times. If consumerism was once the driving force behind the use of polymers, personal wellbeing and medical crises have emerged as the driving forces in the aftermath of COVID. Due to the overwhelming demand for hospital resources, the healthcare industry witnessed a drop in medical-hospital materials and personal protective devices for health workers and the general population. This paved way to the emergence of alternative production movements focused on polymers.
Growth Factors
In the medical industry polymers are increasingly used as a substitute for their metallic counterpart. When it comes to equipment, cleanliness is a crucial aspect in the medical industry. Infection is the most serious danger that hospital patients face. Metal is more difficult to disinfect and sterilize than polymer and plastic materials. In addition to this, orthopedic OEMs can reach ergonomic weight limits for surgical trays by using polymers and plastic surgical materials. Use of metallic instrument only adds weight and strain to the surgical team carrying and using metal instruments.
The COVID-19 pandemic has paved way to the growing awareness around maintaining proper health and hygiene not only by the professionals in the medical field but also by general population. This has led to increase in the consumption of polymers for the manufacturing of masks, gloves, drapes, gowns, trays, catheters, syringes, orthopedic instruments, surgical equipment, and lab wares. Increased demand for personal protective equipment (PPE) such as gloves, caps, drapes, gowns, and other items fueled the demand for traditional plastics such as PP, PE, and PVC.
Report Scope: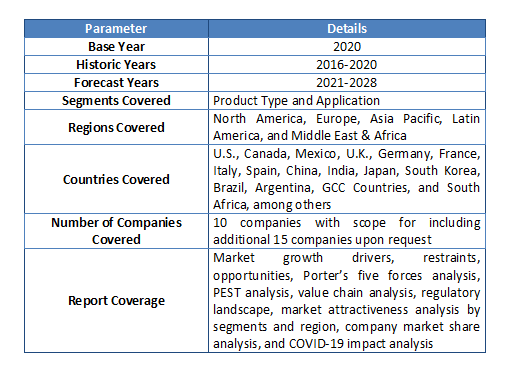 Request Free Sample
Product Type Segment Analysis Preview
The smart polymers segment held a share of around 5% in 2020. This share is attributed to the growing potential of smart polymers in developing novel drug delivery technologies. These smart polymers are designed to produce a pulsating drug release pattern for a variety of drug delivery applications, closely resembling natural biological release. The growing popularity of innovative drug delivery systems is boosting this segment's growth. Developments in the chemistries of smart polymers are constantly revealing new opportunities in the smart polymers industry. A primary factor for new avenues in the smart polymers segment is the growing need for advanced packaging to maintain the freshness and sensory attributes of contents inside.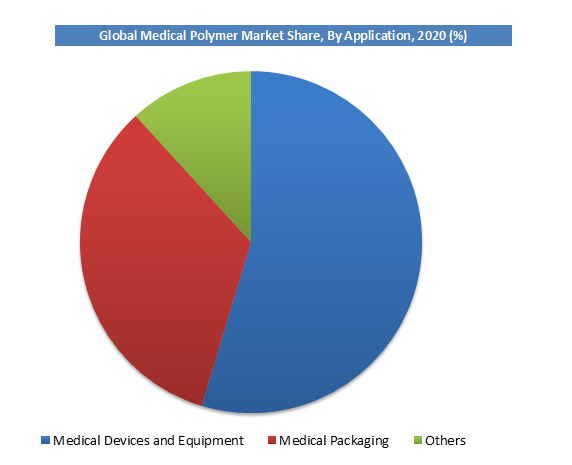 Request Free Sample
Application Segment Analysis Preview
The medical devices and equipment segment will grow at a CAGR of over 9% from 2021 to 2028. This is attributable to the increasing adoption of polymers in manufacturing of medical devices and equipment. Medical polymers have a number of advantages, including higher flexibility, comfort, and mobility. These polymers are best suited for medical applications because they are lighter, more biocompatible, and less expensive. PVC, preceded by PE, PET, PS, and PP, is the most commonly used plastic material in medical applications. PVC is a flexible plastic widely used in pre-sterilized single use medical application. Furthermore they are also used for packaging because of their lightness, low cost, durability, and transparency. As a result of the numerous advantages provided by medical polymers, their demand in the medical field is increasing and is thus accelerating the growth of the medical polymer industry.
Regional Analysis Preview
The European region held a share of around 20% in 2020. This is attributable to the aging population in the countries like Italy. Aging of population in this region has lead to an increased demand for medical polymers in hip and joint replacement applications, and spinal and cranial implants. These applications are gaining popularity and are expected to significantly impact the market growth.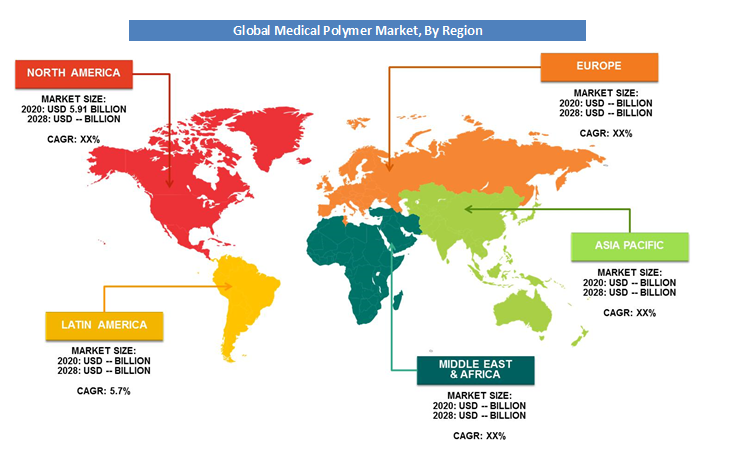 Request Free Sample
Asia Pacific region is projected to grow at a CAGR of around 10% over the forecast period. This increase can be attributed to the fact that healthcare programs in countries like China, India, Bangladesh, Indonesia, and Pakistan are rapidly expanding, which will support the growth of this market in Asia Pacific region. The increased demand for medical polymers is also aided by the region's growing population coupled with the lack of adequate pharmacy facilities.
Key Market Players & Competitive Landscape
Some of key players in medical polymer market are SABI, BASF, Solvay, Celanese, Evonik, Covestro, DSM, DowDuPont, INEOS, and Victrex among others. Leading companies in the industry are focusing on strategies such as product diversification and geographic expansion in order to grow. Eastman Chemical Company recently extended its production facilities at various manufacturing locations in Middelburg in Netherlands and Jefferson in Pennsylvania. Furthermore, a majority of the market's big players have registered and copyrighted their inventions. This provides them with a strategic edge over the other industry competitors. For example, Bayer AG has registered the brand name Makrolon for its medical polymers, while DSM N.V. sells its medical polymers under the approved brand name Akulon, and Dow Chemical Company sells its trademark polymer products as DOW HEALTH+ polymers.
The global medical polymer market is segmented as follows:
By Product Type
Smart Polymers
Bioabsorbable
Others
By Application
Medical Devices and Equipment
Others
By Region
North America
Europe

France
The UK
Spain
Germany
Italy
Rest of Europe

Asia Pacific

China
Japan
India
South Korea
Southeast Asia
Rest of Asia Pacific

Latin America

Brazil
Mexico
Rest of Latin America

Middle East & Africa

GCC
South Africa
Rest of Middle East & Africa