Market Overview
The global Medical Oxygen Gas Cylinders market accounted for USD 14.90 Billion in 2020 and is expected to reach USD 25.75 Billion by 2028, growing at a CAGR of 6.8% from 2021 to 2028.
The medical oxygen gas cylinder is a re-inflatable, transportable cylinder for storing high-pressure liquefied oxygen gas. They are great for personal health care, hospitals, combat rescue, home care, nursing homes, and first-aid stations. High-pressure steel seamless oxygen gas cylinders are produced with various specifications using modern methods and first-class manufacturing equipment. Due to different technical breakthroughs, the medical gas and equipment industry has grown tremendously. In the coming years, factors such as rising frequency of chronic diseases, rising incidence of respiratory diseases as a result of high tobacco use and rising pollution levels, rapid growth in the geriatric population, rising incidence of preterm births, and rising demand for home healthcare are expected to drive market growth. Industry expansion in growing countries across APAC, as well as technology advances, are likely to provide a diverse variety of opportunities for market players.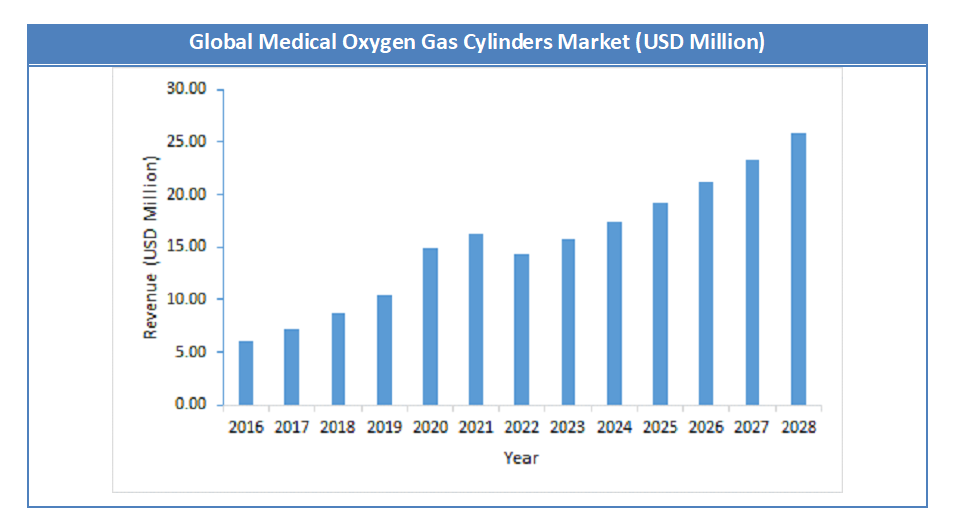 Request Free Sample
COVID-19 Impact Analysis
Due to the increased use of oxygen cylinders and concentrators in the healthcare sector for coronavirus-affected persons during the COVID-19 outbreak. The growth of the global medical gas oxygen cylinder market has been aided by Covid-19. The increased number of COVID-19 cases has fundamentally driven the demand for medical oxygen gas cylinders market for intensive care during the Covid-19 pandemic. Because of the rising number of COVID-19 patients, the demand for oxygen has increased to 1.1 million cylinders in low to middle income nations alone. Preventive steps are being taken in a number of nations to ensure a sufficient supply of oxygen for COVID-19 patients. For example, Tenaris' Dalmine consistent plant in Italy said in March 2020 that it had sought 4,300 clinical evaluation oxygen gas cylinders since the Lombardy region of the country had been severely impacted by COVID-19. These factors are influencing the growth of the worldwide medical oxygen gas cylinder market in a positive way.
Growth Factors
The major growth factors of Medical Oxygen Gas Cylinders Market are: The present situation with the Covid-19 pandemic, the current Covid-19 pandemic crisis is a primary driving force behind the global market's expansion. The rising number of Covid-19 patients worldwide, particularly in India, has resulted in a shortage of medical oxygen gas cylinders. As a result, government and non-government organizations are establishing new plants to meet the growing demand for medical oxygen cylinders, which is driving the global market forward. Millions of people have been infected by the new coronavirus all across the world. In severe situations, the infection can lead to pneumonia and breathing difficulties. As a result, patients are placed on ventilators, resulting in an increase in demand for medical oxygen gas cylinders. The oxygen value chain's vendors are working tirelessly to increase the supply of medical oxygen gas cylinders. Furthermore, there is a high need for portable medical oxygen cylinders for patients receiving treatment at home. As a result of the increase of Covid-19 cases, demand for medical oxygen gas cylinders is increasing, boosting the global medical oxygen gas cylinders market to new heights during the pandemic.
Increasing frequency of COPD and other lung disorders, another important factor driving market expansion is the rising prevalence of COPD and other lung diseases. In 2017, about 16 million adults in the United States were diagnosed with COPD, over 9 million with chronic bronchitis, and 3.5 million with emphysema, according to the US government. Furthermore, COPD is the cause of approximately 7 million emergency department visits in the United States each year. The use of supplemental oxygen for a long time has increased the survival rate of COPD patients. As a result, the increased frequency of COPD and other lung disorders, as well as COPD patients' reliance on oxygen therapy products, are driving up demand for oxygen concentrators and cylinders.
Report Scope: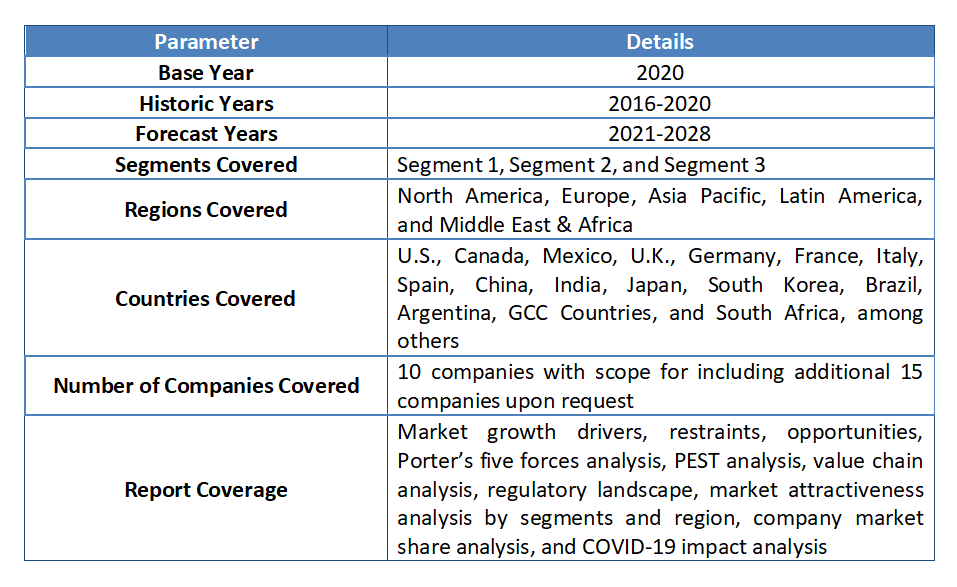 Request Free Sample
Technology Segment Analysis :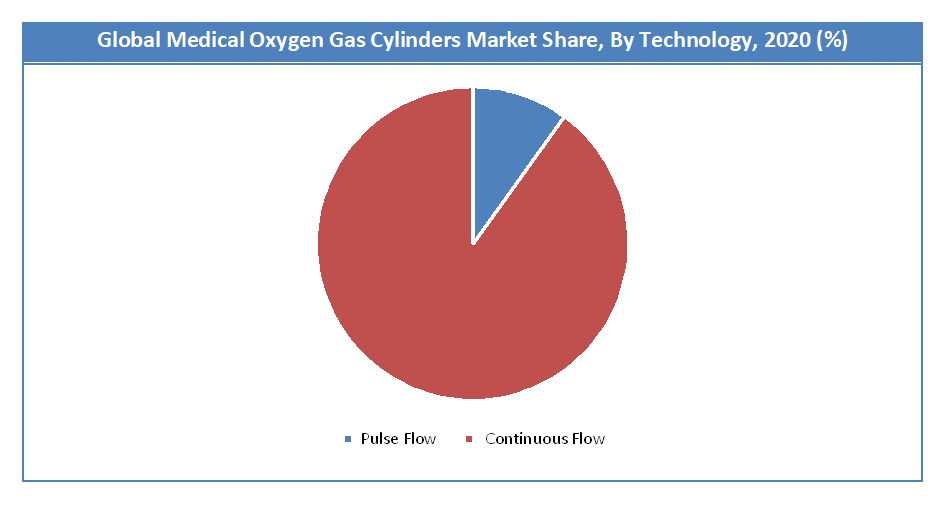 Request Free Sample
Based on technology, market is segmented into Pulse Flow and Continuous Flow. In 2020, continuous flow had the highest revenue share of 90%. The use of medical oxygen concentrators is predicted to increase due to rapid technological advancements in new product development. Furthermore, the segment's growth is expected to be aided by the continued usage of respiratory equipment for oxygen therapy. Continuous flow oxygen concentrators are most commonly used by the elderly and bedridden patients. Furthermore, because the devices are not equipped with breath detecting technology, they are less expensive than pulse flow technology. Due to technological advancements, pulse flow technology in oxygen concentrators is expected to grow at the fastest rate over the forecast period. The method is more efficient and convenient than continuous flow, and it is mostly utilised by patients who require 450 to 1250 mL of oxygen per minute in short pulses. It is best for people that lead an active lifestyle. As a result, working professionals, frequent flyers, and athletes with COPD or other breathing problems are increasingly turning to concentrators that use this technology.
Application Segment Analysis
Based on application, market is segmented into Household, Respiratory Department, Operating Room, and Emergency Room. With a revenue share of 58 percent in 2020, the home care segment dominated the entire oxygen cylinders market in terms of revenue. Over the projected period, the segment is predicted to rise due to increased demand for home healthcare oxygen therapies, as well as rising need for pure oxygen and technological improvements such as miniaturisation of these medical equipment. The category is being driven by an improving standard of living and an increase in the use of home-based therapy, particularly in developed nations such as North America and Europe. Furthermore, nations with a substantial geriatric population, such as Germany, Japan, Italy, Monaco, and Austria, are likely to drive segment growth during the projected period.
Regional Segment Analysis
North America will account for 34.4% of total revenue in 2020. One of the major elements driving market expansion is the region's growing geriatric population. Due to a weakened immune system and a limited oxygen intake capacity, this group is prone to a variety of respiratory illnesses. Furthermore, government initiatives such as the Federal Aviation Administration's (FAA) authorization of the use of portable oxygen concentrators during air travel and the rising prevalence of severe chronic obstructive pulmonary disease due to unhealthy lifestyles are contributing to regional market growth.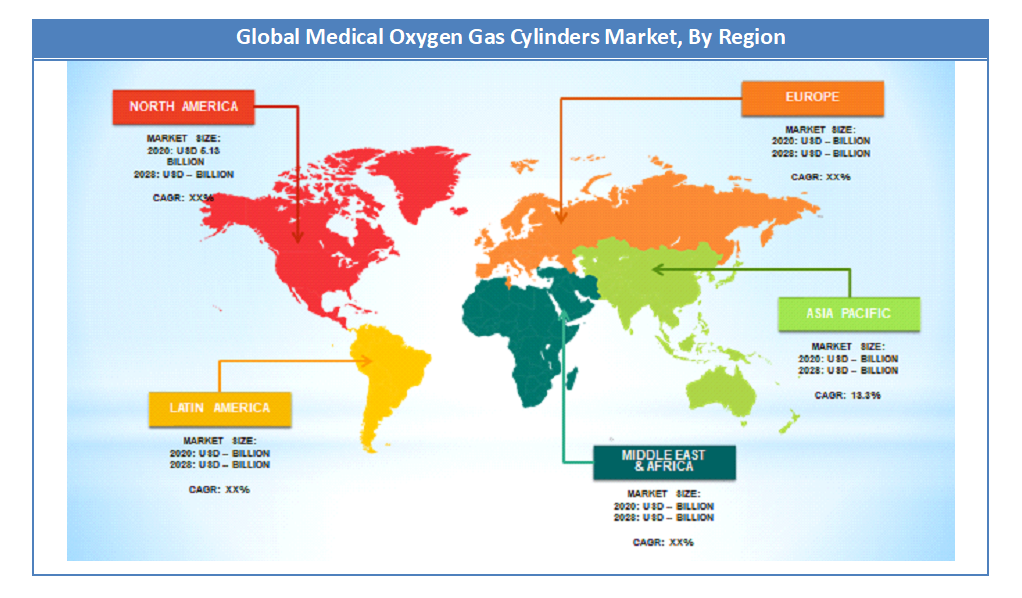 Request Free Sample
The Asia Pacific region is projected to grow at a CAGR of 13.3% over the forecast period.
Factors supporting market expansion in this region include the present pandemic situation with rising Covid-19 cases, increased government initiatives to meet the expanding need for medical oxygen gas cylinders, and major investment in healthcare infrastructure development. The rapidly growing geriatric population and the frequency of lung illnesses are two key factors driving regional market expansion. By 2050, one out of every four inhabitants in the region are expected to be over 60 years old. In the region's most developed countries, living and health standards have dramatically improved. Over the projection period, factors such as increased life expectancy, healthcare expenditure, and awareness of new technologies are likely to contribute to regional market growth.
Key Market Players & Competitive Landscape
Some of key players in Medical Oxygen Gas Cylinders market are ROYAX, Airgas Inc, Atlas Copco, Praxair Inc., AirGenics, FARUM, Allied Healthcare Products, Air Products, TECNO-GAZ, and Attucho, among others.
The global Medical Oxygen Gas Cylinders market is segmented as follows:
By Technology
Pulse Flow
Continuous Flow
By Application
Household
Respiratory Department
Operating Room
Emergency Room
By Product
By Region
North America
Europe

France
The UK
Spain
Germany
Italy
Rest of Europe

Asia Pacific

China
Japan
India
South Korea
Southeast Asia
Rest of Asia Pacific

Latin America

Brazil
Mexico
Rest of Latin America

Middle East & Africa

GCC
South Africa
Rest of Middle East & Africa