Massage Pillow Industry Prospective:
The global massage pillow market size was worth around USD 940 Million in 2022 and is predicted to grow to around USD 1372 Million by 2030 with a compound annual growth rate (CAGR) of roughly 5.04% between 2023 and 2030.
The report analyzes the global massage pillow market drivers, restraints/challenges, and the effect they have on the demands during the projection period. In addition, the report explores emerging opportunities in the massage pillow industry.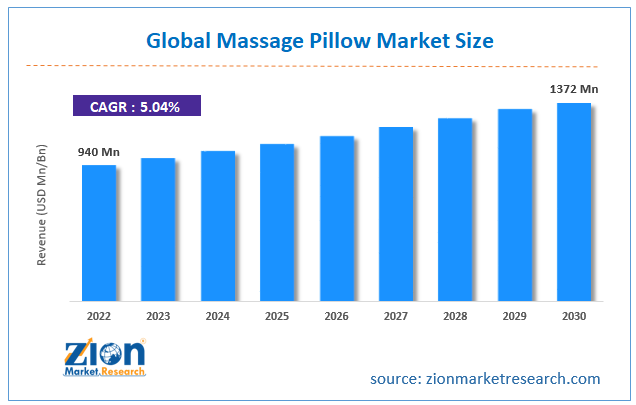 Request Free Sample
Massage Pillow Market: Overview
A massage pillow is a portable device used to provide relaxation and relief using massaging techniques. Typically, it resembles a normal pillow or a cushion but it is used to target a specific area of the body such as the neck, back, legs, or shoulders. They are often equipped with vibrating mechanisms or motors that are responsible for creating massaging motions with varying intensity. Some models in the commercial market may incorporate heat therapy for providing added comfort and muscle relaxation. Massage pillows are popular due to their versatility and convenience. They can be used in the office, at home, during traveling, or other activities. Users can enjoy the benefits of a relaxing massage without taking the assistance of a professional masseuse. The device is placed on the affected area or the body and the kneading or vibrational motions work to alleviate muscle tension while improving blood circulation.
---
Key Insights:
As per the analysis shared by our research analyst, the global massage pillow market is estimated to grow annually at a CAGR of around 5.04% over the forecast period (2023-2030)
In terms of revenue, the global massage pillow market size was valued at around USD 940 million in 2022 and is projected to reach USD 1372 million, by 2030.
The massage pillow market is projected to grow at a significant rate due to the growing prevalence of a sedentary lifestyle
Based on end-user segmentation, the sedentary population was predicted to show maximum market share in the year 2022
Based on type segmentation, kneading was the leading type in 2022
On the basis of region, North America was the leading revenue generator in 2022
---
Massage Pillow Market: Growth Drivers
Growing prevalence of a sedentary lifestyle
The global massage pillow market is projected to grow owing to the increasing prevalence of sedentary lifestyles across the globe. This trend has become more prevalent after Covid-19 due to the adoption of remote work culture. Before 2020, the majority of the world population indulged in some form of physical activity due to having to travel to and from work. However, as many companies opted for remote and work-from-home culture, more people were pushed into the confines of their homes and eventually, they have become used to the new lifestyle. In addition to this, modern work culture demands workers and employees resort to long hours in front of laptops and computers as the majority of the work is linked to desk jobs. Sitting for long hours in one position can lead to muscle stiffness, tension, and related health issues like back pain and neck strain. A recent report by Quixy claims that nearly 62% of the world population has adopted a hybrid work model. Massage pillows act as an excellent solution to these problems since they are portable and can be used at any time of the day.
Massage Pillow Market: Restraints
Limited effectiveness to restrict market expansion
Despite massage pillows providing users with a relaxing massage, the actual effectiveness of these products in certain medical conditions is highly limited. The pillow cannot provide the same effect that a professional-grade massage therapist would provide for serious medical conditions such as chronic pain and such individuals may need specialized treatment. Furthermore, there are growing concerns over durability and quality of the performance since the massage pillow market is filled with a wide range of options and there is no standard benchmark for grading the quality of performance
Massage Pillow Market: Opportunities
Technological advancements to provide growth opportunities
The global massage pillow industry is expected to benefit from the growing technological advancements in the sector. Manufacturers are working toward exploring new features such as smart connectivity, application integration, or sensor technology. All of these factors could assist in improving user experience. For instance, the use of Bluetooth technology could allow the customization of massage settings using a smart device. Product diversification may also play a crucial role in opening more doors for further growth.
Massage Pillow Market: Challenges
Potential discomfort and adverse reaction to challenge further growth
The global massage pillow market may come across certain growth challenges due to the existence of potential discomfort while using massage pillows. Since the product applies pressure and vibrations to the body, the risk of some individuals finding certain massage motions uncomfortable could lead to a loss of revenue. Moreover, some users may experience adverse reactions such as skin irritation. Additionally, price pressure could further create more barriers against growth.
Massage Pillow Market: Segmentation
The global massage pillow market is segmented based on end-user, distribution channel, type, and region.
Based on end-user, the global market segments are housework people, a sedentary population, and others. The massage pillow industry witnessed the highest growth in the sedentary population segment such as office workers, computer users, or individuals who spend long hours sitting. The chances of such people suffering from severe muscle stiffness are relatively high. Additionally, product awareness assists in increased demand for massage pillows in this population segment. Housework people are part of activities such as cleaning, cooking, or caring for children. They are highly vulnerable to muscle strain and fatigue. Other people who regularly use massage pillows are people involved in intense physical labor such as healthcare professionals and construction workers along with older adults that often experience muscle stiffness, joint pain, and mobility issues. Joint stiffness starts around the age of 30.
Based on distribution channels, the global market divisions are offline and online.
Based on type, the global massage pillow industry segments are kneading, hyperthermia, and others. The kneading segment is projected to witness the highest growth during the forecast period. This type of massage pillow simulates the kneading motion of human hands or fingers. They provide deep tissue massage experience. Kneading massage pillows typically have rotating nodes or rollers that move in a circular motion to alleviate muscle stress. Their popularity is driven by their ability to provide a more intense and targeted massage. Pillows with hyperthermia are equipped with heat therapy which provides a combined benefit of massage and heat to deliver muscle relaxation. These pillows often have built-in heating elements that provide gentle warmth to the targeted areas. Nearly 60 to 85% of the American population has suffered from some form of back or muscle pain, as per the National Institute of Health.
Recent Developments:
In November 2022, Njoie, a manufacturer of products that promote a resilient and healthy body, announced the launch of the Bean Massage Pillow. With this, the company has made a move toward the home massage segment while still working with its award-winning fitness recovery category. The new product is an electric shiatsu cushion that has 3-dimensional nodes along with a heat feature
In November 2019, popular voice actor Yuuki Kaji lent his voice to a new device in addition to the previously available products such as printer and smart mirror. This time, he has lent his voice to a massage cushion that is equipped with speakers that play original lines from Kaji Yuuki no Hitorigoto, a popular web radio show hosted by Kaji. The cushion also contains a short story by Bocchi-kun, another character designed by the voice artist
Massage Pillow Market: Report Scope
Report Attributes
Report Details
Report Name
Massage Pillow Market Research Report
Market Size in 2022
USD 940 Million
Market Forecast in 2030
USD 1372 Million
Growth Rate
CAGR of 5.04%
Number of Pages
215
Key Companies Covered
HoMedics, Zyllion, Naipo, Snailax, RENPHO, Nekteck, Comfier, Resteck, Gideon, Brookstone, Sharper Image, Pure Enrichment, Etekcity, Belmint, Relaxzen, truMedic, LuxFit, Body Back, Carepeutic, Hangsun, MaxKare, Five S, Medcursor, Wahl, and Nursal.
Segments Covered
By End-User, By Distribution Channel, By Type, and By Region
Regions Covered
North America, Europe, Asia Pacific (APAC), Latin America, Middle East, and Africa (MEA)
Base Year
2022
Historical Year
2017 to 2021
Forecast Year
2023 - 2030
Customization Scope
Avail customized purchase options to meet your exact research needs. Request For Customization
Massage Pillow Market: Regional Analysis
North America to drive market growth during the coming period
The global massage pillow market is expected to be dominated by North America during the forecast period mainly due to the widespread users of the product in the US and Canadian regions. Factors such as a growing focus on wellness, a sedentary lifestyle among office workers, and an aging population are equally responsible for higher growth in North America. Massage pillows are used extensively in residential and corporate settings in these countries.
Europe is projected to grow at a steady rate with high demand in countries such as France, Germany, and the United Kingdom. The regional market is highly influenced by a rising emphasis on self-care and an increasing awareness rate of the benefits of massage therapy. European regions have a higher demand for massage pillows with heat therapy and customizable features.
In Asia-Pacific, countries like China, Japan, South Korea, and Australia are major contributors to market growth driven by the growing middle-class and changing lifestyle patterns along with increasing rates of self-care.
Massage Pillow Market: Competitive Analysis
The global massage pillow market is led by players like:
HoMedics
Zyllion
Naipo
Snailax
RENPHO
Nekteck
Comfier
Resteck
Gideon
Brookstone
Sharper Image
Pure Enrichment
Etekcity
Belmint
Relaxzen
truMedic
LuxFit
Body Back
Carepeutic
Hangsun
MaxKare
Five S
Medcursor
Wahl
Nursal.
The global massage pillow market is segmented as follows:
By End-User
Housework People
Sedentary Population
Others
By Distribution Channel
By Type
Kneading
With Hyperthermia
Others
By Region
North America
Europe

France
The UK
Spain
Germany
Italy
Rest of Europe

Asia Pacific

China
Japan
India
South Korea
Southeast Asia
Rest of Asia Pacific

Latin America

Brazil
Mexico
Rest of Latin America

Middle East & Africa

GCC
South Africa
Rest of Middle East & Africa