Portable Medical Devices Market: Industry Prospective
The global Portable Medical Devices Market was worth around USD 47.73 billion in 2021 and is estimated to grow to about USD 77.01 billion by 2028, with a compound annual growth rate (CAGR) of approximately 8.30 percent over the forecast period. The report analyzes the digital remittance market's drivers, restraints/challenges, and the effect they have on the demands during the projection period. In addition, the report explores emerging opportunities in the digital remittance market.
Portable Medical Devices Market: Overview
Wireless networking and thin product design are no longer limited to smartphones and music players. Still, they are also reshaping the healthcare industry, thanks to the ever-changing environment of portable gadgets. Researchers are developing new devices such as portable ultrasound equipment to simplify and improve patient care. Preference for less intrusive medical technology and portability has shifted focus to insulin pumps, oxygen concentrators, and other portable medical equipment, which are reshaping the mobile medical device market.
The portable medical devices market is predicted to grow fast in the following years due to increased demand for mobile medical devices and wearable electronics, an increase in the senior population, and technological improvements.
COVID-19 Impact:
The COVID-19 disease has created a massive market for medical equipment and is a significant driver in the healthcare industry. This has resulted in a quick increase in the demand for all portable healthcare equipment. This sickness restricts the use of any device by far too many individuals to prevent the virus from spreading and coming into touch with them. As a result, there is a high need for portable health equipment in hospitals, clinics, COVID centers, and homes. During this epidemic, essential products such as oximeters, portable oxygen cylinders, and Glucometers have produced a commercial boom. As a result, COVID-19 has become one of the most important marketplaces for portable devices and serves as excellent market care.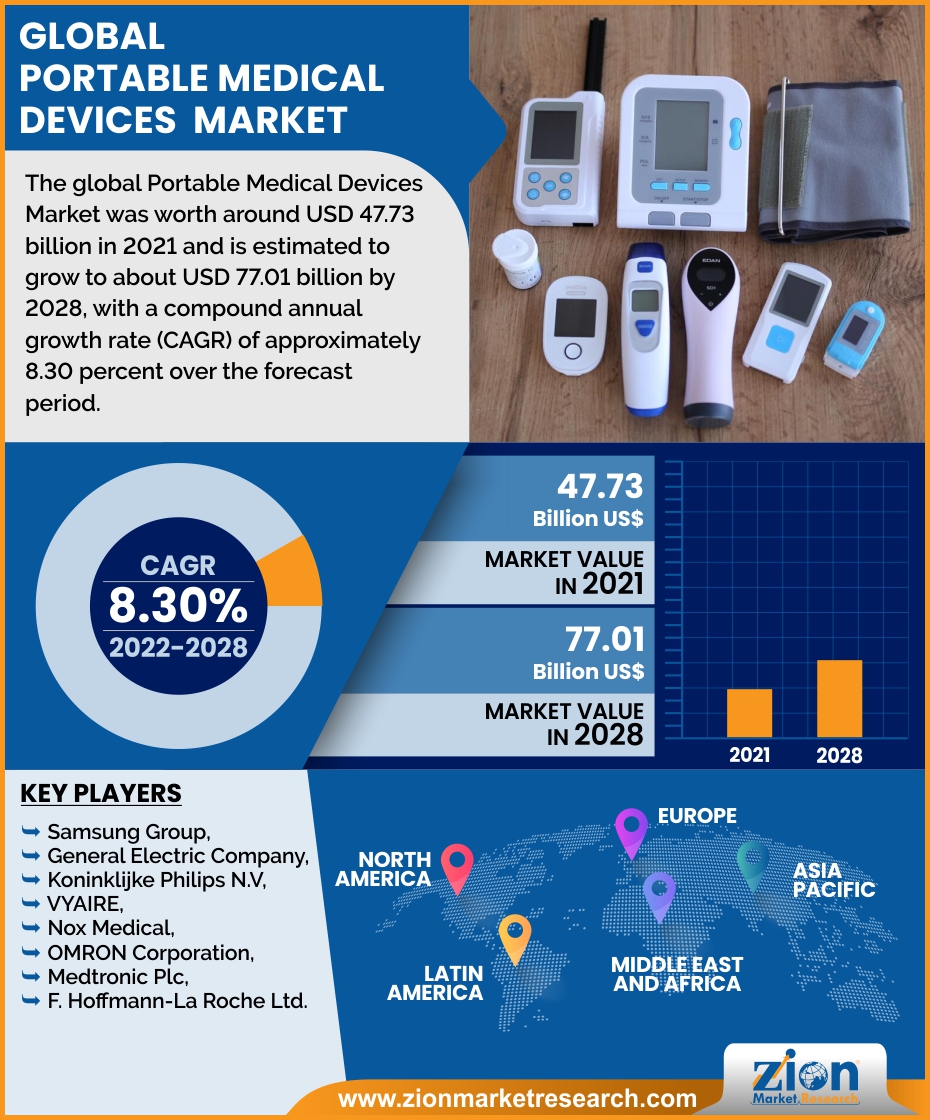 Request Free Sample
Portable Medical Devices Market: Growth Drivers
Rise in health and fitness education, accompanied by the introduction of new technology.
The rise in health and fitness education and the introduction of new technologies such as the Internet of Things (IoT), Big Data, and analytics in medical devices are important factors driving market expansion. Furthermore, a stressful and hectic lifestyle has resulted in the rise of many health conditions, fueling the market's expansion.
Portable Medical Devices Market: Restraints
Inaccurate results and fluctuations in data
Memory problems, erroneous results, and data variations are varied restrictions that can impact the growth of the portable medical devices industry.
Portable Medical Devices Market: Segmentation
The global Portable Medical Devices market is segregated based on product, application, end-user, and geography.
Based on product type, The global portable medical devices market has been segmented by CT scans, neonatal monitoring, diagnostic imaging X-rays, endoscopes, insulin pumps, image-guided therapy systems, nebulizers, ultrasound, smart wearable medical devices, stress monitoring devices, oxygen concentrators, and cardiac monitoring. During the forecast period, the smart wearable medical device category is expected to grow the fastest.
By application, the Global Portable Medical Devices Market is divided into medical treatments, diagnostic and health, fitness and wellness, monitoring, and others. The monitoring sector accounted for the most significant market value share due to the increasing adoption rate of monitoring equipment such as cardiac and neuromonitoring devices, vital sign monitoring, and foetal and neonatal monitoring. Furthermore, major improvements in smaller advanced platforms, as well as subsequent product approvals, are propelling market expansion.
By end-use, homecare is likely to grow greatly in the forecast time based on end-use. Because of their low cost and safety, home care products are becoming increasingly popular. Also, because of escalating hospital expenditures and the cost-effectiveness of home care goods, home care is an excellent choice for many people.
Report Scope:
Portable Medical Devices Market: Regional Landscape
In 2021, North America is expected to have the largest share of the global portable medical devices market. This could be because the healthcare business spends a lot of money on research and development. This element will aid the growth of the North American mobile medical device industry. Additionally, favorable government initiatives and developments in advanced medical equipment reimbursement rules will boost the portable medical equipment market ahead.
Portable Medical Devices Market: Competitive Landscape
The market's top companies are Samsung Group, General Electric Company, Koninklijke Philips N.V, VYAIRE, Nox Medical, OMRON Corporation, Medtronic Plc, and F. Hoffmann-La Roche Ltd.
The Portable Medical Devices market is segmented as follows:
By Product
CT Scan
Neonatal Monitoring
Diagnostic Imaging X-Ray
Endoscopes
Insulin Pumps
Image-Guided Therapy Systems
Nebulizer
Smart Wearable Medical Device
Stress Monitoring Devices
Oxygen Concentrator
Others
By Application
Medical Therapeutics
Diagnosis Health
Fitness & Wellness
Monitoring
Others
By End-Use
Hospitals
Ambulatory Surgery Centres
Homecare
Others
By Region
North America
Europe

France
The UK
Spain
Germany
Italy
Rest of Europe

Asia Pacific

China
Japan
India
South Korea
Southeast Asia
Rest of Asia Pacific

Latin America

Brazil
Mexico
Rest of Latin America

Middle East & Africa

GCC
South Africa
Rest of the Middle East & Africa