The global Luxury handbags market size was worth around USD 23.15 Billion in 2022 and is predicted to grow to around USD 43.02 Billion by 2030 with a compound annual growth rate (CAGR) of roughly 8.06% between 2023 and 2030.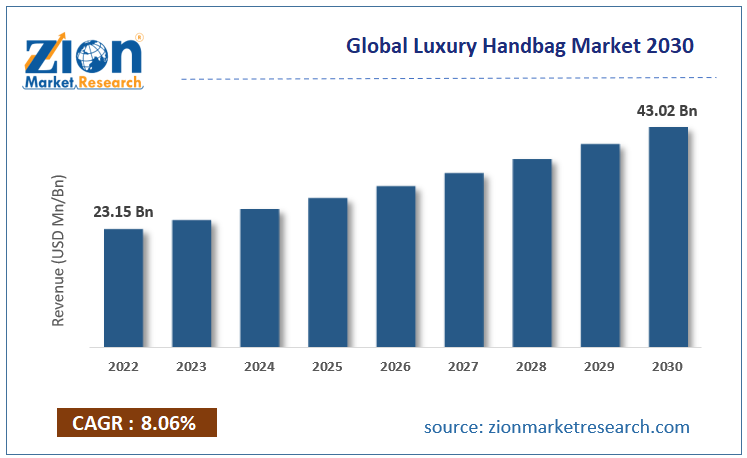 Request Free SampleThe report analyzes the global Luxury handbags market drivers, restraints/challenges, and the effect they have on the demands during the projection period. In addition, the report explores emerging opportunities in the Luxury handbags industry.
Global Luxury Handbag Market: Overview
Handbags are bags that are used for carrying money and other personal items. Luxury handbags are high-end bags and generally are a status symbol for the upper-middle and rich classed people. These bags are intricately designed and usually have unique designs. Luxury handbags comprise of backpacks, totes, and satchels.
Global Luxury Handbag Market: Growth Factors
The surging number of online retail platforms offering luxury handbags alongside economic development of several emerging nations has been significantly affecting the expansion of the global luxury handbag market.
The luxury products industry has been hampered on a large-scale owing to the recent coronavirus pandemic. Emerging luxury clothes and accessories startups have been mainly impacted due to lesser demand for such products, higher costs of production, disruption in the manufacturing & transport industry, and various government restrictions such as total lockdown & temporary ban on import and export. COVID-19 has transformed customer demand, purchasing pattern, and behavior. Thus, the industry names are now focusing on strategizing their business for attracting a larger base of customers. Also, multiple luxury brands such as Gucci have surged their product prices in order to lessen the negative effect of the coronavirus on the company's aggregate revenue.
However, high taxations and custom duties, especially on such prestige goods will prove to hamper the growth of the global luxury handbag market. Additionally, an increase in the number of counterfeit products entering the market is another factor slowing down the market expansion. On the other hand, fast expansion in the field of social media marketing is predicted to give rise to numerous opportunities for the development of the global luxury handbag market in the near future.
Global Luxury Handbag Market: Segmentation
The global luxury handbag market has been differentiated on the basis of material, type, distribution channel, and region. Based on material, the market has been classified into leather, cotton, synthetic, and nylon. The leather sub-category commands the market and is projected to continue with this trend. The premium physical appearance and feel of leather bags is a major factor caus ing this. Leather bags are also more durable and sturdy when compared to other materials. On the other hand, synthetic luxury handbags are also gaining momentum because unlike leather, they don't get stained or damaged easily, and are also washable. This in turn will improve the market expansion.
By type, the global luxury handbag market is segmented into backpack, handbag, shoulder bags, sling bags, hobo bags, satchel bags, tote bags, and wallet. Based on distribution channel, the market can be bifurcated into online stores, supermarket & hypermarkets, specialty stores, and discount stores. The online stores distribution channel is projected to grow drastically owing to the convenience, increasing internet penetration, and because most of the key companies have their own websites that offer a wide range of products to the customer.
Global Luxury Handbag Market: Regional Analysis
North America holds a prominent portion of the global luxury handbag market share due to the presence of strong economies such as the United States in the region. This is also attributable to the fully developed retail sector, high internet penetration, high standard of living, increased brand endorsements by celebrities on platforms such as Instagram, large-scale advertisements & promotions, and the rising preference for luxury products as they are considered status symbols. This regional market will continue to observe growth due to increasing young population.
Europe holds the second position in terms of market share owing to the presence of giant manufacturers in the region. Also, the availability of luxury goods at reasonable prices, improving management of online retail platforms, and rising requirement of luxury goods among the young populace are the major factors boosting the luxury handbag market size.
Global Luxury Handbag Market: Competitive Players
The manufacturers operating in the global luxury handbag market implement various strategies such as seasonal discounts, promotional events, and customer loyalty programs. Companies are also using various growth strategies such as innovation of enhanced products, lowering the costs of luxury products, and improving durability & appearance of products to meet the growing requirement of the customers. Other strategies which include expansions, mergers, acquisitions, partnerships, and collaborations are also being utilized.
Some of the key players competing in the global luxury handbag market comprise of :
Valentino S.p.A.
LVMH
PVH Corp.
Luxottica Group
Kering
Samsonite International S.A.
Vera Bradley
Tapestry
Longchamp
ZV France SAS
Guccio Gucci S.p.A.
Prada
Mulberry Group.
The global Luxury Handbag Market is segmented as follows:
By Material
leather
cotton
synthetic
nylon
By Type
backpack
handbag
shoulder bags
sling bags
hobo bags
satchel bags
tote bags
wallet
By Distribution Channel
online stores
supermarket & hypermarkets
specialty stores
discount stores
Global Luxury Handbag Market: Regional Segment Analysis
North America
Europe

France
The UK
Spain
Germany
Italy
Rest of Europe

Asia Pacific

China
Japan
India
South Korea
Southeast Asia
Rest of Asia Pacific

Latin America

Brazil
Mexico
Rest of Latin America

Middle East & Africa

GCC
South Africa
Rest of Middle East & Africa
What Reports Provides
Full in-depth analysis of the parent market
Important changes in market dynamics
Segmentation details of the market
Former, on-going, and projected market analysis in terms of volume and value
Assessment of niche industry developments
Market share analysis
Key strategies of major players
Emerging segments and regional markets
Testimonials to companies in order to fortify their foothold in the market.