Crypto Wallets Market Size And Industry Analysis
The global crypto wallets market size was worth around USD 8.24 billion in 2022 and is predicted to grow to around USD 46.72 billion by 2030 with a compound annual growth rate (CAGR) of roughly 24.23% between 2023 and 2030.
The report analyzes the global crypto wallets market's drivers, restraints/challenges, and the effect they have on the demands during the projection period. In addition, the report explores emerging opportunities in the crypto wallets market.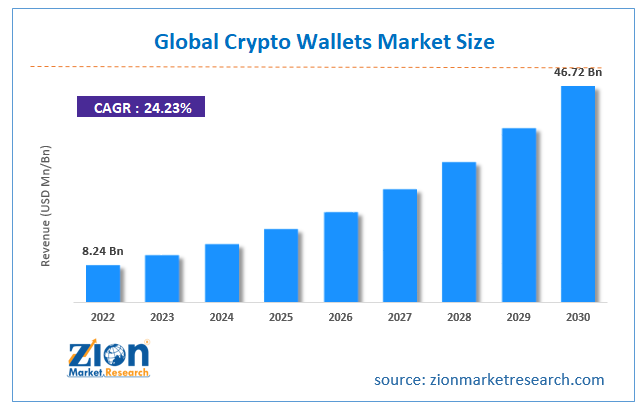 Request Free Sample
Crypto Wallets Market: Overview
A crypto wallet or cryptocurrency wallet is any form of service, program, or physical medium that is used to store private or public keys that aid transactions related to cryptocurrencies. Private and /or private keys are a form of asymmetric cryptography that uses keys in pairs with each pair consisting of a private key and a public key. The generation of these keys is based on arithmetic calculations that are termed one-way functions. They are not like normal wallets that hold the currency itself or cryptos in this case.
However, they allow accessing holdings in blockchain with the help of the private key which is a password for accessing cryptocurrencies. In addition to safeguarding the key, they also enable other offerings like signing information or encrypting. Signing information is generally related to the execution of a smart contract which is a crypto-related transaction dealing with identifying and legally signing a virtual contract. A crypto wallet operates by generating a set of random numbers which is used with the length depending on the size of the algorithm based on the technological requirements of the cryptocurrency.
The number is later converted into a private key influenced by the requirements of the cryptography algorithm. This step is followed by the generation of a public key. The private key is essentially used by the owner of the crypto wallet for transactions and should not be shared with anyone else, whereas the public key is shared with the party who is expecting to receive the cryptocurrency. While this is the main utilization of crypto wallets, there are other functions that these wallets perform as well which include eID wallets that are customized to become compatible with the given framework. Contrary to simple crypto wallets, there are multi-signature wallets as well requiring multiple parties to sign for completing the transaction.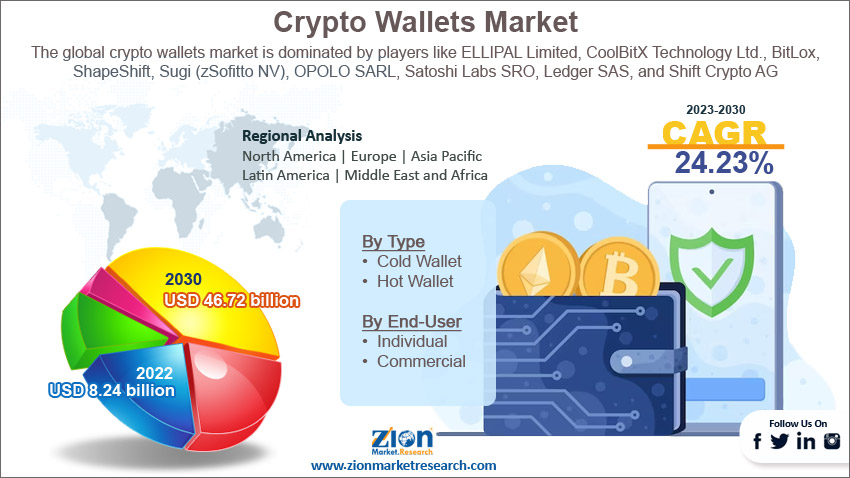 Request Free Sample
Key Insights
As per the analysis shared by our research analyst, the global crypto wallets market is estimated to grow annually at a CAGR of around 24.23% over the forecast period (2023-2030).
In terms of revenue, the global crypto wallets market size was valued at around USD 8.24 billion in 2022 and is projected to reach USD 46.72 billion, by 2030. Due to a variety of driving factors, the market is predicted to rise at a significant rate.
Based on end-user segmentation, the individual was predicted to show maximum market share in the year 2022
Based on type segmentation, the cold wallet was the leading revenue-generating type in 2022
On the basis of region, North America was the leading revenue generator in 2022
Covid-19 Impact:
The global market cap had a positive impact due to Covid-19. As per a research report by the Asian Economic Letters, most cryptocurrencies became more efficient post-Covid-19. For instance, the price of Litecoin surged by 3.2 to 3.84%, and Ethereum rose by 1.43-1.75%. However, there were certain roadblocks pertaining to delays in the launch of new systems, programs, etc. but the global market witnessed a surge in awareness rate during 2020 and 2021.
Crypto Wallets Market: Growth Drivers
Growing adoption of cryptocurrency to trigger the market growth
The global crypto wallets market is expected to grow owing to the rising adoption and use of cryptocurrencies across the globe. As per crypto.com, the research agency claimed that as of January 2022, the number of crypto users globally was around 300 million and the count is projected to reach over 1 billion by the end of 2022. Comscore published a report in which the statistics reported that the cryptocurrency market has reached 17 million users as of March 2021 from 6 million users in March 2020 and the market grew by a whopping 421% from 2021 to March 2022 reaching a total number of 90 million users.
These numbers indicate the fast rate at which cryptocurrency is gaining access in all regional markets. The growth in the number of users can be attributed to the rising awareness and initiatives undertaken by crypto agencies to help customers gain confidence in the authenticity, security, and prospects of investments in cryptos. As the user count for cryptocurrency grows, the same is expected for the global market since cryptocurrency and crypto wallets go hand-in-hand. These wallets enable higher security of cryptocurrencies and transactions cannot be completed without crypto wallets. The growing demand for tightening security around crypto-transactions and the need for better security systems is anticipated to help the global market grow further.
Crypto Wallets Market: Restraints
Concerns related to wallet access permission to restrict the market growth
When a user chooses a wallet, it is important to be aware of who else has the access to the copy of the private key which automatically makes the other party capable of signing. Just like in the case of physical banks, users need to have trust in the crypto wallet provider. For instance, Mt. Gox, a bitcoin exchange from Japan, misplaced this trust which resulted in most of its clients losing their bitcoins. Downloading a crypto wallet on any system like a phone does not necessarily mean that only the user has the access to the private key. In fact, in Coinbase, a person can access the private key from the phone-installed application as well as the website. These concerns may restrict the global market growth.
Crypto Wallets Market: Opportunities
Initiatives undertaken by service providers to create growth opportunities
Since cryptos are still evolving with the addition of multiple players annually and the market being extremely volatile, service providers including both crypto companies and crypto-related services like wallets, securities, and others are constantly upgrading their facilities or systems which is anticipated to help the global market grow further. For instance, the Bitcoin Armory, which is an open-source, python based application for wallet management specially designed for the Bitcoin network, uses its hierarchical deterministic scheme which eventually served as the inspiring idea for the BIP32 standard
Crypto Wallets Market: Challenges
Vulnerabilities associated with crypto wallets to challenge market growth
A cryptocurrency wallet may have its own sets of vulnerabilities that may or may not be known. A side-channel attack or supply-chain attack of ways of introducing vulnerabilities. In certain cases, even if a computer is not connected to any network, it can still be hacked. Unless these security concerns are dealt with by developing a concrete attack-secure plan the global market may face growth challenges during the projection period.
Crypto Wallets Market: Segmentation
The global crypto wallets market is segmented by channel, type, end-user, and region
Based on channels, the global market segments are online and offline. The global market is dominated by the offline channel since it is widely preferred amongst users given the security perspective. Many platforms offer these services to keep their cryptos safe from cyber-attacks. For instance, as per Chainanalysis, hackers managed to steal around USD 3.2 billion of cryptocurrency in multiple cyber-attacks.
Based on type, the global market is divided into cold wallet and hot wallet. A cold wallet is not connected to the internet and is sometimes referred to as a hardware wallet. These systems allow for keeping cryptos safe in an offline environment making them safe from online attacks. The more advanced cold wallets are safe from physical damage as well. The cold wallet market is projected to grow at a CAGR of 27.1% by 2028 which is a higher growth rate than the rate at which crypto exchange is expected to grow.
Based on end-user, the global market segments are individual and commercial. The global market share was dominated by individual segments in 2022 and is projected to garner more revenues in the coming year as well. The most popular form of crypto wallet is Coinbase Wallet. As per the company's official report, more than 103 million verified users are using the Coinbase exchange brand to deal in cryptos.
Recent Developments:
In August 2022, Solana crypto wallets faced a massive cyber-attack resulting in more than 8000 wallets being compromised. Even though the total amount lost in the attack is unclear, at least four of the Solana wallets that were attacked drained over USD 8 million from the users, as per official reports by PeckShield. This resulted in Solana's falling by 7% in a span of 24 hours.
In January 2022, Fendi, a giant in luxury items, took a different route for global expansion by collaborating with Ledger, a leader in digital asset management, for the launch of a luxury crypto wallet accessories line. The tech products were launched on web3 which is a decentralized application running on the blockchain, as per ethereum.org.
Global Crypto Wallets Market: Report Scope:
Report Attributes
Report Details
Report Name
Crypto Wallets Market Research Report
Market Size in 2022
USD 8.24 billion
Market Forecast in 2030
USD 46.72 billion
Compound Annual Growth Rate
CAGR of 24.23%
Number of Pages
166
Forecast Units
Value (USD Billion), and Volume (Units)
Key Companies Covered
ELLIPAL Limited, CoolBitX Technology Ltd., BitLox, ShapeShift, Sugi (zSofitto NV), OPOLO SARL, Satoshi Labs SRO, Ledger SAS, and Shift Crypto AG
Segments Covered
By Product Type, By Application, And By Region
Regions Covered
North America, Europe, Asia Pacific (APAC), Latin America, Middle East and Africa (MEA)
Countries Covered
North America: U.S and Canada
Europe: Germany, Italy, Russia, U.K, Spain, France, Rest of Europe
APAC: China, Australia, Japan, India, South Korea, South East Asia, Rest of Asia Pacific
Latin America: Brazil, Argentina, Chile
The Middle East And Africa: South Africa, GCC, Rest of MEA
Base Year
2022
Historical Year
2019 to 2022
Forecast Year
2023 - 2030
Customization Scope
Avail customized purchase options to meet your exact research needs. Request For Customization
Crypto Wallets Market: Regional Analysis
North America to lead with the largest market share by 2030
The global crypto wallets market is projected to be dominated by North America during the projection period owing to the higher demand for cryptocurrencies and subsequently raising the need for crypto wallets. This can also be attributed to the vast investments that are regularly made in cryptos across regions like Canada and the USA propelling the service providers to upgrade their systems to keep up with the growing user expectations. The advanced economies allow the region to invest in better technologies resulting in a greater crypto adoption rate thus propelling regional growth.
For instance, as per reports by Forrester, merchants accepting Bitcoin tend to attract more customers and subsequent sales than merchants accepting other forms of payments like credit cards. Asia-Pacific is also expected to generate high revenue majorly driven by India, Japan, South Korea, and others. India is witnessing a staggering rise in the number of crypto users and more people are seen investing in the technology. The demand for the products is increasing since it is one of the gateways to a quicker and more secure peer-2-peer transaction across all demographics.
Crypto Wallets Market: Competitive Analysis
The global crypto wallets market is dominated by players like:
ELLIPAL Limited
CoolBitX Technology Ltd.
BitLox
ShapeShift
Sugi (zSofitto NV)
OPOLO SARL
Satoshi Labs SRO
Ledger SAS
Shift Crypto AG
The global crypto wallets market is segmented as follows:
By Channel
By Type
By End-User
By Region
North America
Europe

France
The UK
Spain
Germany
Italy
Rest of Europe

Asia Pacific

China
Japan
India
South Korea
Southeast Asia
Rest of Asia Pacific

Latin America

Brazil
Mexico
Rest of Latin America

Middle East & Africa

GCC
South Africa
Rest of Middle East & Africa