Industry Prospective:
The global location-based entertainment market size was worth around USD 3.5 Billion in 2022 and is predicted to grow to around USD 22.2 Billion by 2030 with a compound annual growth rate (CAGR) of roughly 26% between 2023 and 2030. The report analyzes the global location-based entertainment market's drivers, restraints/challenges, and the effect they have on the demands during the projection period. In addition, the report explores emerging opportunities in the location-based entertainment market.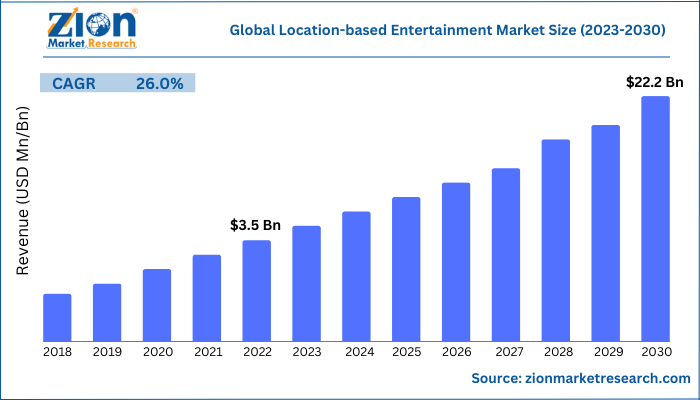 Request Free Sample
Location-based Entertainment Market: Overview
LBE refers to any entertainment associated with a particular location away from home. The immersive theatre, theme parks, virtual reality cafés, and pop-up stores are just a few examples of the licensed and brand-owned physical experiences available on the LBE market. Location-based entertainment (LBE) is also referred to as "out-of-home entertainment" or interactive multiplayer entertainment centers. Any entertainment associated with a specific place outside the home is referred to as LBE. Immersive LBE experiences can be further broken down into these two groups using the involvement axis and the technology axis. These numerous axes form a spectrum rather than a collection of unique types.
The range of experiences encompasses everything from intensely enjoyable to deeply reflective. They may also incorporate technology to varying degrees, from completely analog to almost entirely digital. A sizable entertainment complex or theme park, for instance, might offer activities that lie on different spectrums. Customers want memorable experiences that will inspire them to leave their houses, teach them something new, or simply astound them. To be successful, owners and managers of immersive LBEs must have a solid grasp of their target markets and clientele. Ambitious providers ought to look beyond their sphere of expertise and borrow concepts from all effective immersive LBEs.
Key Insights
As per the analysis shared by our research analyst, the global location-based entertainment market is estimated to grow annually at a CAGR of around 26% over the forecast period (2023-2030).
In terms of revenue, the global location-based entertainment market size was valued at around USD 3.5 billion in 2022 and is projected to reach USD 22.2 billion, by 2030.
The growing urbanization and rise in disposable income of the population are expected to drive the location-based entertainment industry expansion over the forecast period.
Based on the component, the hardware segment is expected to capture the largest market share during the forecast period.
Based on the technology, the 3-dimensional segment accounted for the largest market share in 2022.
Based on the end-use, the amusement parks segment is expected to dominate the market during the projected period.
Based on region, North America is expected to grow at the highest CAGR during the forecast period.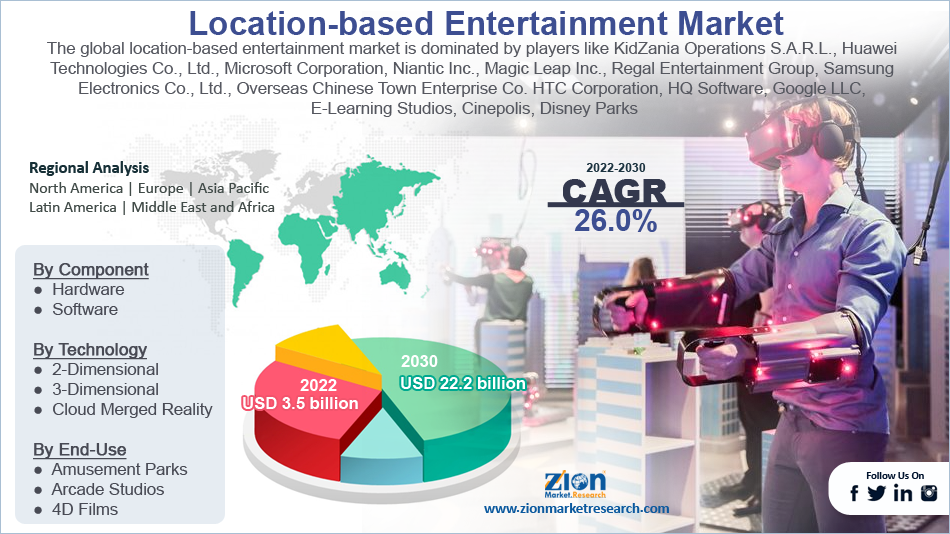 Request Free Sample
Location-based Entertainment Market: Growth Drivers
360-degree VR games are becoming more and more common which drives the market growth
The development of VR games has served significant markets globally and has tremendous potential. As virtual reality technology has advanced, devices like the Samsung Gear VR, Oculus VR, and HTC Vive have gained popularity. Games are enjoyable and interactive due to virtual reality technology that includes tracking, sensory, and hand controls. To satisfy demand, more VR gaming companies emerged. The environment can be perceived by participants in VR games. Adrenaline is raised by immersive images and 360-degree video material. Using virtual reality devices, players can alter the game's settings. Shooters, simulations, and adventures were enhanced by VR. This encourages the location-based entertainment industry expansion.
Location-based Entertainment Market: Restraints
Extensive use of VR headsets poses health risks
Electromagnetic frequency radiation may be produced by VR headsets. These devices use Bluetooth or Wi-Fi to connect to your smartphone or computer and have sophisticated sensors that fully engage you in VR. VR headsets fueled by smartphones emit radiation. The reproductive system, mood, and sleep patterns may all be affected by cell phone radiation. VR headsets may interact with smartphones and wirelessly connect to Wi-Fi, emitting radiation and posing long-term health risks. Thus, this is expected to hinder the global location-based entertainment market growth.
Location-based Entertainment Market: Opportunities
The growing focus of market participants on integrating innovative technology offers an attractive opportunity
To provide customers with premium immersive experiences, the major location-based entertainment market players are concentrating on integrating cutting-edge technologies such as Augmented Reality (AR), Virtual Reality (VR), Mixed Reality (MR), interactive digital surfaces, and 3D projection mapping with LBE. For instance, in January 2023, Apple, Inc. and the Walt Disney Company considered the possibility of working together to create a VR content platform for the company's headset. In partnership with Sony Group Corporation, the tech behemoth created the headset, which has high-resolution screens and AR full-color pass-through.
Location-based Entertainment Market: Challenges
The high cost of AR and VR content development poses a major challenge
Companies are curious about the complex subject of augmented reality solution costs. AR is an investment because it produces innovations and functions well. Businesses across all sectors engage in this strategy to impress their audience, attract more attention, and increase profits. In general, AR costs anywhere from $7000 to $250,000 (in large-scale enterprise solutions). The cost of developing an AR solution is influenced by several variables, including the sort of AR application, project complexity, and project duration. Thus, the high cost of AR and VR is expected to pose a major challenge to market growth.
Location-based Entertainment Market: Segmentation
The global location-based entertainment industry is segmented based on component, technology, end-use, and region.
Based on the component, the global market is bifurcated into hardware and software. The hardware segment is expected to dominate the market during the forecast period. The expansion is due to ongoing technological advancements in VR/AR-based devices like headsets, haptic suits, and other simulation tools. VR-based hardware products give viewers an immersive experience in LBE centers at a reasonable cost while also giving them special memories. Particularly encouraging for the expansion of the hardware market is the LBE providers' increasing usage of low-end VR headsets.
Based on end-use, the market is divided into amusement parks, arcade studios, and 4D films.
Based on the technology, the global location-based entertainment industry is segmented into 2-dimensional, 3-dimensional, and cloud-merged reality. The 3-dimensional segment accounted for the largest market share in 2022 and is expected to continue the same pattern during the forecast period. The growth in the segment is attributed to increasing adoption in the entertainment industry. The range of 3D technology adoption in LBE has greatly expanded as a result of significant advancements in 3D animation, 3D mapping, and other 3D technologies. For instance, 3D printing is rapidly expanding in the film industry for a variety of uses, such as the production of animated movies and the design of renowned costumes.
Recent Developments:
In October 2021, VIVE Flow, a set of glasses that can transport its users anywhere they need to go, was unveiled by HTC VIVE. Users of VIVE Flow can find moments of tranquility and well-being throughout the day because it was designed with ease and portability in mind. To do this, they can use tools like TRIPP for meditation 2.0, go for a walk, watch TV or movies on their own, cinema-sized VR screens, exercise their brains with brain-training apps, and interact socially and collaboratively with colleagues and friends on VIVE Sync.
In July 2021, AT&T collaborated with Warner Bros., Ericsson, Qualcomm, Dreamscape, Nvidia, and Wevr to develop Chaos at Hogwarts, a realistic location-based Harry Potter VR experience that serves as a proof of concept. This proof-of-concept demonstrates how the following user-generated encounters might be enhanced by 5G. By utilizing the high output and low latency characteristics of 5G in conjunction with edge cloud mixed reality processing, the current architecture may be changed to one that is more pleasant for spectators, more effective for artists, and more efficient for venue operators.
In July 2022, BRON Studios, a top global media, technology, and award-winning production company, and Falcon's Beyond, a leading fully integrated global entertainment development company specializing in intellectual property (IP) creation and expansion, have announced a strategic partnership to co-develop and co-produce numerous worldwide entertainment properties into feature films, episodic series, video games, Web3 activations, consumer products, and location-based entertainment experiences. Through the partnership, BRON will help Falcon's Beyond produce episodic series and feature films based on Falcon's IPs, including the well-known Katmandu brand, by utilizing its sizable production pipeline using Epic Games' Unreal Engine and its network of award-winning talent.
In March 2022, the global strategy, experience design, and production firm Thinkwell Group has agreed to be acquired by TAIT, the group of creative engineers, fabricators, producers, and technologists for live entertainment environments. Thinkwell Group specializes in the master planning, design, and production of "world-class" guest experiences for theme parks, museums, and brands. Thinkwell will join the TAIT Group, which is made up of an impressive group of innovators, to raise the bar for live and location-based entertainment while establishing TAIT as the most thorough end-to-end provider of amusement and experiences.
Location-based Entertainment Market Report Scope:
Report Attributes
Report Details
Report Name
Location-based Entertainment Market Research Report
Market Size in 2022
USD 3.5 Billion
Market Forecast in 2030
USD 22.2 billion
Compound Annual Growth Rate
CAGR of 26%
Number of Pages
190
Key Companies Covered
KidZania Operations S.A.R.L., Huawei Technologies Co., Ltd., Microsoft Corporation, Niantic Inc., Magic Leap Inc., Regal Entertainment Group, Samsung Electronics Co., Ltd., Overseas Chinese Town Enterprise Co. (OCT) Parks, Six Flag Entertainment Corporation, 4Experience, HTC Corporation, HQ Software, Google LLC, E-Learning Studios, Cinepolis, Disney Parks, Experience, and Products (The Walt Disney Company), AEON Fantasy Co, Barron Games International, Bob's Space Racers and CamOnApp among others.
Segments Covered
By Component, By Technology, By End-Use, And By Region
Regions Covered
North America, Europe, Asia Pacific (APAC), Latin America, Middle East, and Africa (MEA)
Base Year
2022
Historical Year
2017 to 2021
Forecast Year
2023 - 2030
Customization Scope
Avail customized purchase options to meet your exact research needs. Request For Customization
Location-based Entertainment Market: Regional Analysis
North America is expected to dominate the market during the forecast period
North America is expected to dominate the global location-based entertainment market during the forecast period. The growth in the region is attributed to the rise in interest in cutting-edge technology and the quick uptake of location-based VR. In addition, North America is home to many significant industry players. The successful application of location-based VR in a variety of media, entertainment, and gaming applications is also promoting the expansion of the local market.
On the other hand, the Asia Pacific is expected to grow at the fastest rate over the forecast period owing to the rapid urbanization and rising disposable income of the population in the region. Furthermore, the growth of VR-based games in countries like Japan, China, South Korea, and India is also boosting market development in the APAC region. Numerous governments are also backing the use of LBE technology at well-known tourist hotspots to increase regional prosperity. This encourages market growth in the Asia Pacific region.
Location-based Entertainment Market: Competitive Analysis
The global location-based entertainment market is dominated by players like:
KidZania Operations S.A.R.L.
Huawei Technologies Co. Ltd.
Microsoft Corporation
Niantic Inc.
Regal Entertainment Group
Samsung Electronics Co. Ltd.
Overseas Chinese Town Enterprise Co. (OCT) Parks
Six Flag Entertainment Corporation
4Experience
HTC Corporation
HQ Software
Google LLC
E-Learning Studios
Cinepolis
Disney Parks
Experience
Products (The Walt Disney Company)
AEON Fantasy Co
Barron Games International
Bob's Space Racers
CamOnApp
The global location-based entertainment market is segmented as follows:
By Component
By Technology
2-Dimensional
3-Dimensional
Cloud Merged Reality
By End-Use
Amusement Parks
Arcade Studios
4D Films
By Region
North America
Europe

France
The UK
Spain
Germany
Italy
Rest of Europe

Asia Pacific

China
Japan
India
South Korea
Southeast Asia
Rest of Asia Pacific

Latin America

Brazil
Mexico
Rest of Latin America

Middle East & Africa

GCC
South Africa
Rest of Middle East & Africa