Liquid Feed Supplements Market Size & Industry Analysis:
The global liquid feed supplements market size was worth around USD 5918.5 million in 2021 and is predicted to grow to around USD 9732.29 million by 2028 with a compound annual growth rate (CAGR) of roughly 4.72% between 2022 and 2028. The report analyzes the global liquid feed supplements market drivers, restraints/challenges, and the effect they have on the demands during the projection period. In addition, the report explores emerging opportunities in the liquid feed supplements market.
Liquid Feed Supplements Market: Overview
Liquid feed supplements are external supplements used to feed grass-fed cattle and feedlots. The former type of cattle feeds only on grass for their entire lives while whereas feedlot cattle are nurtured in a large feeding unit where corn is the most predominant fodder that the cattle are provided with. Liquid feed supplements are molasses-based.
The by-product generated from the sugar industry with the base source being sugar cane or sugar beet is called molasses. The external supplement is given for consumption purposes to different types of cattle in non-identical formulations. When the supplements are dried, the content is less than molasses but since they have high moisture content, the liquid feed can be easily pumped. Blended molasses-based feed supplements are rich in urea, salt, protein meals along with other nutrients.
These are also called blended supplements and may settle down once mixed with molasses requiring recirculation of the liquid feed. To overcome this concern, suspended liquid feed supplements were introduced in the market which are created on the basis of granularly dispersed gums and clays.
Key Insights
As per the analysis shared by our research analyst, the global liquid feed supplements market is estimated to grow annually at a CAGR of around 4.72% over the forecast period (2022-2028)
In terms of revenue, the global liquid feed supplements market size was valued at around USD 5918.5 million in 2021 and is projected to reach USD 9732.29 million, by 2028. Due to a variety of driving factors, the market is predicted to rise at a significant rate
Based on source segmentation, molasses was predicted to show maximum market share in the year 2021
Based on livestock segmentation, ruminants were the leading livestock in 2021
On the basis of region, North America was the leading revenue generator in 2021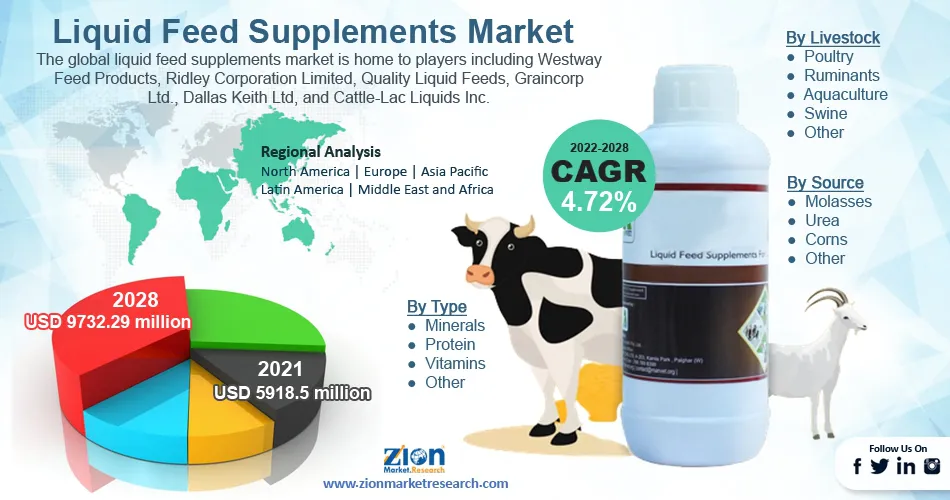 Request Free Sample
Liquid Feed Supplements: Growth Drivers
Benefits offered by liquid feed to propel market demand
The global liquid feed market is projected to grow owing to the benefits associated with the planned consumption of liquid feed supplements. Cattle rearing can become difficult if there is a lack of awareness about the patterns associated with various cattle. To rear healthy cattle that can eventually yield desired results like milk production, an effective diet is one of the major ways to achieve this objective. Liquid feed supplements are easily digested thus avoiding any form of digestive concerns in cattle.
Ruminants play an extremely important role in maintaining a sustainable agricultural cycle and healthy ruminants can make high-grade contributions to agricultural processes. Some of the liquid feed brands are also known for their impact on managing respiratory distress in cattle due to the presence of essential oils and their fluidizing and expectorant properties. Since liquid feeds are rich sources of vitamin C, they help in feed consumption thus contributing to the general health of the animal.
Liquid Feed Supplements: Restraints
Season-related restriction to restraint market expansion
Liquid feed supplements work best in some seasons and may not be as effective during other seasons. For instance, during heat, as long as the consumption is regular, the feed will deliver efficiently; however, if the product is unused for a long time, it may lose its nutritional value. During cold weather, the product tends to freeze and requires special treatment to maintain its original fluidity or texture. As the consumption drops, the cattle will not receive sufficient nutrition rendering the product unuseful.
Liquid Feed Supplements: Opportunities
Convenient use to provide excellent growth opportunities
Liquid feed supplements are extremely easy to use and are hassle-free, making them a preferred choice of external supplement amongst end-users. The labor cost associated with the use of these feeds is negligible as it does not require multiple people to handle the product. They can be easily delivered or refilled unlike other forms of liquid feed. It is considered one of the few unrestrictive feeds to be used, which can attract more consumers during the projection period.
Liquid Feed Supplements: Challenges
Lost amino acids to act as a major challenge during the growth phase
One of the major challenges the global liquid feed supplements market players have to deal with is the loss of amino acids in liquid feed during the storage process. This could potentially lead to consumers opting for other substitutes resulting in a loss of revenue. Amino acid is an important part of the entire nutritional value of liquid feed and if it is handled or stored incorrectly, the product may get deprived of essential nutrients.
Liquid Feed Supplements: Segmentation
The global liquid feed supplements market is segmented by source, livestock, type, and region
Based on the source, the global market segments are molasses, urea, corn, and others. Although all of these sources are equally important, in 2021, molasses registered the highest growth revenue because these feeds cause high palatability along with a high bioavailability index. Liquid supplements sourced from molasses can help reduce costs as compared to other forms of liquid feeds.
However, the content of these supplements also depends on the cattle that are being fed. For instance, corn is the main ingredient for cattle reared during intensive agricultural operations. It is imperative to make sure that the cattle are fed appropriately and only at the level that is required. For instance, a 550 kg cow that provides 30 kg milk should be fed only 3.7% of the body weight.
Based on livestock, the global market divisions are poultry, ruminants, aquaculture, swine, and others. Ruminants led the global market growth in 2021. In the livestock sector, cattle production is regarded as one of the most significant industries related to agriculture. As of 2022, the number of living ruminant species is as high as 200 that are divided into 6 families. Poultry may also grow at a high CAGR due to the growing demand for domesticated birds. In 2019, the US produced more than 9000 million dozen chicken eggs.
Recent Developments:
In December 2021, BASF announced the launch of a new and ground-breaking feed enzyme called the Natupulse TS. The enzyme is rich in nutrients as it is expected to aid digestion thus improving the overall efficacy of the feed. With the new launch, the company has strengthened its foothold in the animal feed market
In March 2021, Farmers Business Network (FBN) entered the livestock market to cater to the food and nutrition requirements of animals. The company inaugurated two offerings called FBM Feed and FBN pharmacy. The feed segment includes liquid supplements, dry feed, and nutritional support amongst other benefits
Liquid Feed Supplements Market Report Scope:
Report Attributes
Report Details
Report Name
Liquid Feed Supplements Market Research Report
Market Size in 2021
USD 5918.5 Million
Market Forecast in 2028
USD 9732.29 Million
Compound Annual Growth Rate
CAGR of 4.72%
Number of Pages
192
Forecast Units
Value (USD Million), and Volume (Units)
Key Companies Covered
Westway Feed Products, Ridley Corporation Limited, Quality Liquid Feeds, Graincorp Ltd., Dallas Keith Ltd, and Cattle-Lac Liquids Inc.
Segments Covered
By Source, By Livestock, By Type and By Region
Regions Covered
North America, Europe, Asia Pacific (APAC), Latin America, Middle East and Africa (MEA)
Countries Covered
North America: U.S and Canada
Europe: Germany, Italy, Russia, U.K, Spain, France, Rest of Europe
APAC: China, Australia, Japan, India, South Korea, South East Asia, Rest of Asia Pacific
Latin America: Brazil, Argentina, Chile
The Middle East And Africa: South Africa, GCC, Rest of MEA
Base Year
2021
Historical Year
2016 to 2020
Forecast Year
2022 - 2028
Customization Scope
Avail customized purchase options to meet your exact research needs. Request For Customization
Liquid Feed Supplements: Regional Analysis
North America to walk away with the highest market share
The global liquid feed supplements market is projected to witness the highest growth in North America. In 2021, the regional market owned more than 39% of the global market share. The stronghold can be attributed to the high levels of meat consumption in the US, Canada, and Mexico where meat is an extremely common part of daily diet forms.
The rising consumer expectations have propelled market players to invest in providing high-grade meat to end-consumers which in turn requires businesses to invest in nutritious diets for cattle which is essential for the end quality of the meat produced. As per reports by Sentient Media, around 274 pounds of meat is consumed annually in the US alone. American citizens rank at the top of the list of per capita meat consumers globally.
Liquid Feed Supplements: Competitive Analysis
The global liquid feed supplements market is home to players including Westway Feed Products, Ridley Corporation Limited, Quality Liquid Feeds, Graincorp Ltd., Dallas Keith Ltd, and Cattle-Lac Liquids Inc.
The global liquid feed supplements market is segmented as follows:
By Source
Molasses
Urea
Corns
Other
By Livestock
Poultry
Ruminants
Aquaculture
Swine
Other
By Type
Minerals
Protein
Vitamins
Other
By Region
North America
Europe

France
The UK
Spain
Germany
Italy
Rest of Europe

Asia Pacific

China
Japan
India
South Korea
Southeast Asia
Rest of Asia Pacific

Latin America

Brazil
Mexico
Rest of Latin America

Middle East & Africa

GCC
South Africa
Rest of Middle East & Africa