Essential Oils Market Size
The global essential oils market is slated record the CAGR of nearly 8.9% over the period from 2023 to 2030. The report offers assessment and analysis of the essential oils market on a global and regional level. The study offers a comprehensive assessment of the market competition, constraints, sales estimates, opportunities, evolving trends, and industry-validated data.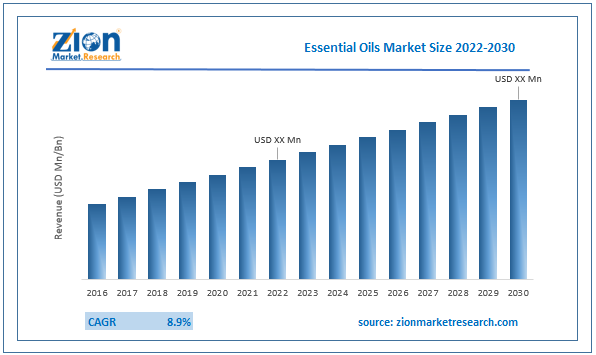 Request Free Sample
Introduction
Essential oils are concentrated natural plant derivatives that are best sources of bioactive products having anti-oxidative and anti-microbial characteristics. These oils are used as disinfectants as well as relaxing, anti-inflammatory, anti-mutagenic, and stimulating materials. The compounds have huge potential for unraveling benefits of clinical medicine. For the record, procedures used for manufacturing essential oils are predicted to be introduced by Ibn-al-Baitar during 1188-1248. The chemical make-up of these compounds vary extensively based on their geographical sites, bacterial endophytes, botanical sites, genetics, and extraction methods.
Moreover, essential oils are extensively utilized in food, cosmetics, and flavor. In addition to this, the essential oils were used in traditional medicine and aromatherapy for treating ailments since many years. Many of the products derived from Lavandula angustifolia, Rosmarinus officinalis, Jasminum sambac, Nigella sativa, Eucalyptus globulus, Acorus gramineus, and Mentha piperita are reported to provide effective neuroprotective effects to the users. As per NCBI, research is going on across the globe to make essential oils available in the form of drugs to the people along with focusing on its kinetic profile and route of administration. Combination of essential oils and antibiotics can help in reduction of anti-biotic resistance of manifold-medicine resistant microbes. Essential oils like eucalyptus oil displays inhibitory effects against pathogens like Lactobacillus acidophilus and hence these oils are used as anti-cariogenic agents.
Market Growth Dynamics
Essential oils are mainly utilized in food & cosmetic sectors and this may help the market gain traction over the coming years. These products find a spectrum of applications as natural substitutes to synthetic formulations for preventing & treating contagious ailments. Apparently, essential oils can treat nervous disorders, respiratory tract diseases, digestive system ailments, gynecological problems, heart disorders, andrological diseases, skin infections, and problems pertaining to endocrine. Reportedly, few of these essential oils have exhibited anticancer activities. It possess anti-fungal as well as anti-viral properties and have good effect on Staphylococcus aureus that re resistant to methicillin.
According to NCBI, essential oils derived from lavandula stoechas L. demonstrates effective antimicrobial features against bacteria, yeasts, and filamentous fungi. For the record, in vitro studies have unleashed anti-bacterial impact of essential oils. NIH researchers performed in vitro, in vivo, and clinical experiments on essential oils and found them to be effective against Alzheimer disease, dementia, neurological disorders, depression, epilepsy, and anxiety. In addition to this, essential oils have anti-aging and neuroprotective potential, thereby further driving the market trends.
It has been found that the products are effective against various pathological targets and have enhanced cognitive performance in humans as well as animal models. Apparently, Essential oils are likely to be developed as multi-potent medicines against neural ailments and can prove as safe and cost-effective drugs. Studies have revealed the products to be beneficial during oral therapy in dentistry and can enhance the quality of dental treatment. Nonetheless, the preparation of these essential oils can cause intoxication and neurotoxicity in humans as well as can impact the skin, thereby hindering the market growth.
Report Scope:
Asia Pacific Market To Witness Fastest Growth Over Forecast Timeline
The growth of the market in the sub-continent over 2020-2026 is owing to rise in the incidence of dental problems and neurological disorders in the countries like India and China. In addition to this, rise in the demand for natural items will further embellish the market growth in the region over the coming years. Apart from this, humungous use of these products for improving flavor and fragrance of food & personal care and cosmetic items will boost the market progression in the Asia Pacific zone over the forthcoming years.
Key players driving the market growth are:
NOW Foods
Ungerer and Company Inc.
Young Living Essential Oils
Flavex Naturextrakte GmbH
DoTerra
The Lebermuth Company
Essential Oils of New Zealand
India Essential Oils
West India Spices Inc.
The global essential oils market is segmented as follows:
By Product
Acorus Calamus
Ajowan
Basil
Black pepper
Cardamom
Carrot Seed
Cassia
Cedarwood
Celery
Cinnamon
Citronella
Ciz-3 Hexanol
Clove
Cornmint
Cumin Seed
Curry Leaf
Cypriol
Davana
Dill Seed
De-Mentholised Peppermint
Eucalyptus
Fennel
Frankincense
Garlic
Ginger
Holy Basil
Juniper Berry
Lemon
Lemongrass
Lime
Mace
Mustard
Neem
Nutmeg
Orange
Palmarosa
Pepper Mint
Rosemary
Spearmint
Tea Tree
Turmeric
Vetiver
Others
By Application
Medical

Pharmaceutical
Nutraceuticals

Food & Beverages

Bakery
Confectionery
Dairy
RTE meals
Beverages
Meat, Poultry & Seafood
Snacks & Nutritional Bars

Spa & Relaxation

Aromatherapy
Massage Oil
Personal Care

Cosmetics

Hair Care
Skin Care
Sun Care
Makeup and color cosmetics

Toiletries

Soaps
Shampoos
Men's Grooming
Oral Care
Baby Care

Fragrances

Perfumes
Body Sprays
Air fresheners

Cleaning & Home

Kitchen Cleaners
Floor Cleaners
Bathroom Cleaner
Fabric Care
By Sales
By Region
North America
Europe

France
The UK
Spain
Germany
Italy
Rest of Europe

Asia Pacific

China
Japan
India
South Korea
Southeast Asia
Rest of Asia Pacific

Latin America

Brazil
Mexico
Rest of Latin America

Middle East & Africa

GCC
South Africa
Rest of Middle East & Africa