The global Antifungal Drug Market accrued earnings worth approximately 15.1 (USD Billion) in 2021 and is predicted to gain revenue of about 20.23 (USD Billion) by 2028, is set to record a CAGR of nearly 3.7% over the period from 2022 to 2028. The study provides assessment and analysis of the Antifungal Drug Market on a global & regional level. It offers a comprehensive assessment of the market competition, constraints, revenue estimates, opportunities, evolving trends, and industry-validated data. The report provides historical data from 2018 to 2021 along with a forecast from 2022 to 2028 based on revenue (USD Billion).
COVID Impact Analysis On Antifungal Drug Market
Outbreak of pandemic has restricted expansion of size of antifungal market and is likely to continue even in next few years. Reportedly, rapid spread of SARS-CoV-2 virus has not only hampered economy of nation, but also severely affected various business including pharmaceutical businesses like antifungal drug sales. With increase in lockdown period for restricting spread of pandemic and strict government measures limiting movement of persons from one place to another has affected supply chain activities, thereby posing a threat to sale of antifungal drugs.
Antifungal Drug Market: Outlook
Invasive fungal infections are a key cause of mortality in immune-compromised patients and this has proved to be economic burden on healthcare sector across globe. As per NCBI, these infections have caused nearly 2 million fatalities each year. Moreover, recent antifungal drugs have proved to be less clinically efficient and new antifungal agents along with new combination regimens as well as new drug formulations for improving patient care will drive market trends. Furthermore, antifungal drugs eradicate pathogens from hosts with minimal side-effects. In addition to this, launching of novel antifungal medicines such as echinocandins and second-generation triazoles in last few years has favorably influenced managing of invasive mycoses in a way that drug toxicity has become less vital factor in drug treatment of fungal infections.
Additionally, antifungal drugs are also referred to as antimycotic drugs and it is a fungistatic utilized for treating mycosis including ringworm, athlete's foot, cryptococcal meningitis, and candidiasis. Anti-fungal drugs can be bifurcated into three types, namely, azoles that inhibit ergosterol synthesis, polyenes which interacts with fungal membrane sterols physio-chemically, and 5-flurocystosine that obstruct macromolecular synthesis.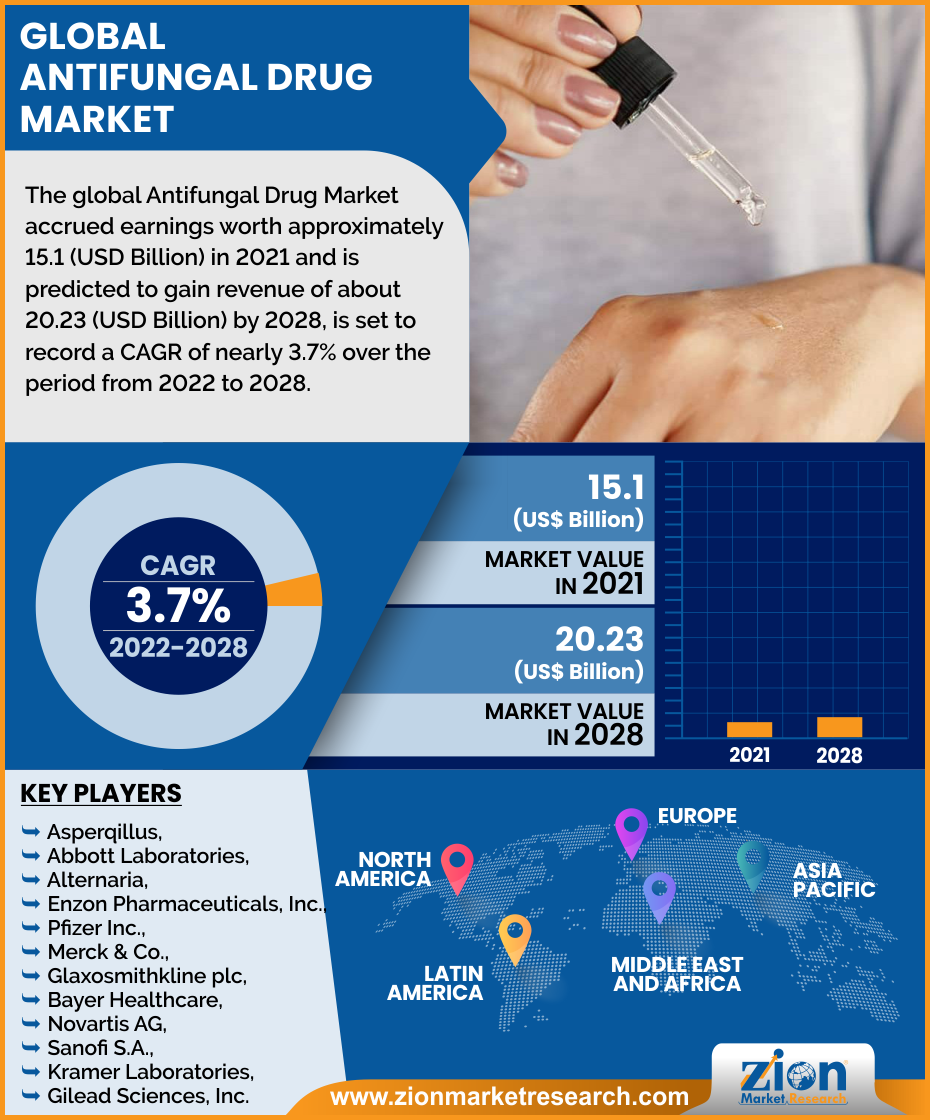 Request Free Sample
Antifungal Drug Market: Growth Drivers
Occurrence of fungal infections in immune-compromised patients such as AIDS, cancer patients, and individuals affected due to autoimmune disorders will offer new growth avenues for antifungal drug industry. Surge in use of nanotechnology in formulation of advanced antifungal medicines will impel expansion of antifungal drug industry. A prominent increase in nosocomial infections in patients will spearhead demand for antifungal drugs in healthcare sector. Nonetheless, use of conventional medicines can hinder growth of antifungal drug industry.
Furthermore, increase in awareness about fungal infections and surge in drug demand for countering chronic fungal diseases will steer penetration of antifungal drugs in healthcare sector. This will spur increase in size of antifungal drug market. Innovations in drug development and huge investment of drug research activities will prompt expansion of antifungal drug market.
Antifungal Drug Market: Regional Landscape
North America To Account Substantially Towards Regional Market Share By 2028
Growth of antifungal drug industry in North America over forecast timespan is owing to surge in use of novel antifungal drugs for treating fungal infections. For instance, in December 2020, the U.S. FDA approved application of Scynexis Inc. for its drug ibrexafungerp that has ability for treating vaginal yeast infection. Apart from this, rise in funding of research work related to new antifungal drugs will expand scope of antifungal drug market in years to come.
Report Scope:
Competitive Insights
Key players have majorly influenced growth of antifungal drug market and will continue to do so even in next couple of years. They are Asperqillus, Abbott Laboratories, Alternaria, Enzon Pharmaceuticals, Inc., Pfizer Inc., Merck & Co., Glaxosmithkline plc, Bayer Healthcare, Novartis AG, Sanofi S.A., Kramer Laboratories, and Gilead Sciences, Inc.
The global Antifungal Drug Market is segmented as follows:
By Drug Type
Echinocandins

Azoles
Polyenes
Allylamines
By Indication
Aspergillosis
Dermatophytosis
Candidiasis
By Dosage Form
By Distribution Channel
Hospital Pharmacies
Retail Pharmacies & Drug Stores
By Region
North America
Europe

France
The UK
Spain
Germany
Italy
Rest of Europe

Asia Pacific

China
Japan
India
South Korea
Southeast Asia
Rest of Asia Pacific

Latin America

Brazil
Mexico
Rest of Latin America

Middle East & Africa

GCC
South Africa
Rest of Middle East & Africa