Legal Transcription Market: Overview
The Global Legal Transcription Market accounted for USD 4,508.6 Million in 2020 and is expected to reach USD 9,958.1 Million by 2028, growing at a CAGR of 11% from 2021 to 2028.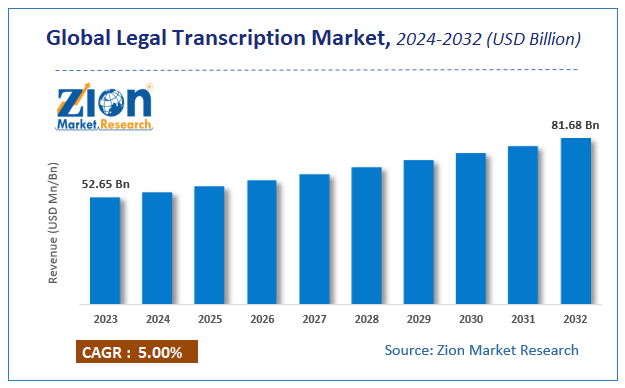 Request Free Sample
Court proceedings play an important role in any civil or criminal case in court. Legal transcription helps insurance companies, lawyers, law firms, banking companies, court recording companies, media entities, and court reporters to prepare legal documents based on written or oral information. In recent years, the global legal transcription market has been growing rapidly at a considerable rate, and the market is expected to expand significantly during the forecast period. One of the latest trends that have increased the demand for legal records management within companies is the increasing competition within legal organizations to attract clients, the goal of which is to provide clients with more time than document processing and formal work. Another major trend in the expansion of the global legal transcription market is that major industry leaders provide legal transcription clients with phone calls, interrogations, announcements, tutorial courses, and other transcription options. However, low adoption rates and ignorance in developing countries are one of the main challenges to market development.
COVID-19 Impact Analysis
At the beginning of 2020, COVID19 disease began to spread around the world, millions of people around the world were infected with COVID19 disease, and major countries around the world introduced walking bans and work stoppages. With the exception of the medical supplies and survival products industries, most industries were hit hard, and the forensic transcription industries were also significantly affected. Due to a sharp decline in the world economy; We expect the growth rate of the world economy to decrease. Therefore, the requirement for quality data and records within a business is, wherever possible, even more, important now that we are weathering this storm and, in fact, will be in the months and years to come. Until we reflect and learn, our actions this time will prove to be invaluable as we will certainly devote more time and resources to preparing for upcoming events, extreme events like COVID-19. A legitimate transcription company will allow all discussions to have accurate transcriptions and allow relevant recruited information to be recorded indefinitely and succinctly.
Legal Transcription Market: Growth Factors
The major growth factors of the Legal Transcription Market are: AI and ML advancements, In this technology-driven society, the management of legal practice has undergone considerable changes. The legal business is showing interest in advances in artificial intelligence and machine learning. These technologies are bringing significant development to the legal industry. Automatic speech recognition provides a great opportunity to quickly transcribe high-quality video or audio recordings that are considered satisfactory based on the level of evidence. Speech recognition allows you to convert speech to text by detecting spoken words. Check the literary information generated from the speech recognition program to infer valuable data. This innovation has influenced "language modeling" to perceive and recognize the tens of thousands of human expressions that make up language.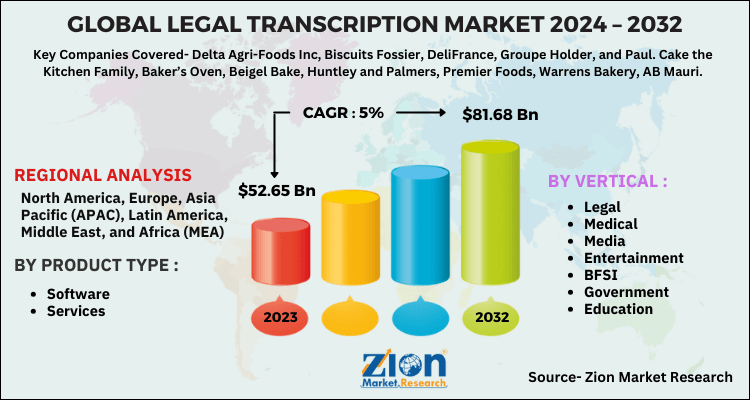 Request Free Sample
cloud computing, In recent years, cloud computing has gained rapid acceptance in the legal business arena. In fact, even when the information control and security threats of cloud computing innovation are limited, independent legal consultants and small law firms have embraced cloud management in their daily activities. The legal advisor is now mobile and requires a smart workplace structure anytime, anywhere. Innovation in the cloud enables lawyers and attorneys to conduct profitable legal business through portable devices. Cloud programs also provide the added benefit of greater security for confidential information handled by these law firms. All these factors have had a positive impact on the growth of the global legal transcription market.
Legal Transcription Market Report Scope:
Report Attributes
Report Details
Report Name
Legal Transcription Market Research Report
Market Size in 2020
USD 4,508.6 Million
Market Forecast in 2028
USD 9,958.1 Million
Compound Annual Growth Rate
CAGR of 11%
Number of Pages
183
Forecast Units
Value (USD Billion), and Volume (Units)
Key Companies Covered
Delta Agri-Foods Inc, Biscuits Fossier, DeliFrance, Groupe Holder, and Paul. Cake the Kitchen Family, Baker's Oven, Beigel Bake, Huntley and Palmers, Premier Foods, Warrens Bakery, AB Mauri
Segments Covered
By Product Type, By Vertical and By Region
Regions Covered
North America, Europe, Asia Pacific (APAC), Latin America, Middle East and Africa (MEA)
Countries Covered
North America: U.S and Canada
Europe: Germany, Italy, Russia, U.K, Spain, France, Rest of Europe
APAC: China, Australia, Japan, India, South Korea, South East Asia, Rest of Asia Pacific
Latin America: Brazil, Argentina, Chile
The Middle East And Africa: South Africa, GCC, Rest of MEA
Base Year
2022
Historical Year
2018 - 2022
Forecast Year
2023 - 2030
Customization Scope
Avail customized purchase options to meet your exact research needs. Request For Customization
Product Type Segment Analysis
According to the Product type, the market is divided into software and services. The software part is further divided into electronic reports and digital records. As more and more companies focus on providing advanced transcription software, the software sector is expected to occupy a moderate market share. For example, the transcription software company TRINT provides collaborative tools based on automated speech and text algorithms to edit, review, and approve transcription materials. As vertical industries such as media and entertainment increasingly adopt services, the service sector is expected to record the highest compound annual growth rate in the market. Several media production companies are choosing transcription services for the pre-production and post-production of entertainment programs. For example, the digital content provider media Digital Marketing, Inc. uses a script transcription service provided by the US service provider TranscriptionStar.
Vertical Segment Analysis
Request Free Sample
On a vertical basis, the Legal transcription market has been subdivided into legal, medical, media and entertainment, BFSI, government, education, etc. The education sector is further divided into corporate and academic sectors. The academic breakdown is further divided into K12, college students, universities, and individuals. The adoption of these services is also gaining popularity among government agencies. The medical department is expected to occupy the highest share of the market, while the legal department is expected to record the highest compound annual growth rate during the forecast period. Medical Transcription transcribes recordings provided by physicians. Medical transcriptionists have special expertise in understanding and interpreting medical terminology. Legal proceedings require very accurate transcripts because participants in legal proceedings rely primarily on transcripts from previous court hearings. The growing demand for legal transcription services has prompted market participants to raise funds to strengthen their portfolio of services.
Legal Transcription Market: Regional Segment Analysis
The Asia-Pacific market accounts for over 48% of total global revenue in 2020. China and India have emerged as preferred destinations for legal outsourcing due to the availability of regulatory agencies and lawyers. Competent and efficient in these countries. The Asia Pacific and East Asia regions are expected to grow rapidly in the next years as a result of increasing digitalization and cell phone use. The sizeable legal transcription market in India is poised to grow. An increasing number of highly qualified lawyers specializing in various legal fields and having fluent English skills are increasing regional market turnover. Law firms that offer affordable legal transcription in the country encourage organizations to outsource their legal process requirements locally rather than internationally. This also offers the advantage of the availability of qualified attorneys who are familiar with the regulations in force in the area.
The North America region is projected to grow at a CAGR of10.2% over the forecast period. North America accounts for a significant portion of the global legal transcription market due to the rapid implementation of legal transcription services by law firms in this area. The major industry players in the market include 3Play Media; Vinda; TranscribeMe; Moretti Group; Robin Medical; Peterson Reporting; TSG Reporting; Captionmax LLC; Nuance Communications; and MModal IP LLC. Industry participants are focusing on launching new transcription services to gain a competitive advantage in the market. In November 2019, 3Play Media launched an automatic live subtitle service to provide video publishers with a cost-effective and flexible live video event subtitle solution. The solution is based on automatic speech recognition technology and aims to optimize the traditional real-time subtitle workflow. You can increase audience participation by making it easier for the hearing impaired to access live events.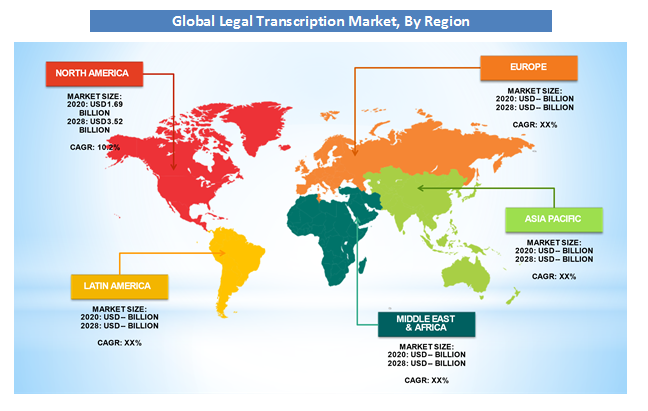 Request Free Sample
Legal Transcription Market: Key Players & Competitive Landscape
Some of the key players in the Legal Transcription Market are Tech-synergy, Winscribe, Nch Software, Voxtab, Indoswift, Flatworld Solutions, Huntington Court Reporters & Transcription, Inc., Deposition Service Inc., Toronto Court Reporters Ltd., and Universal Court Reporting, among others.
The Global Legal Transcription market is segmented as follows:
By Product Type
By Vertical
By Region
North America
Europe

France
The UK
Spain
Germany
Italy
Rest of Europe

Asia Pacific

China
Japan
India
South Korea
Southeast Asia
Rest of Asia Pacific

Latin America

Brazil
Mexico
Rest of Latin America

Middle East & Africa

GCC
South Africa
Rest of the Middle East & Africa