Kombucha Market Size
The global Kombucha market size was approximately USD 2.01 billion in 2020 and is expected to earn approximately USD 12 billion by 2028, with a CAGR of nearly 25.1% from 2021 to 2028. The report offers assessment and analysis of the Kombucha Market on a global and regional level. The study offers a comprehensive assessment of the market competition, constraints, revenue estimates, opportunities, evolving trends, and industry-validated data. The report provides historical data from 2018 to 2020 along with a forecast from 2021 to 2028 based on revenue (USD Billion).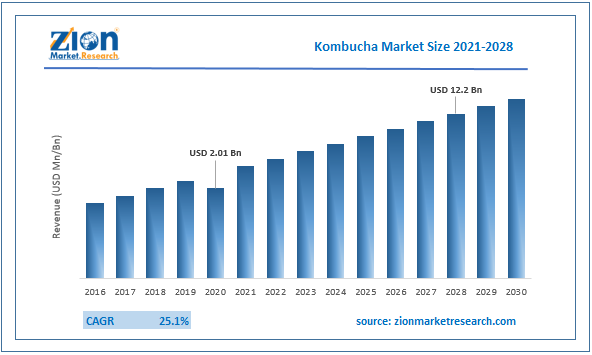 Request Free Sample
Kombucha Market: Overview
Kombucha is a fermented tea drink produced using symbiotic yeast and bacteria cultures. It has garnered massive interest owing to its beneficial features. Kombucha has rich chemical ingredients and healthy features. Furthermore, it comprises of organic acids, vitamins, and minerals derived from tea, polyphenols, and amino acids. Reportedly, the product is usually prepared using black tea. However, it can also be prepared through fermenting of other forms of tea such as white tea, green tea, yellow tea, and red tea. Moreover, tea type has prominent influence on parameters associated to anti-oxidant potential pH along with its ingredients such as sugar, acetic acid, and alcohol. For the record, red and green tea is rich anti-oxidant source on 1st and 14th day of fermentation and hence the choice of red tea or green tea form can prove beneficial for kombucha preparation. Nevertheless, black tea is considered as best ingredient conditioning proper kombucha contents & its healthy properties.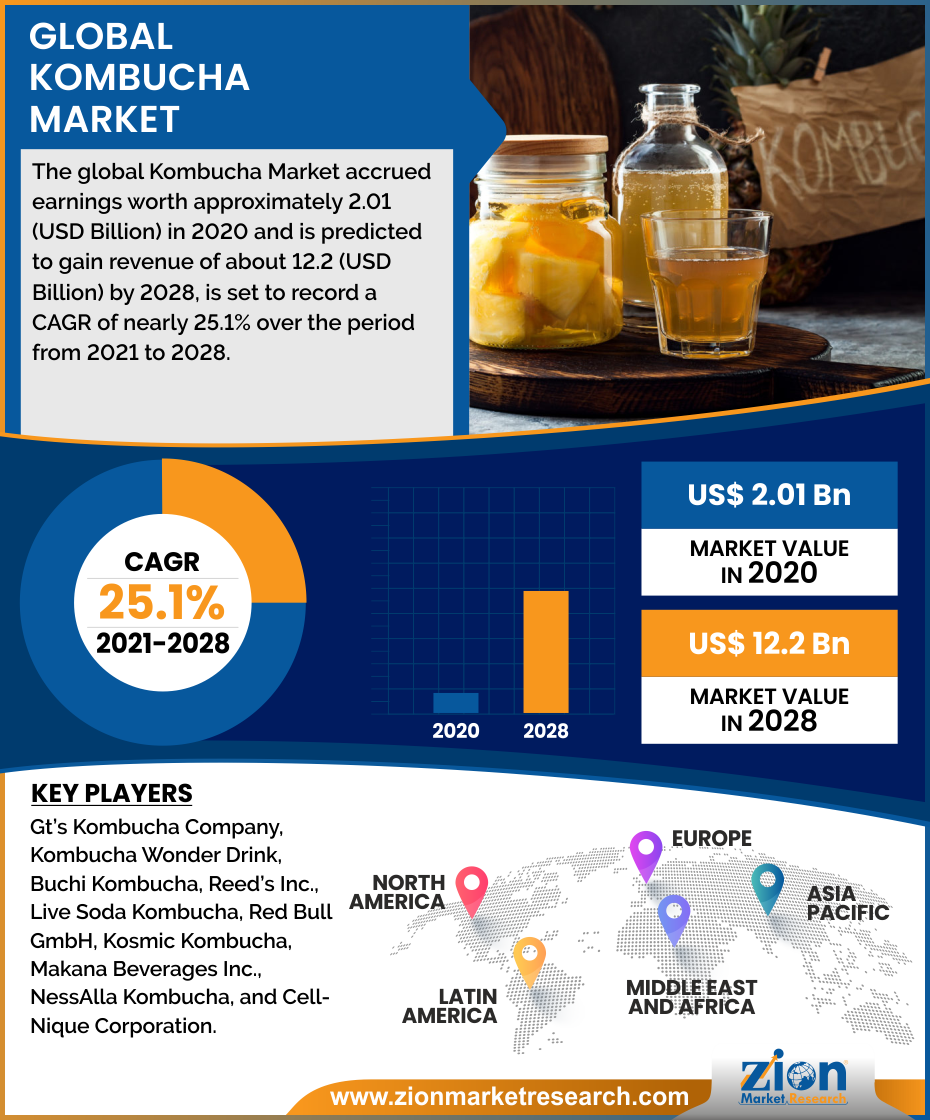 Request Free Sample
Kombucha Market: Growth Factors
Anti-bacterial, anti-diabetic, and anti-bacterial features of kombucha are predicted to embellish market trends. Moreover, ability of product in reducing proportion of cholesterol and boosting immune system along with stimulating liver detoxification will expand scope of kombucha industry over years ahead. Apart from this, the product also possesses minerals such as potassium, manganese, and fluoride ions along with vitamins such as E, B, and K as well as amino acids such as theanine and glutamine derivative. Moreover, other bioactive compounds are formed during tea fermentation process and they have proved to be beneficial for health. All these aforementioned aspects of product are likely to play a pivotal role in catalyzing and igniting growth of kombucha market over assessment period.
Furthermore, growing customer inclination towards functional drinks and rise in awareness pertaining to nutritive benefits of kombucha is set to propel expansion of kombucha market over upcoming years. Rise in product popularity owing to its exceptional taste and fizzy flavor will prompt growth of kombucha market over span of next couple of years.
Report Scope:
Regional Market Insights
North America To Contribute Majorly Towards Regional Market Size Over 2021-2028
Growth of regional market over assessment period can be credited to rise in product popularity in countries such as the U.S. and Canada. Additionally, surge in demand for functional beverages in sub-continent will contribute notably towards size of kombucha market in region. Apart from this, presence of key participants such as GT's Living Foods – a pioneer in Kombucha recipe sale- in country such as the U.S. will contribute majorly towards share of kombucha market in region. Apparently, regional manufacturers are trying to introduce new products with a view of improving health of people in midst of COVID-19 pandemic outbreak. This will steer expansion of kombucha industry in North America over estimated period.
Competitive Landscape
Key players influencing growth of Kombucha market and profiled in report are:
GT's Kombucha Company
Kombucha Wonder Drink
Buchi Kombucha
Reed's Inc.
Live Soda Kombucha
Red Bull GmbH
Kosmic Kombucha
Makana Beverages Inc.
NessAlla Kombucha
Cell-Nique Corporation.
The global Kombucha Market is segmented as follows:
By Flavor
Herbs & Spices
Citrus
Apple
Coconut & Mangoes
Flowers
By Distribution Channel
Supermarkets
Health Stores
By Region
North America
Europe

France
The UK
Spain
Germany
Italy
Rest of Europe

Asia Pacific

China
Japan
India
South Korea
Southeast Asia
Rest of Asia Pacific

Latin America

Brazil
Mexico
Rest of Latin America

Middle East & Africa

GCC
South Africa
Rest of Middle East & Africa