Analysis
Kombucha is the healthy fermented drink which is filled with probiotics. Kombucha drink is recognized worldwide for its detoxifying, energizing and overall health-supportive properties. Kombucha is made with black tea, sugar, bacteria, and yeast. Citrus, herb and spice, berries, apple, coconut, mangoes, flowers and others are the different essence of kombucha.
The kombucha market is expected to witness significant growth within the forecast period. Increasing consumer disposable income coupled with changing lifestyle is expected to be the key factor driving the growth of the kombucha market. Moreover, increasing the prevalence of chronic diseases such as diabetes, high blood pressure, and others are further expected to propel the market growth in the years to come. However, kombucha recall incidences and high distribution & inventory carrying cost are some of the key factors restricting market growth. Nevertheless, rising research and development investment to expand product portfolio can turn as an opportunity to kombucha market.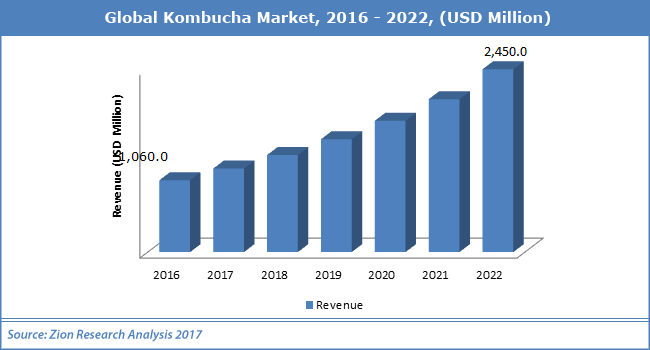 Based on flavor, the market can be classified into herbs & spices, citrus, apple, coconut & mangoes, flowers, and others. Herbs & spices and coconut collectively accounted for largest share of total revenue generated in 2016. This is mainly due to key companies developed different exotic flavors combining herbs & spices for the production of flavored fermented tea. Citrus is expected to show exponential growth in the coming years.
The global kombucha market can be segmented on the basis of distribution channel into supermarkets, health stores, and others. Supermarkets played a prominent role in distributing kombucha product in 2016. This segment is expected to show strong growth in the near future. Wal-Mart and other retailers signed the agreement with brewers for the distribution of kombucha beverage.The presence of kombucha drinks on online stores is expected to grow over the forecast period.
The global kombucha market was dominated by North America and it accounted for the largest share of an overall market in 2015. This growth can be attributed to rising awareness of the health benefits associated with the kombucha tea. Asia Pacific is another leading regional market on account of high disposable income coupled with rising demand for fortified beverage, especially in China and India. Latin America is expected to show moderate growth over the forecast period.Increasing demand for kombucha drinks coupled with considerable economic growth in countries such as Brazil, Venezuela, and Argentina is likely to spur demand in the region in the years to come.
Some of the key players in the market such as GT's Kombucha Company, Reed's Inc., Live Soda Kombucha, Kombucha Wonder Drink, KosmicKombucha, Makana Beverages Inc, NessAllaKombucha, Red Bull GmbH, Reed's, Inc., BuchiKombucha, Cell-Nique Corporation, GT's Kombucha, Hain Celestial Group, KeVita, Inc., Revive Kombucha, HummKombucha LLC, Townshend's Tea Company, and LIVE Kombucha.