Kitchen Storage Organization Market Size
The kitchen storage organization market is set for rapid growth over the forecast period. In terms of revenue, the global kitchen storage organization market accounted for USD 121.57 Billion in 2019 and is expected to reach USD 158.59 Billion by 2026, growing at a CAGR of 3.87%
Global Kitchen Storage Organization Market: Overview
Over the last few years, kitchen storage has become increasingly necessary. Homeowners' willingness to spend on home décor accessories is increasing their tendency to invest in kitchen storage accessories. Kitchens must accommodate everything relevant, from cooking ingredients such as cooking oil and spices to crockery.
Kitchen storage organization items like drawers, cabinets, pantry organizers, and dinnerware & serving storage, help to create more navigational space by reducing clutter and congestion, allowing people to make better use of their kitchen space.
The imposition of strict lockdowns to tackle the COVID-19 threat has resulted in a substantial drop in the demand for kitchen storage. Owing to the logistical difficulties presented by mandatory social distancing initiatives, transporting goods from retail stores to homes has become increasingly difficult, resulting in a decrease in overall demand.
Moreover, due to dwindling housing projects, the building and infrastructure industries have taken a hit, further lowering demand for kitchen storage items for an extended period of time. Furthermore, current consumers tend to spend more money on essentials like food and hand sanitizers rather than kitchenware, slowing demand in the short term.
Fortunately, countries such as Australia and New Zealand have seen a revival. This is due to a flattening of the infection curve owing to the result of strict adherence to social distancing norms. As a result, retailers are free to operate their businesses, but with strict distancing measures, leading to increased sales and the reconstruction of the demand-supply balance.
Based on these trends, a V-shaped growth curve is expected, with growth remaining sluggish in several regions until the second half of 2021, after which demand is expected to normalize across all regions with the discovery of a potential antiviral drug or vaccine.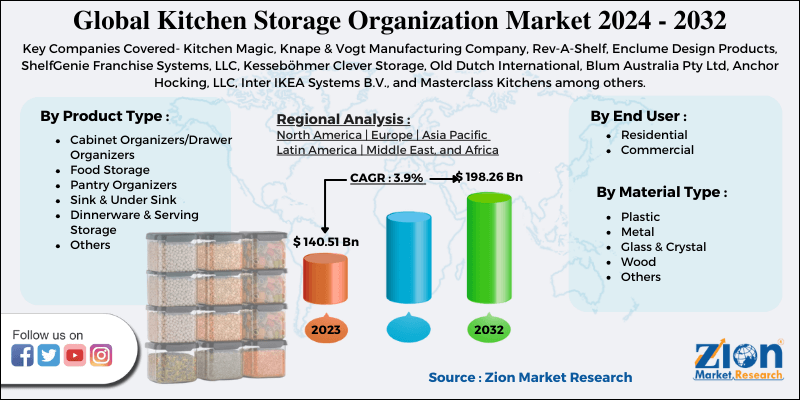 Request Free Sample
Global Kitchen Storage Organization Market: Growth Factors
Increasing consumer spending in residential construction is expected to drive the kitchen storage organization market. According to the United States Census Bureau, residential construction spending in 2016 was US$ 473, 687 million, and it rose to US$ 546,136 million in 2018.
In addition, the increasing adoption of strategies by key players, such as acquisitions, is expected to boost the value of the kitchen storage organization market. Kesseböhmer Clever Storage, a designer, and manufacturer of kitchen storage organizing goods acquired Rockenhausen, a pioneering designer and manufacturer of kitchen cabinet and drawer accessories, in December 2016. The acquisition was planned to extend Kessembohmer's product range to the drawer fitting category.
Global Kitchen Storage Organization Market: Segmentation
Among the product type, the sink & under sink segment held the largest market share in 2019 and is expected to expand at a significant pace. This is due to growing acquisitions in this segment. For example, Granite Holding GmbH ("SCHOCK"), a manufacturer of granite sinks, agreed to be acquired by IK Investment Partners, in November 2019. The company is a manufacturer of composite quartz kitchen sinks.
Investments in kitchen sinks and under-sink accessories have seen a significant upsurge in cast iron, stainless steel, solid surfaces, and composites. It is because the management of kitchen waste has become very important. Disposal of kitchen waste is necessary in order to maintain a safe and clean home environment.
Multi-functional sinks are becoming increasingly common as customers believe in cost savings. For example, the sinks are now fitted with guards, strainers, soap dispensers, and drain kits.
In addition, smart sinks embedded with sensors have also become popular to monitor the use of water. The sinks & smart sinks segment is expected to cross nearly USD 40 billion by 2027.
Based on material type, the metal segment retained a leading position in the global market for kitchen storage in 2019, followed by the plastic and wood segments, respectively. This is due to the advantages provided by metallic kitchen storage organizers such as high efficiency, high longevity, great finishing, corrosion resistance, and long-lasting construction. These factors are anticipated to propel the growth of the global kitchen storage organization market in the upcoming years.
In terms of end-users, the residential segment is expected to have a significant share over the forecast period, due to the increasing trend of dining in restaurants and cafes, which is boosting commercial kitchen storage facilities, opening up lucrative opportunities for market players to generate huge revenue ecosystems.
Global Kitchen Storage Organization Market: Regional Analysis
By Geography, the kitchen storage organization market is segmented into North America, Europe, Latin America, Asia Pacific, and the Middle East and Africa.
Europe is expected to maintain its control over the market for kitchen storage items. This is in response to the current trend of kitchen socialization. This necessitates a favorable environment in terms of visual presentation, resulting in increased spending on kitchen storage accessories. However, the Asia-Pacific region is expected to provide viable expansion opportunities.
The introduction of housing projects is growing as the population pool increases. Rising per capita income and rapid urbanization in Asia Pacific's emerging economies, such as China and India, are also propelling the region's kitchen storage organization market forward.
Global Kitchen Storage Organization Market: Competitive Players
The major players in the global kitchen storage organization market include Kitchen Magic, Knape & Vogt Manufacturing Company, Rev-A-Shelf, Enclume Design Products, ShelfGenie Franchise Systems, LLC, Kesseböhmer Clever Storage, Old Dutch International, Blum Australia Pty Ltd, Anchor Hocking, LLC, Inter IKEA Systems B.V., and Masterclass Kitchens among others.
The report segment of the global kitchen storage organization market is as follows:
Global Kitchen Storage Organization Market: Product Type Segment Analysis
Cabinet Organizers/Drawer Organizers
Food Storage
Pantry Organizers
Sink & Under Sink
Dinnerware & Serving Storage
Others
Global Kitchen Storage Organization Market: Material Type Segment Analysis
Plastic
Metal
Glass & Crystal
Wood
Others
Global Kitchen Storage Organization Market: End User Segment Analysis
Global Kitchen Storage Organization Market: Regional Segment Analysis
North America
Europe

France
The UK
Spain
Germany
Italy
Rest of Europe

Asia Pacific

China
Japan
India
South Korea
Southeast Asia
Rest of Asia Pacific

Latin America

Brazil
Mexico
Rest of Latin America

Middle East & Africa

GCC
South Africa
Rest of Middle East & Africa