Industry Prospective:
The global building information modeling (BIM) market size was worth around USD 14.72 billion in 2021 and is predicted to grow to around USD 52.5 billion by 2030 with a compound annual growth rate (CAGR) of roughly 13.9% between 2022 and 2030. The report analyzes the global building information modeling (BIM) market drivers, restraints/challenges, and the effect they have on the demands during the projection period. In addition, the report explores emerging opportunities in the building information modeling (BIM) market.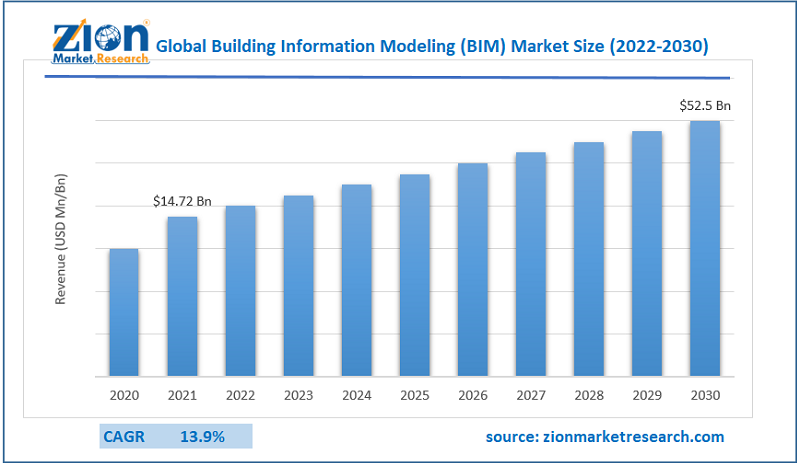 Request Free Sample
Building Information Modeling (BIM) Market: Overview
Building information modeling (BIM) is a holistic process that involves the creation and management of information for a facility, business unit, or asset. It is based on the use of intelligent models further strengthened by cloud technology that assists in integrating multidisciplinary and structured data. With the help of various technologies, tools, and contracts, BMI can create a digital representation of all functional and physical characteristics of a unit or a place. At its core, BMIs are computer files that can be exchanged, extracted, or shared across users to aid decision-making related to the building of an asset.
The software has found applications across sectors including private and government-run segments since it is used to plan and can help prevent the waste of monetary and non-monetary resources. BMIs can be used at every step of asset construction including planning, designing, constructing, operating, and maintaining large and complex structures like roads, water, bridges, gas facility, electricity facility, tunnels, and communication utilities. The BMI software was conceptualized in 1970 but the early 2000s were the years when the technology started gaining momentum.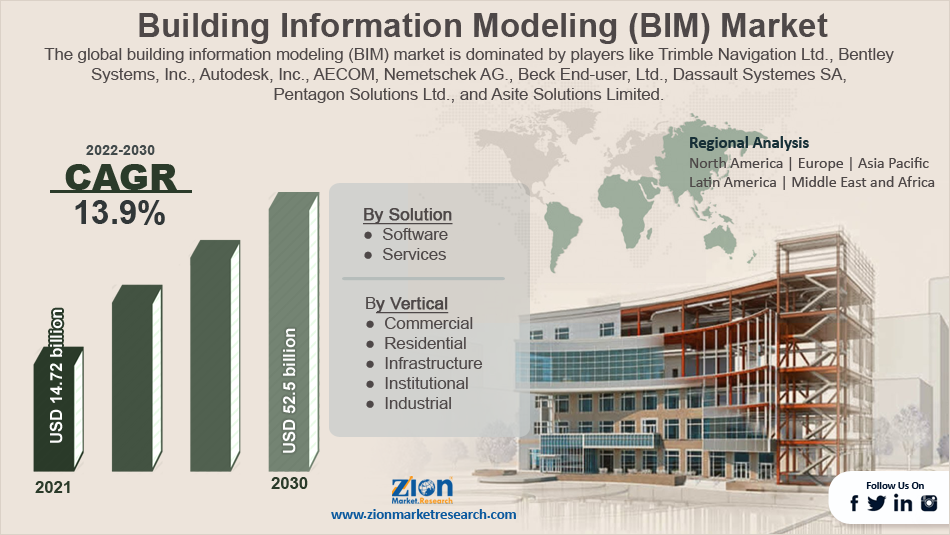 Request Free Sample
Key Insights
As per the analysis shared by our research analyst, the global building information modeling (BIM) market is estimated to grow annually at a CAGR of around 13.9% over the forecast period (2022-2030)
In terms of revenue, the global building information modeling (BIM) market size was valued at around USD 14.72 billion in 2021 and is projected to reach USD 52.5 billion, by 2030.
The market is projected to grow at a significant rate due to the growing investments in infrastructure development
Based on type segmentation, diesel oxidation catalyst was predicted to show maximum market share in the year 2021
Based on material segmentation, rhodium was the leading material in 2021
On the basis of region, North America was the leading revenue generator in 2021
Building Information Modeling (BIM) Market: Growth Drivers
Growing investments toward infrastructure development to propel market demand
The global building information modeling (BIM) market is projected to grow owing to the rise in investments across the globe for infrastructure development. These are systems that are required for any country to function and include the construction & development of large-scale facilities like power and water supplies, transport, buildings, and other key units. Good infrastructure can effectively help reduce the price of delivered goods, help in removing any productivity constraint, allow hassle-free and convenient physical mobility of people and goods alike, and help in increasing competitiveness. Countries spend a higher amount on infrastructural growth since it directly impacts the rate of foreign investment.
As the world is moving toward fast-paced growth to meet the growing demands of the rising population, rampant industrialization, and urbanization, the adoption rate for BMI software is projected to skyrocket in the coming years. For instance, in 2019, the Indian government announced that it will be leveraging the benefit of BMI systems to facilitate infrastructure development projects in the country.
Building Information Modeling (BIM) Market: Restraints
The high implementation cost to restrict market expansion
The global market growth may be restricted due to the high cost of implementation of building information modeling systems. The cost not only includes the expenses associated with the technology or the equipment but other intangible costs as well. Businesses gripping from the benefits of BIM have to invest in other factors starting from compliance concerns to vendor management. All of these systems have to be streamlined in a manner that reinforces positive outcomes and neglect any of these subunits that could potentially damage the overall final result obtained from the technology.
Building Information Modeling (BIM) Market: Opportunities
Constant product innovation to support further growth
Business survival depends on the rate at which they can meet the dynamic and changing demand or requirements of the end-users. BIM technology may get access to higher growth opportunities as the players in the global building information modeling (BIM) market are constantly working toward integrating better systems to provide enhanced user experience and outcomes. The use of virtual reality, artificial intelligence, 3-dimensional printing, the internet of things (IoT), and machine learning are expected to enhance the modeling process derived from BIM technology.
Building Information Modeling (BIM) Market: Challenges
Managing cost-effectiveness in small projects acts as a challenge
One of the key factors that could challenge global market growth is the proof of cost-effectiveness when BIM systems are used in small projects. If the rate of return (ROI) on BIM investment remains low, businesses working on small projects may refrain from using the technology. Hence providers of BIM have to work on detailing how the system aligns with the end goal for small projects with relatively less capital.
Building Information Modeling (BIM) Market: Segmentation
The global building information modeling (BIM) market is segmented based on end-user, solution, vertical, and region
By Solution
The global market is expected to be dominated by the services segment due to the growing demand for cloud-based services due to the various benefits associated with the technology. Cloud services do not require the use of a hard drive and all information can be stored on the internet. It allows businesses more flexibility as compared to hosting from a local server managing the complexities of a business operation. Cloud services offer fast and effective visualization and give the business owner higher access to resources. The software segment is mainly dominated by structural and architectural software solutions. As per estimates around 46.9% of the architects use Autodesk Revit as the preferred BIM software.
By Vertical
Commercial
Residential
Infrastructure
Institutional
Industrial
The global market may generate the highest revenue in the industrial segment during the forecast period due to the rapid industrialization rate observed worldwide. As per a December 2022 report by Statista, in August 2022 the global industrial production rate increased by 3.6% in comparison to the previous year. Several factors influence industrialization and some of them include high tariffs, western mining, national markets, vertical and horizontal integration, and tax breaks and government subsidies.
Recent Developments:
In September 2022, Sto Corp, a building materials company announced that the company has launched an updated version of its existing Building Information Modeling (BIM) systems for the company's collection of colors. The new BIM asset will aid designers, architects, and other contractors to synchronize the Sto Color palette with their choice of BIM app

In December 2021, Autodesk and Capgemini announced the signing of a global collaboration agreement allowing highly advanced BIM platforms and associated programs
Building Information Modeling (BIM) Market Report Scope:
Report Attributes
Report Details
Report Name
Building Information Modeling (BIM) Market Research Report
Market Size in 2021
USD 14.72 Billion
Market Forecast in 2030
USD 52.5 Billion
Compound Annual Growth Rate
CAGR of 13.9%
Number of Pages
175
Forecast Units
Value (USD Billion), and Volume (Units)
Key Companies Covered
Trimble Navigation Ltd., Bentley Systems, Inc., Autodesk, Inc., AECOM, Nemetschek AG., Beck End-user, Ltd., Dassault Systemes SA, Pentagon Solutions Ltd., and Asite Solutions Limited.
Segments Covered
By Solution, By Vertical, By End-User, And By Region
Regions Covered
North America, Europe, Asia Pacific (APAC), Latin America, Middle East, and Africa (MEA)
Countries Covered
North America: U.S and Canada
Europe: Germany, Italy, Russia, U.K, Spain, France, Rest of Europe
APAC: China, Australia, Japan, India, South Korea, South East Asia, Rest of Asia Pacific
Latin America: Brazil, Argentina, Chile
The Middle East And Africa: South Africa, GCC, Rest of MEA
Base Year
2021
Historical Year
2016 to 2020
Forecast Year
2022 - 2030
Customization Scope
Avail customized purchase options to meet your exact research needs. Request For Customization
Building Information Modeling (BIM) Market: Regional Analysis
North America to register the highest growth
The global building information modeling (BIM) market is projected to witness surging growth in North America driven by the higher product adoption rate due to growing awareness amongst businesses and government bodies about the advantages offered by BIM systems. The region is filled with several small to large project owners including designers and architects working on commercial and residential buildings as well as government-related projects that use BIM technology in some form.
The growing requirement for automated models to save resources and avoid unnecessary costs could further help regional growth, especially in the architecture, engineering, and construction (AEC) industry where BIM is acting as one of the latest fastest-growing technologies to be adopted. A growing number of players, constant product innovation, and adoption of strategic measures to reach a larger consumer database are other factors that could lead to high CAGR in North America with the US acting as the major contributor.
Building Information Modeling (BIM) Market: Competitive Analysis
The global building information modeling (BIM) market is dominated by players like:
Trimble Navigation Ltd.
Bentley Systems Inc.
Autodesk Inc.
AECOM
Nemetschek AG.
Beck End-user Ltd.
Dassault Systemes SA
Pentagon Solutions Ltd.
Asite Solutions Limited.
The global building information modeling (BIM) market is segmented as follows based on region:
North America
Europe

France
The UK
Spain
Germany
Italy
Rest of Europe

Asia Pacific

China
Japan
India
South Korea
Southeast Asia
Rest of Asia Pacific

Latin America

Brazil
Mexico
Rest of Latin America

Middle East & Africa

GCC
South Africa
Rest of Middle East & Africa