Industry Prospective:
The global AEC market size was worth around USD 8.9 Billion in 2022 and is estimated to grow to about USD 16.5 Billion by 2030, with a compound annual growth rate (CAGR) of approximately 10.20 percent over forecast period. The report analyzes the AEC market's drivers, restraints/challenges, and the effect they have on the demands during the projection period. In addition, the report explores emerging opportunities in the AEC market.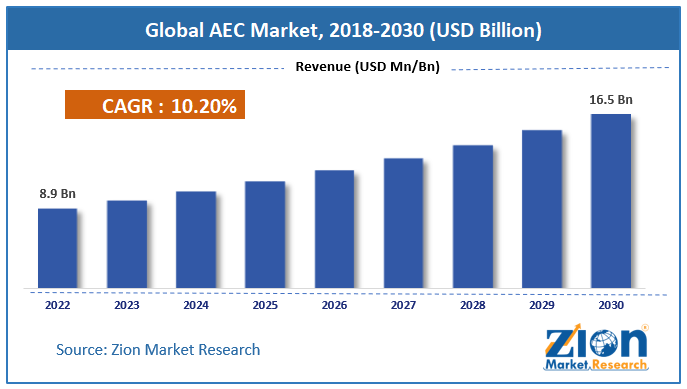 Request Free Sample
AEC Market: Overview
For successful project life cycle management, real estate businesses, construction firms, surveyors, interior designers, and mechanical & electrical piping engineers employ architecture, engineering, and construction (AEC) software. The primary goal of AEC software is to improve project performance and results. Construction managers benefit from AEC's assistance in gathering data and information from many disciplines and communicating more efficiently. Increased construction efficiency is combined with improved data transmission and coordination among numerous stakeholders, architects, and construction supervisors to provide AEC users with a competitive advantage.
Key Insights of Architectural Engineering and Construction Market
As per the analysis shared by our research analyst, the global AEC market is expected to grow annually at a promising CAGR of around 10.20% during the forecast period 2023-2030.
In terms of revenue, the global AEC market size was valued at around USD 8.9 billion in 2022 and is estimated to grow to about USD 16.5 billion by 2030
Rise in urbanization and industrialization, rise in the standard of living, growth in the economy, and prevalence of advanced technologies give rise to the increase in construction activities in the last few decades. Thus, growth in the real estate sector and growing initiatives towards the construction of smart cities propel the growth of the market.
Based on deployment mode, the on-premise segment held the largest market share in 2022.
Based on enterprise size, the large enterprise segment held the dominating market share in 2022.
Based on region, the North American region held the largest market share in 2022.
To know more about this report, Request a sample copy
COVID-19 Impact:
COVID-19 has wreaked havoc on communities all over the world and governments & businesses are scrambling to deal with the pandemic's difficulties as quickly as possible. Construction sites, on the other hand, have been shut down in a number of nations which is why organizations across the construction sector are embracing remote working. However, engineers and designers are adopting AEC software and building information modeling (BIM) software to collaborate digitally. Contractors and engineers all across the world are re-optimizing schedules and re-planning projects utilizing augmented reality and virtual reality simulations.
Integrated digital-twin solutions are also being created for end-to-end project assistance from design to implementation. Furthermore, contractors are increasingly using internet channels to monitor their employees' well-being through applications, manage precious resources more effectively, procure building supplies, and ensure cash flow. These factors are expected to increase the global AEC market growth over the forecast period.
AEC Market: Growth Drivers
Surge in infrastructure projects is likely to offer better growth opportunities.
As the world's population grows, so does the need for new buildings, malls, and workplaces, thanks to the advent of initiatives like smart cities and high-speed roadways. As a result, important stakeholders are using AEC software to run these projects smoothly and effectively. In the Middle East and most growing Asia Pacific nations, such as India and China, the building sector has grown rapidly.
For example, in 2017, Saudi Arabia launched a slew of major projects, including the King Abdullah Economic City in Rabigh, which is expected to cost roughly USD 27 million. In contrast, the Abu Dhabi Development Authority declared a budget of USD 6.8 million for Airport Expansion and a USD 500 million project for the Presidential Palace in Al-Ras Al—Akhdar in the United Arab Emirates. These forthcoming projects are predicted to increase end-user usage of engineering software such as CAM, CAD, BIM, and AEC, boosting the AEC market growth.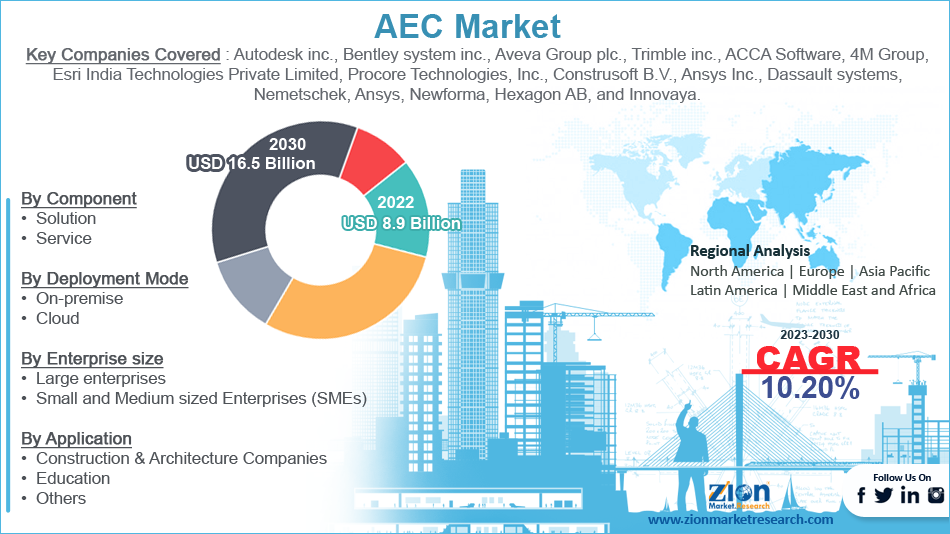 Request Free Sample
AEC Market: Restraints
High initial costs likely to hamper the growth of the global market
Despite the numerous advantages and cost reductions connected with architecture, engineering, and construction (AEC) software, the initial cost is substantial. For example, Autodesk's Revit software costs between USD 3,000 and USD 5,000. Aside from the cost of the program, the cost of training and services is also rather significant. As a result, the high initial cost of AEC may stifle market expansion.
AEC Market: Opportunities
Increasing trend of IoT in the construction industry is likely to project great opportunities for market expansion.
Modeling and ordering procedures can become simpler with the use of IoT in construction, and the appropriate material can be supplied straight to the building site, eliminating the time needed for ordering. Also, prefabrication can benefit from IoT technologies. Using prefabricated building components instead of traditional building methods can result in better and more cost-effective solutions, as well as reduced construction waste. On the other hand, employing prefab for major commercial construction projects might be difficult to coordinate with the entire construction lifecycle. As a result, the Internet of Things (IoT) can assist in resolving this issue.
AEC Market: Challenges.
Lack of trained professionals poses a great challenge to the market growth
The construction industry still lacks trained technical professionals in many parts of the world. Companies are facing difficulties to get trained when they are dealing with two of the most challenging, fast-paced sectors imaginable. Also, it is much more difficult when staff is compelled to use obsolete technology that reduces productivity. Plus, it's not only architects and engineers that are in short supply in the AEC business, the gap between available employment and available talent is much larger.
Architectural Engineering and Construction AEC Market: Segmentation
The global AEC market is categorized based on deployment mode, component, enterprise size, application, and region.
Based on the deployment mode, the market is bifurcated into on-premise and cloud. Based on deployment mode, the market is bifurcated into the on-premise and cloud segment. The on-premise segment held the largest market share in 2022 and is further predicted to occupy a dominant market share during the forecast period. The major reason for the growth of this segment is the growing concerns related to the security of data on various projects. Thus, the maintenance of data security in construction projects is paramount as they are very valuable for companies. Various prominent companies in the AEC sector offer functional on-premise software for their wide range of customers in the infrastructure, industrial, and residential sectors. These factors drive the growth of the on-premise segment during the forecast period.
The component segment of the market is segregated into software and service.
On the basis of enterprise size, it is categorized into large enterprises and small & medium size enterprises. Based on enterprise size, the large enterprise segment held the largest market share in 2021 and is further predicted to grow exponentially at a rapid CAGR during the forecast period. The main reason behind the growth of this segment is that large enterprises tend to spend and invest more in innovative and breakthrough technologies to significantly improve overall productivity and complete projects at a much shorter duration. Thus, an increase in the integration of virtual reality, augmented reality, and the Internet of Things (IoT) with AEC among large enterprises drive the growth of the segment during the forecast period.
As per application, it is classified into construction & architecture companies, education, and others.
Recent Developments
In March 2022, ACCA Software, a dominant international developer of AEC software, announced the launch of its edition of Edificius, which is a 3D building design software. The newest 3d building design software from ACCA is equipped with a point cloud that favors performance improvement management, import, and variant viewing capabilities. In this software, the material texture management is also optimized which saves a great deal of time.
In March 2022, Egnyte, a pioneer in cloud content security and governance, expanded its Egnyte for Architecture, Engineering, and Construction product offering with many new features. The AEC-specific capabilities, which include improved integration with Procore, a major construction management software, were unveiled at Egnyte's AEC Leadership Forum, a virtual gathering focused on information management in the AEC industry.
AEC Market Report Scope:
Report Attributes
Report Details
Report Name
AEC Market Research Report
Market Size in 2022
USD $8.9 Billion
Market Forecast in 2030
USD $16.5 Bllion
Compound Annual Growth Rate
CAGR of 10.20%
Number of Pages
210
Forecast Units
Value (USD Billion), and Volume (Units)
Key Companies Covered
Autodesk inc., Bentley system inc., Aveva Group plc., Trimble inc., ACCA Software, 4M Group, Esri India Technologies Private Limited, Procore Technologies, Inc., Construsoft B.V., Ansys Inc., Dassault systems, Nemetschek, Ansys, Newforma, Hexagon AB, and Innovaya.
Segments Covered
By Component, By Deployment Mode, By Enterprise size, By Application, And By Region
Regions Covered
North America, Europe, Asia Pacific (APAC), Latin America, Middle East and Africa (MEA)
Countries Covered
North America: U.S and Canada
Europe: Germany, Italy, Russia, U.K, Spain, France, Rest of Europe
APAC: China, Australia, Japan, India, South Korea, South East Asia, Rest of Asia Pacific
Latin America: Brazil, Argentina, Chile
The Middle East And Africa: South Africa, GCC, Rest of MEA
Base Year
2022
Historical Year
2017 to 2021
Forecast Year
2023 - 2030
Customization Scope
Avail customized purchase options to meet your exact research needs. Request For Customization
AEC Market: Regional Landscape
North America to maintain its dominance over global market during forecast period
North America held the major share of the global AEC market in 2021. This is owing to a significant expansion in the building and infrastructure industry, such as artificial intelligence adoption and an increase in the need for automation in the construction and architectural sector. On the other hand, the market in the Asia Pacific is growing at a rapid rate.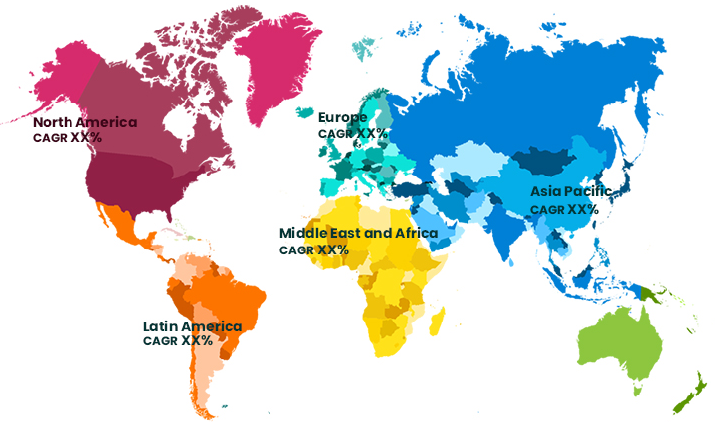 Request Free Sample
The Worldwide Building Report predicted that in the next few years, emerging Asian countries will account for 13.5 percent of global construction development. Furthermore, the construction sector in India is forecast to grow at a CAGR of 15.7 percent, which is expected to be a major influence on the region's adoption of AEC software. Furthermore, several of the government of India's important programs, such as Make in India and the creation of smart cities, are projected to boost the construction sector in this region. China is also predicted to contribute significant revenue to the regional market over the forecast period.
AEC Market: Competitive Landscape
Key players operating in the global AEC market include:
Autodesk inc.
Bentley system inc.
Aveva Group plc.
Trimble inc.
ACCA Software
4M Group
Esri India Technologies Private Limited
Procore Technologies Inc.
Construsoft B.V.
Ansys Inc.
Dassault systems
Nemetschek
Ansys
Newforma
Hexagon AB
Innovaya.
Global AEC market is segmented as follows:
By Component
By Deployment Mode
By Enterprise size
Large enterprises
Small and Medium sized Enterprises (SMEs)
By Application
Construction & Architecture Companies
Education
Others
By Region
North America
Europe

France
The UK
Spain
Germany
Italy
Rest of Europe

Asia Pacific

China
Japan
India
South Korea
Southeast Asia
Rest of Asia Pacific

Latin America

Brazil
Mexico
Rest of Latin America

Middle East & Africa

GCC
South Africa
Rest of Middle East & Africa