Global IoT for Cold Chain Monitoring Market: Overview
The IoT for cold chain monitoring market is set for rapid growth over the forecast period. In terms of revenue, the global IoT for cold chain monitoring market accounted for USD 4.26 Billion in 2019 and is expected to reach USD 10.46 Billion by 2026, growing at a CAGR of 13.71%
The perishable supply chain has been transformed by the Internet of Things (IoT). The introduction of smarter cold chain systems has provided managers with real-time temperature and location data, as well as the ability to monitor logistics remotely. IoT cold chain monitoring has become increasingly popular in the transportation of medicines, vaccines, frozen food, and other goods as a result of the growing demand for real-time and remote surveillance of critical shipment parameters.
The demand for cold chain monitoring in industries such as healthcare & pharma, food & beverages, chemicals, and others has been fuelled by rising government investments and efforts to minimize food spoilage and reduce contamination of other temperature-sensitive products.
The cold chain is a priority in the COVID-19 pandemic, as producers and distributors examine how the cold chain can be used to effectively deliver a temperature-sensitive vaccine. Cold chain organizations are heavily using blockchain, cloud storage, and IoT sensors to track and gain real-time insights about temperature changes in order to protect vaccines from damage. The most important methods for understanding temperature variations in vaccines after they leave the manufacturing facility are IoT sensors. As the COVID-19 vaccines will be distributed around the globe, opportunities for cold chain companies are being developed.
Report Scope:
Report Attributes
Report Details
Report Name
IoT for Cold Chain Monitoring Market Report
Market Size in 2019
USD 4.26 Billion
Market Forecast in 2026
USD 10.46 Billion
Compound Annual Growth Rate
CAGR of 13.71%
Number of Pages
110
Forecast Units
Value (USD Billion), and Volume (Units)
Key Companies Covered
Huawei Technologies, HC Technologies, Aeris Communication, SenseGiz Inc., TE Connectivity, Zebra Technologies, Moschip Technologies Limited, Roambee Corporation, and Laird Connectivity
Segments Covered
By Type,By end-user, And By Region
Regions Covered
North America, Europe, Asia Pacific (APAC), Latin America, Middle East and Africa (MEA)
Countries Covered
North America: U.S and Canada
Europe: Germany, Italy, Russia, U.K, Spain, France, Rest of Europe
APAC: China, Australia, Japan, India, South Korea, South East Asia, Rest of Asia Pacific
Latin America: Brazil, Argentina, Chile
The Middle East And Africa: South Africa, GCC, Rest of MEA
Base Year
2021
Historical Year
2016 to 2020
Forecast Year
2022 - 2030
Customization Scope
Avail customized purchase options to meet your exact research needs. Request For Customization
Global IoT for Cold Chain Monitoring Market: Growth Factors
Increased demand for cold chain warehousing during the COVID-19 pandemic had a positive effect on the IoT market for controlling the cold chain. During the prolonged lockdown time around the world, rising demand for packaged food & beverage items has been noted. Food producers have increasingly adopted the IoT for cold chain management applications to track food products and increase their shelf-life.
Temperature logging has become much simpler than manual methods, thanks to IoT-enabled temperature tracking that allows for the round-the-clock monitoring of products. This has resulted in an increase in demand for cold chain tracking of data during the pandemic.
Logistics 4.0 facilitates process transformation through a range of technical advances, including automated systems, driverless transport vehicles, and robotics. The cold chain monitoring market is growing due to an increase in cloud-based technology adoption, as well as the use of logistics 4.0 and IoT. The use of IoT in cold chain monitoring is growing because it reduces costs and delays by reducing risk.
IoT sensors are embedded in cargo, cabs, ships, and trains, and are linked to a tracking and monitoring warning device or dispatcher. These sensors send data to the team, which then gains expertise and insights about hidden risks. This also allows for precise visibility and distribution of goods while in transit. In cold chain monitoring, the demand for cloud-based software as a service is growing because it allows professionals to access sensitive data and applications from any connected device while on the road or in the office.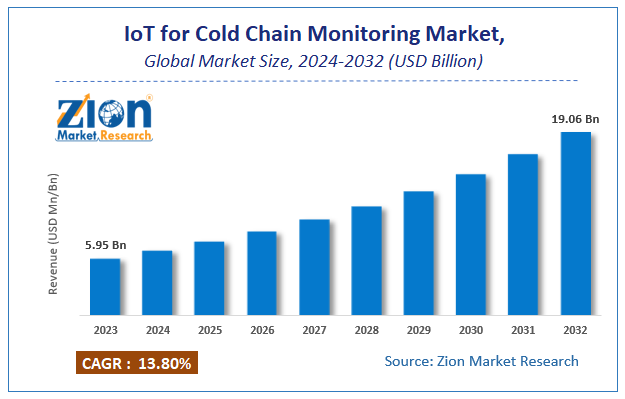 Request Free Sample
Blockchain technology provides a way to record information like transactions or any other digital activity and is designed to be safe, transparent, and reliable. Blockchain is a digital and distributed transaction ledger that is maintained and stored on multiple networks belonging to various entities that share the same information. Blockchain technology is becoming more common in cold chain monitoring because it improves supply chain productivity and accountability, as well as has a positive impact on cold chain processes such as distribution, storage, and payment.
The speed of the physical flow of the product has increased as a result of the transparency and protection provided by a blockchain. Any commodity, from products to containers, is recorded on the blockchain as it moves through the supply chain nodes. It also aids in the management of orders, receipts, invoices, fees, and digital assets such as certifications, copyrights, barcodes, and others. It shares information about operation, distribution, development, and maintenance between suppliers and vendors due to its decentralized design, opening up new modalities of collaboration in complex assembly lines.
As blockchain is combined with cold chain, it increases sustainability, reduces errors and delays, lowers shipping costs, allows for quicker error detection, and improves product transport and inventory management. Blockchain incorporation in the cold chain will help market players to improve their corporate identity by providing these benefits.
Global IoT for Cold Chain Monitoring Market: Segmentation
On the basis of components, IoT Software/ Platform for cold chain monitoring is anticipated to grow at a significant rate. The IoT cold chain monitoring software provides the ability to track the efficiency of the cold chain continuously in real-time and to ensure compliance with the guidelines set by regulatory agencies. Players are concentrating on providing IoT software for product tracking, data analytics, and reporting. However, in terms of component dominance, the hardware segment will continue to lead over the forecast period.
Although the uptake among large enterprises seems to be higher, it is estimated that the demand for small and medium-sized enterprises (SMEs) to increase at a higher pace in the near future. Growth in the latter group of industries will be supported by the widespread adoption of IoT technologies among small and medium-sized enterprises, with a goal of reducing overall expenditure on different operations.
In 2020, the food and beverage industry dominated with a substantial market share. The perishability of food and its disposal has been a major concern, starting from the sourcing of raw materials to the display of finished goods on the retail shelf. Climate change-induced changes in ambient temperature have an alarming impact on cold chain infrastructure, necessitating the development of more resilient cold chain solutions to protect food products from damage.
Global IoT for Cold Chain Monitoring Market: Regional Analysis
By Geography, the IoT for cold chain monitoring market is segmented into North America, Europe, Latin America, Asia Pacific, and the Middle East and Africa.
North America is expected to grow at a significant rate in the near future. Due to the presence of major players in cold chain monitoring solutions, the United States offers the potential for high revenue generation in the region during the forecast period. The demand for chilled products, frozen foods, and dairy products has increased in the United States, which is driving up the demand for IoT for cold chain monitoring. According to recent figures, the United States was the world's largest pharmaceutical market in 2019. Because of the rising demand for medicines in the United States, the demand for IoT for cold chain monitoring has risen as well, in order to control the temperature of the medicines and prevent damage.
The demand for IoT for cold chain monitoring in the United Kingdom is growing as a result of the growth of online grocery shopping, which has resulted in an increase in the number of refrigerated warehouses. The United Kingdom has been called the world's third largest online grocery market. About 6.1% of grocery sales in the United Kingdom are made online, thereby contributing to the market growth.
China is expected to see an increase in opportunities in the upcoming years. Meat, fast-frozen food, fruits and vegetables, and dairy products are driving the IoT for the cold chain monitoring market in China. In 2019, the Chinese food industry produced revenue of about $8 trillion. The food and beverage industry in China is concentrating on cold chain monitoring to ensure that their goods are fresh and undamaged when they reach the market.
ASEAN is expected to expand at a fast pace in the near future. Cold storage companies have emerged as focal point in the supply chain as the COVID-19 pandemic affects numerous sectors, including food and beverages. To ensure the supply of fresh food items to supermarkets, grocery shops, and convenience stores, food producers and cold storage warehouses are working with a skeleton workforce. As the demand for fresh and frozen food grows, cold chain innovations are assisting cold chain operators in handling and maintaining goods within a defined temperature range across the supply chain.
Global IoT for Cold Chain Monitoring Market: Competitive Players
The major players in the global IoT for cold chain monitoring market include Huawei Technologies, HC Technologies, Aeris Communication, SenseGiz Inc., TE Connectivity, Zebra Technologies, Moschip Technologies Limited, Roambee Corporation, and Laird Connectivity among others.
The report segment of global IoT for the cold chain monitoring market is as follows:
Global IoT for Cold Chain Monitoring Market: Component Segment Analysis
Hardware
IoT Software/Platform for Cold Chain Monitoring
Services
Global IoT for Cold Chain Monitoring Market: Organization Size Segment Analysis
Global IoT for Cold Chain Monitoring Market: End-User Segment Analysis
Retail & Consumer Packaged Goods (CPG)
Healthcare & Pharma
Food & Beverages
Chemicals
Others
Global IoT for Cold Chain Monitoring Market: Regional Segment Analysis
North America
Europe

France
The UK
Spain
Germany
Italy
Rest of Europe

Asia Pacific

China
Japan
India
South Korea
Southeast Asia
Rest of Asia Pacific

Latin America

Brazil
Mexico
Rest of Latin America

Middle East & Africa

GCC
South Africa
Rest of The Middle East & Africa