Interactive Video Wall Industry Prospective:
The global interactive video wall market size was worth around USD 7.98 billion in 2022 and is predicted to grow to around USD 16.79 billion by 2030 with a compound annual growth rate (CAGR) of roughly 9.76% between 2023 and 2030.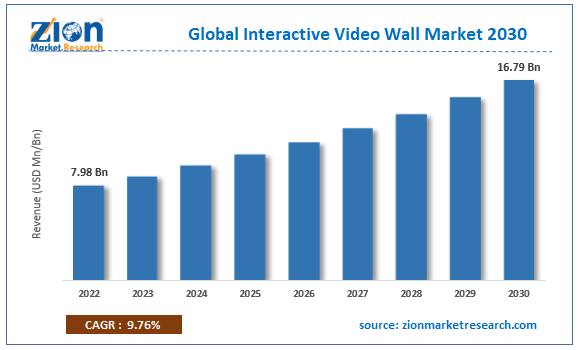 Request Free Sample
Interactive Video Wall Market: Overview
An interactive video wall is one of the most advanced and powerful display systems that displays all forms of information through a highly interactive medium made with a combination of several small displays. The screen of an interactive video wall is sensitive to touch thus displaying engaging content with utmost ease. The traditional counterparts such as a light-emitting diode (LED) display are known to provide a passive viewing experience since the viewers tend to interact with the display only by viewing the content.
However, with interactive video walls or displays, viewers can participate in the interaction by using their tactical senses. They can also be used for a wide range of applications making interactive video walls a highly desirable display setting in various industries. Screens that are specially designed to create an interactive video wall, typically show narrow bezels. This helps to ensure a minimum gap between active display areas since they are built for long-term serviceability. Moreover, they are equipped with hardware that is mandatory for stacking similar screens together and powered by connections to video, daisy chain power, and command signals between the screens.
Key Insights:
As per the analysis shared by our research analyst, the global interactive video wall market is estimated to grow annually at a CAGR of around 9.76% over the forecast period (2023-2030)
In terms of revenue, the global interactive video wall market size was valued at around USD 7.98 billion in 2022 and is projected to reach USD 16.79 billion, by 2030.
The interactive video wall market is projected to grow at a significant rate due to the increasing construction of museums and immersive experience centers
Based on end-user segmentation, media & entertainment was predicted to show maximum market share in the year 2022
Based on technology segmentation, LED video wall technology was the leading type in 2022
On the basis of region, North America was the leading revenue generator in 2022
Interactive Video Wall Market: Growth Drivers
Increasing construction of museums and immersive experience centers to drive market growth
The global interactive video wall market is projected to grow owing to the increasing construction rate of well-curated museums and art galleries that offer immersive experiences to visitors. With increasing world tourism, several governments are investing in creating art-display units to attract more tourists. For instance, the Metropolitan Museum of Art, one of the world's most popular museums housing all forms of art including contemporary and modern, made a total revenue of USD 213 million in 2022. These centers are an ideal place for leveraging the viewing experience provided by interactive video walls.
Growing number of product offerings to create a higher consumption pattern
The demand for efficient and highly advanced interactive video walls has grown tremendously in the last few years. This has resulted in an increased number of new product launches undertaken by the technology providers. The manufacturers are focusing on improved experience while maintaining the cost of the device and after-sale services along with steady innovation. In July 2022, ViewSonic, an electronic company that specializes in the production of monitors, announced the launch of the ViewBoard 52 series. The range consists of interactive boards that are to be used for education purposes and are available in 3 sizes including 65-inch, 75-inch, and 86-inch. In June 2023, Samsung Electronics America, Inc. launched a new interactive display called the WAC at the 2023 ISTELive conference. The product is a first-of-its-kind by Samsung and works on the Android operating system.
Interactive Video Wall Market: Restraints
High initial cost and repair concerns to restrict market growth
The global interactive video wall market growth is likely to be restricted due to the high cost of these devices as compared to smaller and traditionally used display systems. For instance, the ViewBoard 52 series by ViewSonic starts at a price of USD 48000. Similar pricing patterns are observed for almost all interactive video wall technologies. The price continues to go up as more advanced features are added. In addition to this, maintaining and repairing these interactive systems further adds to the overall cost. Since the technology used for manufacturing such video walls is highly sophisticated including the parts used during the production.
Interactive Video Wall Market: Opportunities
Growing adoption of technology in education institutes to create growth opportunities
The interactive video wall industry growth is expected to come across higher growth opportunities led by the increasing adoption of interactive video walls in education settings. Since the start of COVID-19, several knowledge centers have been propelled to undertake the help of digital systems to cater to the needs of students. The trend has continued and is expected to keep growing in the coming years. Many educational units and centers used advanced mediums such as interactive boards and walls for conducting classes and creating an immersive learning experience for the children.
Rising demand for military-grade engaging video walls to lead to higher revenue
Since interactive video walls are highly beneficial in terms of displaying complex information and content, the demand for military-grade engaging video walls is likely to push for higher revenue. For instance, Legato Security, a Salt Lake-based security service firm, is currently working toward helping local government and Fortune 500 companies upgrade their security systems by using monitors to prevent cybersecurity attacks. The company deals with complete security assessment, incident monitoring and report generation, and final report creation along with providing excellent security strategies. Legato Security uses video wall technology to achieve its vision.
Interactive Video Wall Market: Challenges
Availability of substitutes and alternate solutions may create a challenging environment
The interactive video wall industry faces tough competition from companies providing alternate products and solutions that are more affordable and can perform as per desired expectations. This includes products such as Augmented Reality (AR) smart glasses, Virtual Reality (VR) technology, holographic displays, and projection mapping among many others. These substitutes enjoy the benefits of a mature market with a dedicated consumer base while providers of interactive video walls have to work in creating more demand for the products.
Interactive Video Wall Market: Segmentation
The global interactive video wall market is segmented based on end-user, layout, technology, frame size, and region.
Based on end-user, the global market is segmented into government & defense, BFSI, media & entertainment, education institutes, retail, IT & telecommunications, research organizations, corporate, and others. In 2021, the highest growth was observed in the media & entertainment sector as these display systems are used during live shows and performances. Moreover, they also have applications during broadcasting programs including during news readings and other entertainment programs. Since 2021, the number of live concerts and entertainments has increased with multiple artists announcing world tours. For instance, the recent Eras Tour conducted by popular music artist Taylor Swift has earned over USD 1 billion. As per projections, the tour is likely to generate over USD 5 billion in terms of consumer spending in the US.
Based on layout, the interactive video wall industry is divided into standard layout and customer layout.
Based on technology, the interactive video wall industry segments are LED video wall technology, LCD video wall technology, rear projection wall technology, and blended projection wall technology. In 2022, the highest growth was observed in the LED video wall technology due to the higher performance and energy efficiency shown by LED semiconductors. The majority segment of modern display systems are based on LED technology due to higher production rates and easier access. These systems are highly durable and offer longer performance. Research indicates that the global penetration of LEDs in the lighting industry may reach 76.1% by 2025.
Based on frame size, the global market is segmented into 4x4, 3x3, 2x2, and others.
Interactive Video Wall Market: Report Scope
Report Attributes
Report Details
Report Name
Interactive Video Wall Market
Market Size in 2022
USD 7.98 billion
Market Forecast in 2030
USD 16.79 billion
Growth Rate
CAGR of 9.76
Number of Pages
218
Key Companies Covered
Daktronics, Samsung Electronics, NEC Display Solutions, Sharp Electronics, LG Electronics, Christie Digital Systems, Planar Systems, Userful Corporation, Barco, Matrox Graphics, Sony Electronics, Datapath, EIZO Corporation, Eyevis, Crestron Electronics, and others.
Segments Covered
By End-User, By Layout, By Technology, By Frame Size, and By Region
Regions Covered
North America, Europe, Asia Pacific (APAC), Latin America, Middle East, and Africa (MEA)
Base Year
2022
Historical Year
2017 to 2021
Forecast Year
2023 - 2030
Customization Scope
Avail customized purchase options to meet your exact research needs. Request For Customization
Interactive Video Wall Market: Regional Analysis
North America to witness the highest growth rate in the near future
The global interactive video wall market will witness the highest CAGR in North America led by the US during the forecast period. The higher revenue is projected as an outcome of higher penetration of advanced digital systems across end-user verticals including education, corporate, defense, and entertainment. The US is home to some of the world's popular artists who have invested in running live concerts and shows with extremely high investments. In addition to this, there are several public places in the United States that deploy the use of interactive video walls along with other immersive technologies to provide visitors with exceptional viewing experience.
Some popular sites include Van Gogh: The Immersive Experience which can be visited in several parts of the US. Additionally, the American defense agencies have invested in highly advanced interactive video walls for better control and management of defense-related activities. Europe is projected to grow at a significant rate. The regional growth may be driven by the extensive application of display systems in the growing education regional industry along with greater demand for corporate events.
Interactive Video Wall Market: Competitive Analysis
The global interactive video wall market is led by players like:
Daktronics
Samsung Electronics
NEC Display Solutions
Sharp Electronics
LG Electronics
Christie Digital Systems
Planar Systems
Userful Corporation
Barco
Matrox Graphics
Sony Electronics
Datapath
EIZO Corporation
Eyevis
Crestron Electronics
The global interactive video wall market is segmented as follows:
By End-User
Government & Defense
BFSI
Media & Entertainment
Educational Institutes
Retail
IT & Telecommunications
Research Organizations
Corporate
Others
By Layout
Standard Layout
Custom Layout
By Technology
LED Video Wall Technology
Rear Projection Wall Technology
Blended Projection Wall Technology
By Frame Size
By Region
North America
Europe

France
The UK
Spain
Germany
Italy
Rest of Europe

Asia Pacific

China
Japan
India
South Korea
Southeast Asia
Rest of Asia Pacific

Latin America

Brazil
Mexico
Rest of Latin America

Middle East & Africa

GCC
South Africa
Rest of Middle East & Africa