Industry Prospective:
The global Hybrid Power Systems market was worth around USD 581.50 million in 2021 and is estimated to grow to about USD 834.2511606 million by 2028, with a compound annual growth rate (CAGR) of approximately 6.20 percent over the forecast period. The report analyzes the Hybrid Power Systems market's drivers, restraints/challenges, and the effect they have on the demands during the projection period. In addition, the report explores emerging opportunities in the Hybrid Power Systems market.
Hybrid Power Systems Market: Overview
Hybrid power solutions are a growing source of energy, and they're ideal for off-grid or off-the-grid places, isolated grids, and islands where grid power isn't a cost-effective or practical choice. For efficient and consistent power delivery, hybrid power solutions combine renewable energy sources (wind and sun) with diesel generators. These hybrid power solutions are used in a variety of industries, including residential, commercial, telecommunications, mining, and oil and gas. Many businesses in the power generating industry are shifting their focus to renewable energy sources such as wind, sun, fuel cells, and water as a result of increased global awareness of renewable energy sources. As a result of this feature, the market for hybrid power systems has a bright future.
Factors such as increasing global demand for reliable electricity as a result of industrial expansion and the construction of commercial infrastructure are propelling the hybrid power solutions market. Furthermore, the falling cost of solar power generation is expected to enhance the hybrid power generation industry. However, due to demographic factors, many countries continue to rely on traditional energy producing technologies. During the forecast period, this factor is expected to limit market growth.
COVID-19 Impact:
The COVID-19 epidemic wreaked havoc on the hybrid power solutions market, causing supply chain disruptions. Providers of technology faced challenges such as getting raw materials and components for manufacture, recruiting personnel from quarantines, and delivering finished goods. Lockdown laws forced many governments to postpone the construction of hybrid power facilities.
Furthermore, rigorous lockdown rules slowed the production of manufacturing components and devices, causing overall product prices to rise and market demand to fall. The hybrid power solutions industry, on the other hand, is quickly returning to normalcy, with strong demand. Following the tightening of the lockdown in several nations, market demand is expected to climb even further.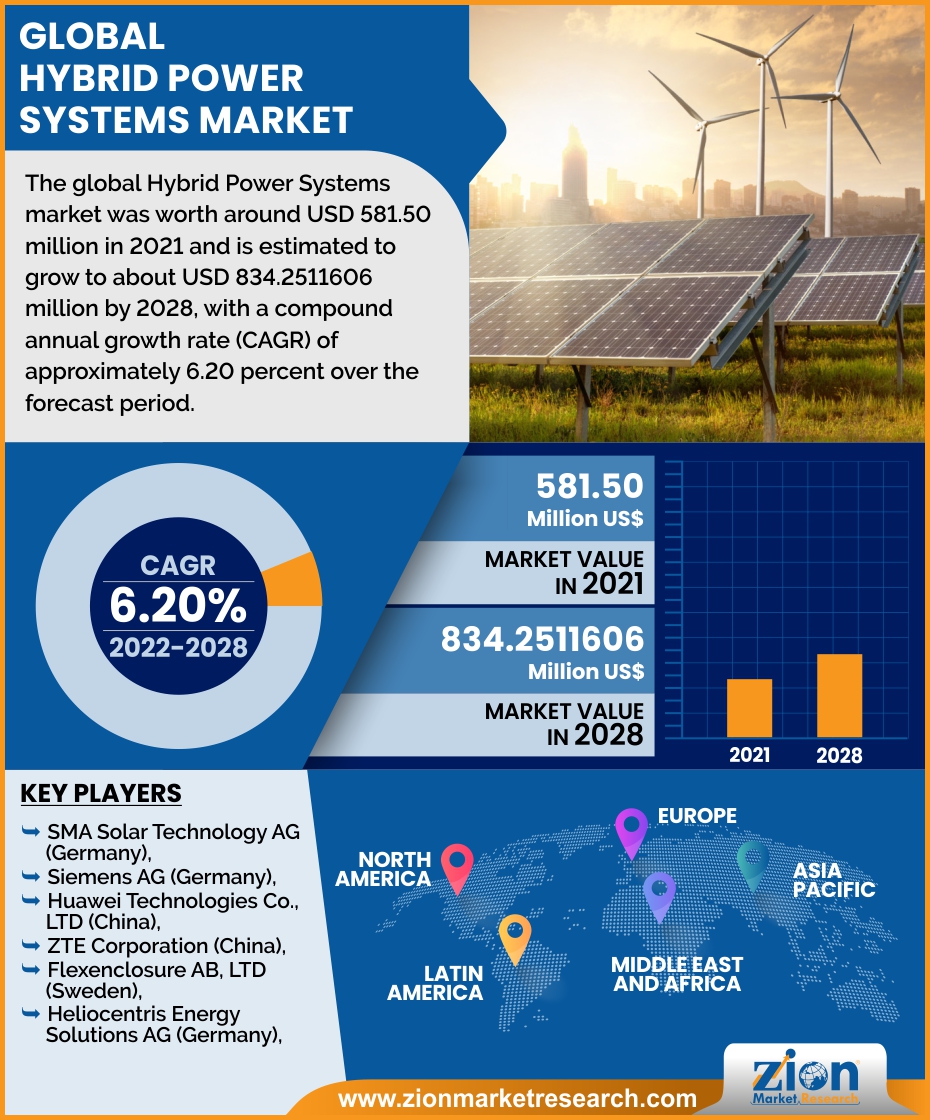 Request Free Sample
Hybrid Power Systems Market: Growth Drivers
Driver:
The capacity of hybrid power systems to reduce pollution and carbon emissions is a major market driver. Another market driver is reducing the amount of fuel consumed in the power generation industry. A major driving force is the trend toward enhanced sustainable energy sources. China and the United States, for example, are in the forefront of sustainable renewable energy resource usage. Leading developed countries to accept alternative energy sources such as wind, sun, and hybrid power solutions in various circumstances.
Restraint:
Many market difficulties stand in the way of market expansion. Some of the key issues include high component prices and a disparity in the adoption of Hybrid Power Solutions. While affluent countries such as China and the United States have moved to this system in recent years, many developing and underdeveloped countries continue to rely on large-scale Hybrid Power Solutions. In the future, parity will be achieved by resolving the high pricing of hybrid power solution components.
Opportunity:
While the system is well-known in metropolitan regions, Market Trends indicate that hybrid power solutions will be expanded to rural areas. The necessity for hybrid power solutions is becoming more urgent in remote locations as they demand continuous electrical power delivery. This requirement can be utilized to broaden the Market's reach into new areas. Another option is to switch to cleaner fuels and more environmentally friendly engines for autos. The Market's revenue channels can expand as more popular automotive manufacturers migrate to hybrid engines.
Challenge:
The high price of the Hybrid Power Solutions components that go into creating the entire solutions is the key limitation that the Market faces. The high cost of the components reduces the system's affordability. As a result, hybrid power solutions are more accessible to smaller businesses and individuals. The Market Growth prospects are harmed by this limitation.
Report Scope:
Global Hybrid Power Systems Market: Segmentation
The global Hybrid Power Systems market is segregated based on Product Type and Application.
By product type, the market is classified into Wind-Solar-Diesel-Hybrid, PV-Diesel-Hybrid and Others. This category had a significant share in 2021 and is expected to maintain its dominance throughout the forecast period. Due to increased awareness and installation of solar power systems around the world, particularly in developing nations, the wind-solar-diesel-hybrid segment is expected to be the largest market.
By application, the market is divided into Residential, Rural Facility Electrification, Commercial and Others. This category had a significant share in 2021 and is expected to maintain its dominance throughout the forecast period. Due to the growing number of small-to-medium scale industries in off-grid areas, the commercial market is the largest end-user of hybrid power solutions.
Recent Developments
The Hybrid Power Solutions Industry's primary stakeholders are involved in research and development as well as new product releases. Because the hybrid power industry is still expanding, there is a lot of room for small-scale, economical, and diverse product lines. Furthermore, the main players are going through their own struggles.
Regional Landscape
The telecom industry in the United States has grown significantly in recent years. In the United States, the introduction of 5G has enhanced the telecoms industry's growth. As a result, North America's hybrid power system market is expected to grow at a healthy rate. Asia Pacific is the global market leader in hybrid power systems. Rising technology advancements and a focus on incorporating renewable energy output into the electricity mix are two major hybrid power solutions market trends. Furthermore, the availability of cost-effective, powerful technologies is a major driver of the hybrid power solutions market.
Hybrid power solutions market size is substantiated by increased government laws to lower car emissions, as well as the proliferation of hybrid automobiles. Furthermore, growing R&D efforts to develop new products and improve the performance of existing product lines boosts the market share of hybrid power solutions in the region.
Competitive Landscape
Some of the main competitors dominating the global Hybrid Power Systems market include – SMA Solar Technology AG (Germany), Siemens AG (Germany), Huawei Technologies Co., LTD (China), ZTE Corporation (China), Flexenclosure AB, LTD (Sweden), and Heliocentris Energy Solutions AG (Germany),
The market is segmented as follows:
By Product Type
Wind-Solar-Diesel-Hybrid
PV-Diesel-Hybrid
Others
By Application
Residential
Rural Facility Electrification
Commercial
Others
By Region
North America
Europe

France
The UK
Spain
Germany
Italy
Rest of Europe

Asia Pacific

China
Japan
India
South Korea
Southeast Asia
Rest of Asia Pacific

Latin America

Brazil
Mexico
Rest of Latin America

Middle East & Africa

GCC
South Africa
Rest of Middle East & Africa