Free Analysis
Hybrid power systems are developed and designed for the use and generation of electrical power. These systems are large and consist of centralized electricity grid including more than one type of power source. Hybrid power systems are ranging from large island power grids to individual household power supplies. One of the emerging technologies for supplying electric power in remote areas is hybrid power systems that deliver the alternating current of fixed frequency. Hybrid power systems minimize power loss by transforming the AC power to a higher voltage in transferring the power over long distance. A hybrid power system may also consist of additional renewable power sources such as photovoltaic panels, wind turbines, and storage.
The primary driving factor of hybrid power systems market is the ability of these systems to reduce the cost of power generation by cutting the diesel fuel consumption. A hybrid power system is designed to reduce the power generation cost by using natural resources such as river water flow. For example, a hydroelectric plant and the battery system generate power with the help of flowing river water. Increasing adoption of technologically advanced types of equipment such as electric propulsion system in power generation further anticipates driving the growth of global hybrid power systems market. Electric propulsion system optimizes the loading of the prime movers for the gas turbine, diesel engine generators so as to reduce fuel consumption and achieve maximum efficiency. Furthermore, hybrid power systems help to reduce carbon emission and this factor has been propelling the growth of hybrid power systems market. Controlling carbon emission is one of the top priorities of many power generation companies and growing social responsibility and climate change have led numerous companies to adopt energy efficient technologies to produce energy. However, high installation cost and investments may hinder the growth of global hybrid power systems market.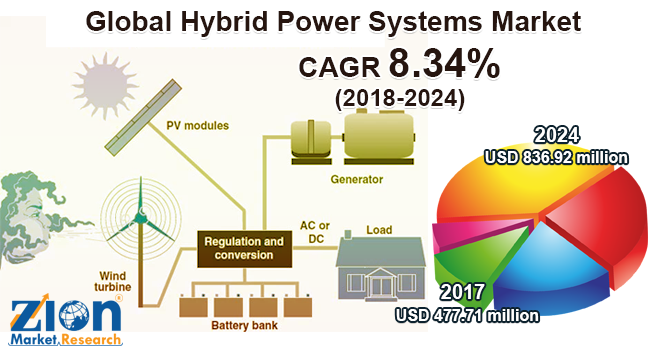 Hybrid power systems market is segmented into type, power rating, end user, and region. On the basis of type, the global market is segmented into solar (PV)-diesel, wind-solar-diesel, and others. Solar (PV)-diesel segment is expected to gain significant growth in the forecasted period in hybrid power systems market. The solar and diesel hybrid power systems use a natural source of energy such as solar irradiance to produce electricity, which is free & abundant. In comparison with other systems, solar-diesel hybrid power systems provide numerous benefits as they have the ability to reduce carbon emissions and also reduce the risks related to increasing fuel prices. Based on power rating, the global market is categorized into up to 10kW, 11kW–100kW, and above 100kW. 11kW–100kW segment is the largest segment in hybrid power systems market as compared to the other power rating segment in given forecasted period. These types of power solutions are commonly used in hybrid vehicles and other hybrid power devices. The end-user segment includes residential, non-residential, rural facility electrification, and others. Stringent government policy on rural electrification across the African region has anticipated the hybrid power systems market growth. The geographical regions where the hybrid power systems market is diversified are North America, Europe, Asia Pacific, Latin America and the Middle East and Africa with its further bifurcation into major countries.
Key players profiled in the global hybrid power systems market include Siemens AG, SMA Solar Technology AG, Danvest Energy A/S, Alpha Power Solutions, ZTE Corporation, Heliocentris Energy Solutions AG, Poweroasis Ltd., Flexenclosure AB, Ltd., Pfisterer Holding AG, and Vergnet SA.