Industry Perspective:
The report covers forecasts and analysis for the high-purity aluminum market on a global and regional level. The study provides historic data from 2015 to 2018 along with a forecast from 2019 to 2025 based on revenue (USD Million). The study includes drivers and restraints for the high-purity aluminum market along with the impact they have on the demand over the forecast period. Additionally, the report includes the study of opportunities and various trends in the high-purity aluminum market on a global level.
The high purity aluminum market size accounted for around USD 312.10 Million in 2018, growing at a CAGR of 2.6% during the forecast period of 2019-2025.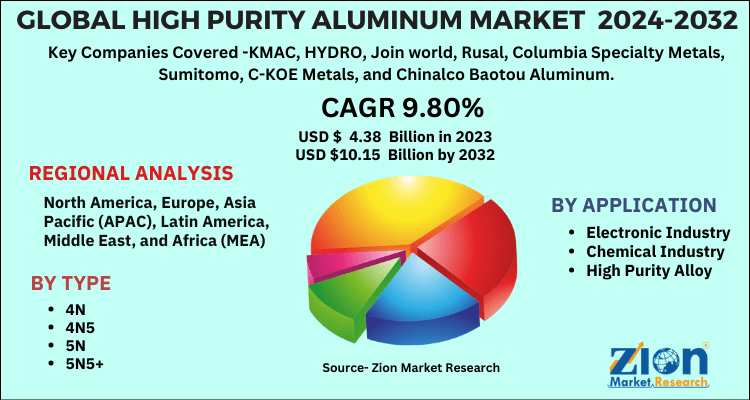 Request Free Sample
Market Growth Drivers
High purity aluminum (HPA) is referred to as aluminum with a purity equal to or higher than 99.99%, such as 99.99% (4N), 99.999%(5N), 99.9999%(6N), etc. HPA is an expensive product form of aluminum oxide (Al2O3) and it is extensively used in non-metallurgical applications across the world.
High-purity aluminum is used as a base product in order to produce sapphire substrates that are widely used in various industries. It is also used in the production of various products such as scratch resilient sapphire glasses for smartwatches as well as smartphones, plasma display screens, sodium lamps, LED lights, lithium-ion battery separators, electric vehicles, hybrid cars, semiconductors, and optical lenses, among others.
Increasing demand for aluminum products from the electronics industry is one of the major factors expected to drive the global high-purity aluminum market growth over the forecast period. Rapidly growing electronic industries are expected to positively impact industry growth in the coming years. Increasing demand for electronic gadgets such as smartphones, laptops, and tablets is expected to further drive industry growth.
The properties associated with high purity aluminum such as thermal and electrical insulation, chemical and thermal stability, and high strength, make the product highly preferable for engineering applications. Moreover, the rising demand for high-purity aluminum from the LED industry is predicted to fuel the industry's growth in the near future. However, high production costs may hinder the high purity aluminum market growth.
Rising demand for high-purity aluminum from developing countries is expected to provide potential growth opportunities for business growth over the forecast timeline.
Key Market Players & Competitive Landscape:
Some of the key players operating in the global high purity aluminum market include KMAC, HYDRO, Join world, Rusal, Columbia Specialty Metals, Sumitomo, C-KOE Metals, and Chinalco Baotou Aluminum and among others. Industry players are majorly focusing to provide high-quality products.
Global High Purity Aluminum Market: Type Segment Analysis
Global High Purity Aluminum Market: Application Segment Analysis
Electronic Industry
Chemical Industry
High Purity Alloy
Others
Global Advanced Ceramics Market: Regional Segment Analysis
North America
Europe
Asia Pacific
Latin America
Middle East and Africa