Global Syringe Labels Market Industry Prospective:
The global syringe labels market size was worth around USD 10 billion in 2021 and is predicted to grow to around USD 40 billion by 2028 with a compound annual growth rate (CAGR) of roughly 10.5% between 2022 and 2028. The report analyzes the global syringe labels market's drivers, restraints/challenges, and the effect they have on the demands during the projection period. In addition, the report explores emerging opportunities in the syringe labels market.
Global Syringe Labels Market: Overview
In the Global Syringe Labels Market Report, we analyze information on Syringe labels created with the intention of correctly identifying syringes in healthcare facilities. Syringes are the most common medical instruments or devices used for medicine administration. Its application may range from use in an IV tubing port or applying it directly to a patient's deltoid muscle. Since syringes directly enter a patient's body, they should be used in the care of a trained medical professional and it is not recommended to use them without proper training as its incorrect use may lead to severe infection and may be fatal in many conditions. As per reports published by The Agency For Healthcare Research And Quality, around 5% of hospitalized patients are affected by Adverse Drug Events (ADE). Incorrect use of syringes is one of the top inpatient errors reported worldwide, the results of which can lead to serious medical conditions. These human errors can be avoided and a lot of resources can be saved with the help of syringe labels.
A syringe label varies in the information they carry but has the same ultimate goal which is patient protection. Some syringe labels may have information related to the patient and the key medication which helps the responsible healthcare staff to correctly administer the medicine resulting in fewer errors and improved patient care. Syringe labels are recommended to be used on a regular basis however, they have proven to be extremely helpful in high-stress environments or emergency situations. The American Society of Anesthesiologists has suggested a few key elements that an ideal syringe label should have space to mention details like the time & date of preparation, name or initials of the administrator, patient's name, and administration route.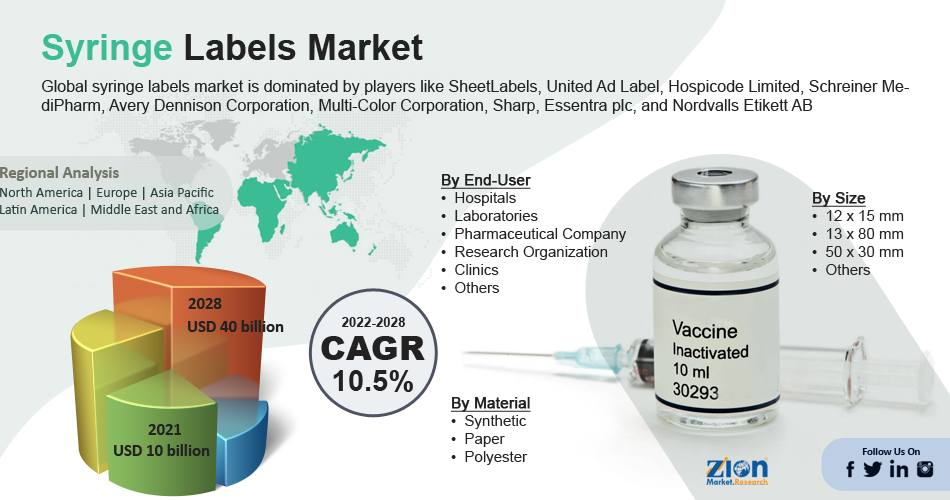 Request Free Sample
Key Insights
As per the analysis shared by our research analyst, the global syringe labels market is estimated to grow annually at a CAGR of around 10.5% over the forecast period (2022-2028).
In terms of revenue, the global syringe labels market size was valued at around USD 10 billion in 2021 and is projected to reach USD 40 billion, by 2028. Due to a variety of driving factors, the market is predicted to rise at a significant rate.
Based on material segmentation, the polyester segment was predicted to show maximum market share in the year 2021
Based on end-use segmentation, the hospitals were the leading revenue-generating users in 2021.
On the basis of region, North America was the leading revenue generator in 2021
Covid-19 Impact:
The global market cap was impacted positively because of the onset of Covid-19 owing to an increased number of hospital administrations. The Healthcare sector was under tremendous pressure in 2020 since there was an exponential rise in the number of patients administered under hospital care. Since the Covid-19 virus is a constantly mutating virus, its predictability value is lower, making it difficult for hospital staff to administer the same treatment method for all patients. In the USA, more than 1.7 million lives were lost in the first half of 2020 and the number increased during the next few months. This trend was observed globally which led to the increase in the use of syringe labels to cater to the growing hospital care demand.
Global Syringe Labels Market: Growth Drivers
Rise in deaths due to syringe-related errors to propel Global Syringe Labels Market growth
The global syringe label market growth in the coming years may be attributed to the rising number of errors made at treatment facilities, some of which include mistakes pertaining to syringe use. A report published by CNBC in 2022 related to a recent John Hopkins study stated that more than 2.5 million people die every year owing to medical errors. Some other reports have suggested that the number could be as high as 4.4 million. After heart conditions and cancer, medical errors are the third leading cause of death in the USA. There has been a growing concern over this and the hospital sector is receiving a lot of attention from advocates and international healthcare agencies over efforts made to eradicate this issue. Since syringe labels provide necessary and important information pertaining to the drugs to be administered to the patient, it aids in the prevention of unnecessary adverse reactions thus establishing themselves as an important life-saving tool. The global market may benefit from this and register high growth in the coming years.
Syringe Labels Market: Restraints
Drawbacks related to handwritten labels may impede global market expansion
Since in many situations, the units of drugs stored in syringes are non-uniform, there is a high chance of incorrect labeling in the case of handwritten labels. This is an ongoing problem and has already resulted in thousands of deaths annually. For example, medical personnel may have marked the label in milligrams but in some situations, the markings are done in ratios. This may lead to confusion amongst personnel handling the syringe before it reaches the patient resulting in unintentional errors thus restricting the global market growth
Syringe Labels Market: Opportunities
Rise in the healthcare sector in emerging economies to provide growth opportunities during the forecast period
Emerging & developing economies are focusing heavily on the development of healthcare infrastructure since it is an important index of economic growth. The manufacturers of syringe labels are targeting such economies because of their high growth potential. The global healthcare market in emerging economies is showing signs of a $2 to $4 return on investment for every $1. Looking at such growth opportunities, the trend of the pharmaceutical sector showing more interest in emerging economies is expected to gain momentum during the forecast period.
The global market share may also grow owing to the increase in digitally printed syringe labels since there seems to be a higher demand for quality and attractive-looking syringe labels. These advanced labels offer color schemes that make their identification easier thus propelling their demand.
Syringe Labels Market: Challenges
Expensive production of syringe labels to challenge global market growth
The syringe label production process can be on the higher side of overall expenses, especially for small-scale manufacturers. Since syringe labels play a critical role in medical care, their production requires approval from relevant agencies which can be a tedious task. Manufacturers have to follow stringent guidelines, the failure of which may lead to heavy losses creating challenging situations for producers and the global market cap in general.
Syringe Labels Market: Segmentation
The global syringe label market is segmented based on end-use, material, size, and region.
Based on end-use, the global market segments are hospitals, laboratories, pharmaceutical companies, research organizations, clinics, and others. The global market is led by the hospital segment owing to the increased number of patients across facilities. This may also be attributed to the high funds that hospitals possess in order to incorporate higher expenses. A UK survey of 35 hospitals showcased that these facilities use a wide variety of syringe labels to remove any syringe-related errors.
Based on material, the global market segments are synthetic, paper, and polyester. Many hospitals use polyester labels because of their impressive adhesive qualities and durability. Since hospitals or medical facilities are filled with unique solutions, different temperatures, and hard environments it is important that syringe labels can withstand all conditions, and polyester labels have proven to be more useful. Other labels are able to maintain the quality for up to 7 months however, polyester labels are known to survive more than a few years.
Based on the size, the segments are 12 x 15 mm, 13 x 80 mm, 50 x 30 mm, and others. The size used depends on the syringes being administered. Most of the vaccines used for adults require a 23 - 38 mm syringe.
Recent Development:
In January 2021, Schreiner MediPharm, a German-based leading provider of labels to the global healthcare sector, introduced a new syringe label. The launched product is a one-of-its-kind comprehensive first-opening indication designed for prefilled syringes that will aid enhancement in patient care. The product features a label that will wrap around the complete cap and the syringe barrel.
In December 2020, Becton, Dickinson, and Company, a global leader in medical technology announced that it will invest USD 1.2 billion in the next four years in developing the technology and manufacturing capacity for its prefilled syringes along with advanced drug delivery systems.
Syringe Labels Market: Report Scope
| Report Attributes | Report Details |
| --- | --- |
| Report Name | Syringe Labels Market Research Report |
| Market Size in 2021 | USD 10 Billion |
| Market Forecast in 2028 | USD 40 Billion |
| Growth Rate | CAGR of 10.5% |
| Number of Pages | 255 |
| Forecast Units | Value (USD Billion), and Volume (Units) |
| Key Companies Covered | SheetLabels, United Ad Label, Hospicode Limited, Schreiner MediPharm, Avery Dennison Corporation, Multi-Color Corporation, Sharp, Essentra plc, and Nordvalls Etikett AB. |
| Segments Covered | By End-User, By Material, By Size, And By Region |
| Regions Covered | North America, Europe, Asia Pacific (APAC), Latin America, Middle East and Africa (MEA) |
| Base Year | 2021 |
| Historical Year | 2016 to 2020 |
| Forecast Year | 2022 - 2028 |
| Customization Scope | Avail customized purchase options to meet your exact research needs. Request For Customization |
Syringe Labels Market: Regional Analysis
North America to lead global market expansion during the forecast period
The global syringe labels market may be dominated by North America in the coming years owing to the presence of multiple key players in the USA. The region houses many pharmaceutical sectors and has one of the most advanced healthcare infrastructures which is coupled with excellent medical reimbursement policies encouraging the population to opt for medical treatments without worrying about the cost. Regional growth may not just be attributed to large-scale companies but the presence of multiple small-scale and domestic players as well that are contributing significantly to regional market cap. Europe is expected to register a high CAGR owing to higher investments in the pharmaceutical sector, especially in Germany which seems to be a lucrative market for regional growth.
Syringe Labels Market: Competitive Analysis
The global syringe labels market is dominated by players like
SheetLabels
United Ad Label
Hospicode Limited
Schreiner MediPharm
Avery Dennison Corporation
Multi-Color Corporation
Sharp
Essentra plc
Nordvalls Etikett AB
The global syringe labels market is segmented as follows:
By End-User
Hospitals
Pharmaceutical Company
Research Organization
Clinics
Others
By Material
Synthetic
Paper
Polyester
By Size
12 x 15 mm
13 x 80 mm
50 x 30 mm
Others
By Region
North America
Europe

France
The UK
Spain
Germany
Italy
Rest of Europe

Asia Pacific

China
Japan
India
South Korea
Southeast Asia
Rest of Asia Pacific

Latin America

Brazil
Mexico
Rest of Latin America

Middle East & Africa

GCC
South Africa
Rest of Middle East & Africa