Industry Prospective:
The global osmium market size was worth around USD 642.93 Million in 2022 and is predicted to grow to around USD 856.58 Million by 2030 with a compound annual growth rate (CAGR) of roughly 3.82% between 2023 and 2030.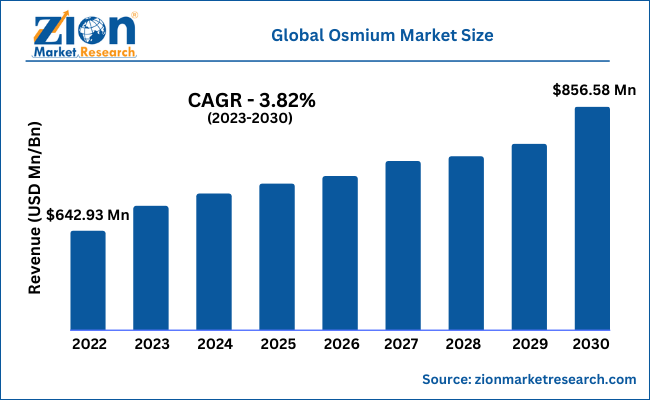 Request Free Sample
The report analyzes the global osmium market drivers, restraints/challenges, and the effect they have on the demands during the projection period. In addition, the report explores emerging opportunities in the osmium industry.
Osmium Market: Overview
Osmium is a chemical element with an atomic number of 76 and is represented by the symbol Os. The element is hard, brittle, and bluish-white. It falls in the platinum group of the periodic table. Osmium is one of the densest elements to occur naturally and has a high boiling and melting point. Os has been used extensively in the production of alloys, electrical contacts, fountain pen nibs, and other applications. Some of the major reasons for the high demand for Os in the end-user verticals are its hardness, corrosion resistance, and other desirable properties. A compound of osmium called osmium tetroxide is also used in microscopy and organic synthesis as a staining agent and oxidizing agent, respectively. The osmium industry deals with the production and end-use of osmium. During the forecast period, the market is expected to grow steadily.
Key Insights:
As per the analysis shared by our research analyst, the global osmium market is estimated to grow annually at a CAGR of around 3.82% over the forecast period (2023-2030)
In terms of revenue, the global osmium market size was valued at around USD 642.93 million in 2022 and is projected to reach USD 856.58 million, by 2030.
The osmium market is projected to grow at a significant rate due to the growing demand for sustainable packaging
Based on type segmentation, the mineral source was predicted to show maximum market share in the year 2022
Based on application segmentation, chemical manufacturing was the leading application in 2022
On the basis of region, Africa was the leading revenue generator in 2022
Osmium Market: Growth Drivers
Growing demand for osmium alloys
The global osmium market is expected to grow owing to the increasing demand for osmium alloys across end-user verticals. Osmium has been extensively researched for the production of various alloys including the materials that are used in the electrical industry. Fountain pen nibs are made of osmium. With the rising revenue in the electricals and electronics segment, the demand for osmium is expected to continue rising. In addition to this, the element has become a favorite in the research community as it is used extensively for scientific studies and development. In this sector, osmium is used as a staining agent, a catalyst, and an oxidizing agent. As the world witnesses high growth in the research & development community, the industry may also grow simultaneously. Moreover, experts and scholars with the aid of the government and large corporations are working toward improving or expanding osmium application in other industries and this could lead to more funds being diverted into the sector.
Osmium Market: Restraints
Limited availability of osmium to restrict the market growth
Osmium is not found abundantly and has only a limited supply unlike some of the other widely used elements from the periodic table. The metal is highly rare and hence the cost associated with it is also extremely high. This means that only a restricted number of products made of osmium are available in the commercial world and because of the high price, they can be purchased or used by a small group of consumers. Additionally, there are growing concerns over the safety and toxicity of the element especially if it is mishandled.
Osmium Market: Opportunities
Growing application in high technology industries to provide growth opportunities
Since osmium is a rare metal, there are certain advantages associated with the products. For instance, the element is currently most used in high-tech industries such as the production of Blu-ray discs or in the manufacturing of semiconductors. This means that companies tend to invest higher in the element as compared to more readily available metals or elements. With limited numbers of players operating in the osmium market, they have the liberty to experiment with osmium and use it in resourceful ways.
Osmium Market: Challenges
High cost of production to challenge market
The production cost of osmium is extremely high, and this is a major challenge for the global osmium industry players to tackle. The production process requires the use of specialized expertise and equipment for extracting the metal and refining it to be used for other purposes. Furthermore, the lack of standardization makes it difficult to assess the metal quality, and determining fair market share is a major roadblock to unlimited market expansion.
Osmium Market: Segmentation
The global osmium market is segmented based on application, type, and region.
Based on application, the global market segments are chemical manufacturing, jewelry, electricals & electronics, and others. Currently, the industry is led by the high application of osmium in the chemical manufacturing segment where it is used extensively as a catalyst for several chemical reactions. This also includes the production of acrylic acid and ammonia. Osmium is also used in the electrical & electronics segment where its main application lies in the production of electrical contacts, fountain pen tips, and other high-precision instruments. Although osmium is used in the jewelry sector, its use is marginal as compared to more traditional elements such as silver, gold, and platinum. As of April 2023, the price of osmium is between USD 15,000 to USD 20,000 per troy ounce.
Based on type, the osmium industry segments are recycling sources and mineral sources. Currently, the primary source of obtaining osmium is mining mineral sources. It can also be produced by refining ores that contain osmium. Recycling osmium is difficult but possible. However, it is not a common method of obtaining rare mineral since the procedures involving extracting osmium from a recycled source is extremely complex and expensive. Studies suggest that in the earth's crust, it is estimated to be around 0.001 parts per million (ppm).
Recent Developments:
In December 2022, Gauteng Refinery from Johannesburg, South Africa announced a partnership with Ingo Wolf, who is the director of Osmium-Institut für Inverkehrbringung und Zertifizierung von Osmium GmbH. The partnership requires Gauteng to supply high-quality raw osmium to the German firm during the period of the strategic alliance. The partnership is a result of the Russia-Ukraine war and countries are unable to access Russia's precious metals
In February 2021, researchers at the University of Warwick were able to detect how osmium reacts in a single cancer cell with the use of a 185-meter beamline placed at the Diamond synchrotron. The finding implies that the precious metal can be used for the treatment of cancer
Osmium Market: Report Scope
Report Attributes
Report Details
Report Name
Osmium Market Research Report
Market Size in 2022
USD 642.93 Million
Market Forecast in 2030
USD 856.58 Million
Growth Rate
CAGR of 3.82%
Number of Pages
220
Key Companies Covered
Ames Laboratory, Chivine Resources Inc., Element Six, Heraeus, Johnson Matthey, KGHM Polska Miedz SA, Materion Corporation, Merck KGaA, Norilsk Nickel, Osmium Technologies Inc., Platinum Group Metals Ltd., Prochem, Inc., Reade International Corp., Shanghai Jinchuan Group Co. Ltd., Solvay SA, Sumitomo Metal Mining Co. Ltd., Super Conductor Materials, Inc., Tanaka Kikinzoku Kogyo K.K., Umicore SA, Vital Materials Co. Ltd., VSMPO-AVISMA Corporation, WS2 Co., Ltd., Yamanaka & Company Inc., Yantai Jinpeng Mining Machinery Co. Ltd., and Zhuzhou Cemented Carbide Group Corp. Ltd.
Segments Covered
By Application, By Type, and By Region
Regions Covered
North America, Europe, Asia Pacific (APAC), Latin America, Middle East, and Africa (MEA)
Base Year
2022
Historical Year
2017 to 2021
Forecast Year
2023 - 2030
Customization Scope
Avail customized purchase options to meet your exact research needs. Request For Customization
Osmium Market: Regional Analysis
Africa to witness the highest growth
The global osmium market is expected to witness the highest growth in South Africa during the forecast period. The growth is mainly due to the presence of large reserves of rare metals in the South African territory. This default has led to a large number of mining companies locating bases in the region to reap the benefits of the expensive metal. However, it should be noted that although osmium is available in large numbers in the continent, the mining condition of the country is poor as miners face low pay and substandard living conditions.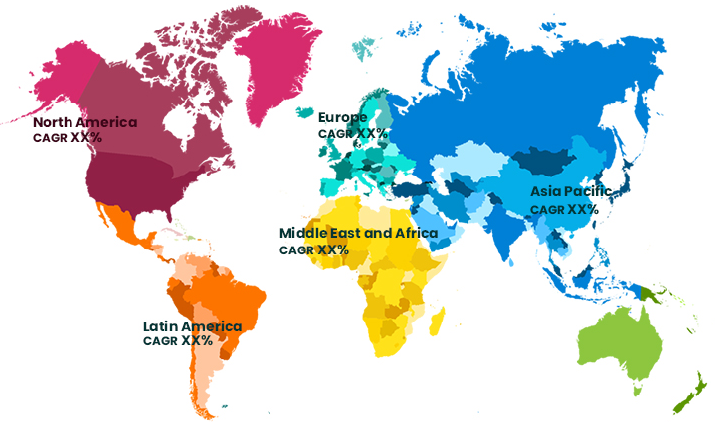 Request Free Sample
Furthermore, Asia-Pacific could emerge as a significant supplier of Osmium due to Turkey being a transcontinental region with a significant part of the population being considered Asian and only 3% of the region is located in European territory. In addition to this, with the ongoing Russia-Ukraine war, companies may drive more toward the African region along with Turkey to obtain the element.
Osmium Market: Competitive Analysis
The global osmium market is led by players like:
Ames Laboratory
Chivine Resources Inc.
Element Six
Heraeus
Johnson Matthey
KGHM Polska Miedz SA
Materion Corporation
Merck KGaA
Norilsk Nickel
Osmium Technologies Inc.
Platinum Group Metals Ltd.
Prochem Inc.
Reade International Corp.
Shanghai Jinchuan Group Co. Ltd.
Solvay SA
Sumitomo Metal Mining Co. Ltd.
Super Conductor Materials Inc.
Tanaka Kikinzoku Kogyo K.K.
Umicore SA
Vital Materials Co. Ltd.
VSMPO-AVISMA Corporation
WS2 Co. Ltd.
Yamanaka & Company Inc.
Yantai Jinpeng Mining Machinery Co. Ltd.
Zhuzhou Cemented Carbide Group Corp. Ltd.
The global osmium market is segmented as follows:
By Application
Chemical Manufacturing
Jewelry
Electricals & Electronics
And Others.
By Type
Recycling Sources
Mineral Sources
By Region
North America
Europe

France
The UK
Spain
Germany
Italy
Rest of Europe

Asia Pacific

China
Japan
India
South Korea
Southeast Asia
Rest of Asia Pacific

Latin America

Brazil
Mexico
Rest of Latin America

Middle East & Africa

GCC
South Africa
Rest of Middle East & Africa