Description
Market Overview
The global corrosion resistant resin market accounted for USD 5.62 Billion in 2020 and is expected to reach USD 8.33 Billion by 2028, growing at a CAGR of 5.6% from 2021 to 2028.
Corrosion resistance is an ability to prevent environmental deterioration happing due to chemical or electro chemical reactions. Resins are used for long term resistance to chemical attack or at a place where operating is at elevated temperatures. Epoxy coating is mainly used for protection of marine engineering as organic coatings are good option for metal protection. Polyester and vinyl resin are mainly used for manufacturing tanks, vessels, pipes which contains fuel, acid, foodstuffs and other materials that can corrode metal.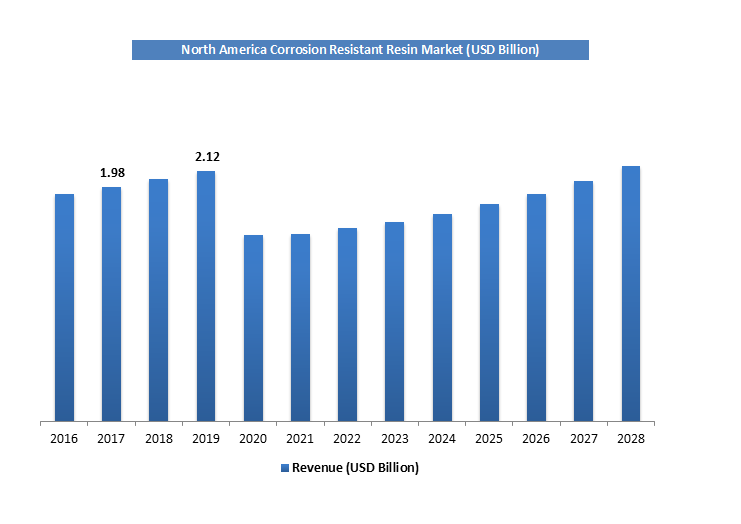 COVID-19 Impact Analysis
The outbreak of COVID-19 is unprecedented and has significantly impacted the global economy. Supply chain disruptions will likely continue which will affect the availability of equipment and parts and then it eventually impacts projects. There has been a downward slope in usage and demand for various assets like transportation, due to lockdown.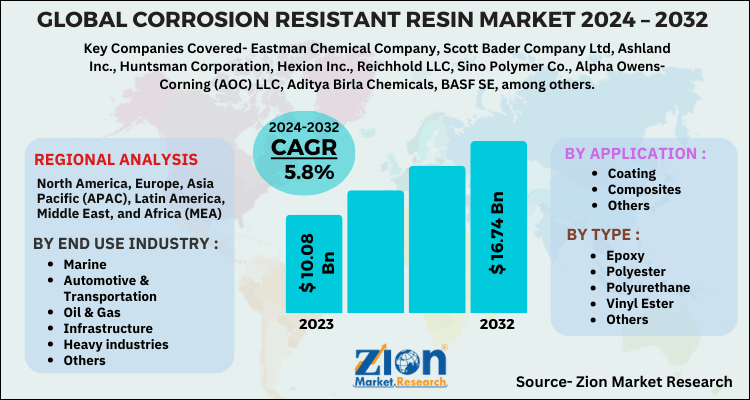 Growth Factors
Infrastructure is crucial for economic growth. Investments in infrastructure across transport, water, energy, and communication helps stimulate long term growth. This is creating opportunities for corrosion resistant resin manufacturers globally. Increasing environmental protection awareness conventionally used metals such as aluminum and carbon steel are being replaced by composites due to reasons like cost effectiveness and low maintenance. This is estimated to encourage the demand in this sector. Food and beverage industry is also contributing in the demand for corrosion resistant resin to enhance production safety and quality.
Report Scope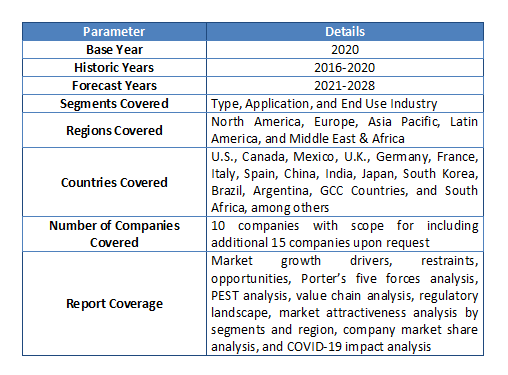 Type Segment Analysis Preview
Epoxy resin segment held a share of over 26% in 2020 and is expected to grow due to its corrosion resistance property. It is easy to apply and also reasonable in cost. These resins are commonly used to protect erosion in the production of tanks, industrial scrubbers, equipment and other purposes. Polyester, polyurethane, vinyl ester, and others form the type segment.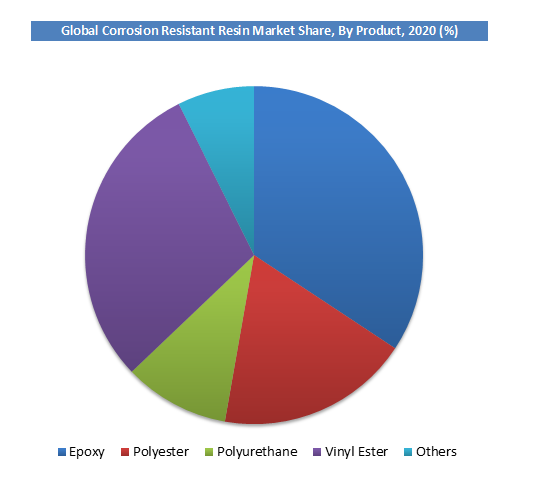 End Use Industry Segment Analysis Preview
The oil & gas segment is projected to grow at a CAGR of around 6% from 2021 to 2028. Corrosion resistant resins are widely used in this segment as coatings and composites as it possesses great corrosion resistant properties. Marine, automotive & transportation, infrastructure, heavy industries, and others form the end use industry segment.
Regional Analysis Preview
Asia Pacific held the largest market share exceeding 32% in 2020. Rapid industrialization, demand for modern infrastructure, and GDP growth in this region, are some of the reasons contributing to this share. Indian construction industry is creating a highly conducive environment for this market. Increasing investment in infrastructure in emerging economies in China and India is expected to boom the market over the coming years.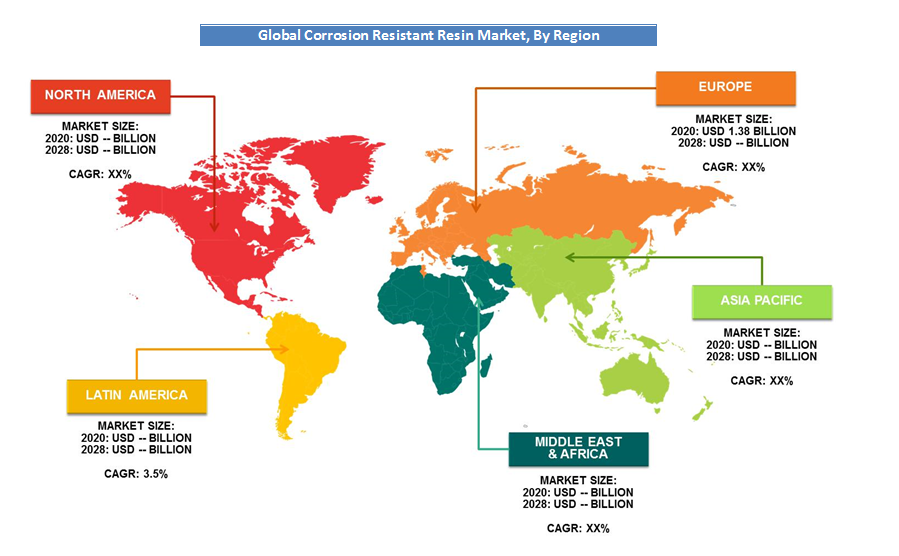 Middle East & Africa is projected to grow at CAGR of around 2.4%. This is due to a huge scope for growth in the oil & gas industry. North America and Europe is in saturation state and hence growing at a moderate pace for the corrosion resistant resin market. Countries in these regions have an established infrastructure for commercial, public, and transport sectors, which is stirring the growth.
Key Market Players & Competitive Landscape
Some of key players in corrosion resistant resin market (CRR) are Eastman Chemical Company, Scott Bader Company Ltd, Ashland Inc., Hunstman Corporation, Hexion Inc., Reichhold LLC, Sino Polymer Co., Alpha Owens-Corning (AOC) LLC, Aditya Birla Chemicals, BASF SE, among others. Investment, expansions, partnerships, agreements, and collaborations were the major growth strategies adopted by the key players in the market. For instance, Reinforcement of exclusive collaboration between BASF and Gustav Grolman Gmbh & Co. KG happened in 2018 for processing professionally in epoxy resin segment.
The global corrosion resistant resin market is segmented as follows:
By Type
Epoxy
Polyester
Polyurethane
Vinyl Ester
Others
By Application
Coating
Composites
Others
By End Use Industry
Marine
Automotive & Transportation
Oil & Gas
Infrastructure
Heavy industries
Others
By Region
North America
Europe

France
The UK
Spain
Germany
Italy
Rest of Europe

Asia Pacific

China
Japan
India
South Korea
Southeast Asia
Rest of Asia Pacific

Latin America

Brazil
Mexico
Rest of Latin America

Middle East & Africa

GCC
South Africa
Rest of Middle East & Africa