Axial Flow Pump Market Size And Industry Analysis
The global axial flow pump market size was worth around USD 27 billion in 2021 and is predicted to grow to around USD 42 billion by 2028 with a compound annual growth rate (CAGR) of roughly 4.41% between 2022 and 2028. The report analyzes the global axial flow pump market's drivers, restraints/challenges, and the effect they have on the demands during the projection period. In addition, the report explores emerging opportunities in the axial flow pump market.
Axial Flow Pump Market: Overview
An Axial flow pump (AFP) is a common form of fluid moving device or a pump with the key point of differentiation being the installation of a propeller in the pipe. For the device to function, the propeller is steered by a sealed motor by either an electric motor mounted to the pipe in the external environment or by a sealed motor installed within the pipe. Another common method of operating an axial flow pump involves a pipe piercing the right-angle drive shaft. The pump is named axial owing to its capability of allowing the flowing fluid particles to retain their radial locations because the radius at the suction or entry point and discharge or the exit point of the pump is very small.
The design of an ideal APF involves an impeller which is more or less like a propeller that runs through the device in a casing. When the liquid flows over the impeller, the necessary pressure is generated automatically due to this force of the liquid flow. The fluid always flows parallel to the impeller shaft without changing its radial locations. One of the main characteristics of an axial flow pump is that the head at the zero flow rate cannot be more than three times the head at the pump's optimization point, and as the flow decreases the power requirement increases simultaneously.
This indicates that the highest power is drawn at a zero flow rate. This point is the main difference between an AFP and a centrifugal pump where with increasing flow, power requirement as well. Axial flow pumps are becoming extremely popular since they have a high flow rate or discharge rate at a low vertical distance or low head. For instance, the device can pump up to 3X more fluids like water at lifts that are less than 4 meters as compared to other kinds of centrifugal pump or common radial flow. With a simple change in pitch on the propeller, AFP can also be customized so that it runs at peak efficiency at either high-flow / low-pressure or at low-flow / high-pressure. Since the axial pump is not severely impacted due to the turning of the fluid, and owing to the short length of the impeller blades, combining both these properties results in lowered hydrodynamic losses along with better stage efficiencies.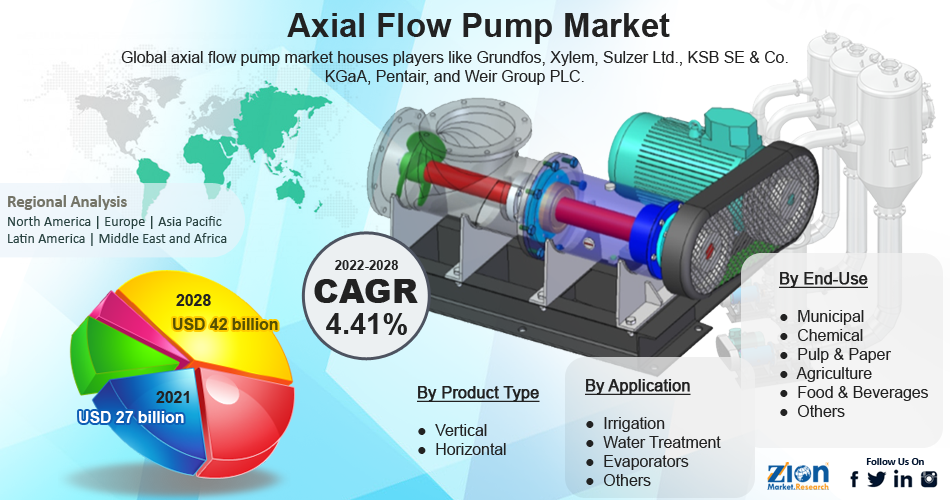 Request Free Sample
Key Insights
As per the analysis shared by our research analyst, the global axial flow pump market is estimated to grow annually at a CAGR of around 4.41% over the forecast period (2022-2028).
In terms of revenue, the global axial flow pump market size was valued at around USD 27 billion in 2021 and is projected to reach USD 42 billion, by 2028. Due to a variety of driving factors, the market is predicted to rise at a significant rate.
Based on product type segmentation, horizontal was predicted to show maximum market share in the year 2021
Based on end-use segmentation, agriculture has the leading revenue-generating end-use in 2021.
On the basis of region, Asia-Pacific was the leading revenue generator in 2021
Covid-19 Impact:
The global market cap was impacted negatively due to Covid-19 because of reduced demand in the petrochemical, chemical, agricultural, and other sectors. This was driven by the temporary halt on such units because of measures like lockdown and social distancing. For instance, as per a CNBC report in April 2020, oil & gas companies were projected to lose over USD 1 trillion in 2020 owing to the impacts of the virus.
Axial Flow Pump Market: Growth Drivers
Rising applications in heavy industrial units to propel market growth
The global axial flow pump market growth is anticipated owing to the wide applications the device has in almost all heavy industrial sectors including agriculture, petrochemical, chemical, sewage maintenance, and others. All of these sectors are a few of the largest economy-driving sectors while also being the highest revenue-generating industries. For instance, axial flow pumps are used extensively in managing sewage systems for all types of municipal, industrial, and commercial, sources.
The waste water treatment services industry currently generates a revenue of over USD 300 billion and may further go up to USD 490 billion in the next few years growing at a CAGR of 7%. This increase is related to the growing population, industrialization, and urbanization resulting in tremendous amounts of wastewater left to be treated to avoid environmental, social, and biological repercussions. Another sector using AFP is the global agricultural industry where extremely powerful AFPs are used to lift water serving the purpose of irrigation. Since these devices are known for reducing energy usage and also aiding cost reduction, many farming agencies are increasingly investing in these devices for optimizing the agricultural sector.
Axial Flow Pump Market: Restraints
Challenges posed in regards to the use of highly viscous fluid to restrict the market growth
Axial flow pumps generally work efficiently for low fluids with low viscosity since they can only generate high capacities and low heads. They are also not deemed suitable for any form of suction life owing to low discharge and head pressure. These factors make the device useful for use when pumping fluids that are extremely viscous in nature. In most cases, a rotary lobe pump is recommended to be used while working with viscous fluids which may restrict the global market growth during the projection period.
Axial Flow Pump Market: Opportunities
Increase in water management systems in developing and populated economies to provide growth opportunities
The global market may benefit from the rising investment in managing wastewater in highly populated countries like India and China. These economies house a total of 2.8 billion people. They are also amongst economies that are rapidly moving towards industrial growth. Both of these combines have resulted in amassing huge quantities of wastewater, and are investing heavily in upgrading their systems for managing this waste. For instance, India currently has a capacity of treating 18.62% of its wastewater and an additional 5.1% is expected to be added in the next few years.
Axial Flow Pump Market: Challenges
Other forms of high-powered flow pump to challenge market growth
Owing to certain restrictions posed during the use of AFP for various types of fluid, many segments are now adopting substitutes for AFP that are capable of providing the benefit of axial pumps while also delivering other uses. These restrictions include the ability to generate a head of a maximum of 20 feet which may lead to challenging situations for global market growth.
Axial Flow Pump Market: Segmentation
The global axial flow pump market is segmented based on application, product, end-use, and region.
Based on application, the global market segments are irrigation, water treatment, evaporators, and others. The global market is dominated by the irrigation segment since the device is capable of providing high flow rates at low pressures which is most suitable for processes like irrigation, sewage management, and others. For instance, as per data submitted by Chenyu, China is expected to invest around 120 billion yuan by 2025 in upgrading sewage management systems.
By product, the global market is divided into vertical and horizontal. The global market generated the highest revenue in 2020 from the horizontal axial flow pumps, and the CAGR for the segmental growth is around 4.25% during the projection period. The factors contributing to the high adoption rate are the ease of use, hassle-free assembling and disassembling of the equipment, along with other factors like high discharge rate, quick inspections, and adjustable pump housing.
Based on end-use, the global market is segmented into municipal, chemical, pulp & papers, agriculture, food & beverages, and others. Agriculture led the global market share in 2020 and may grow at a CAGR of 3.9% by 2028. The growth is driven by the high demand for the products amongst agricultural leaders owing to the benefits of the axial flow pumps like easy drainage. Fisheries is another segment that utilized AFPs to great extent and contributes heavily to the segmental growth.
Recent Developments:
In February 2020, Weir Minerals launched three brand new Lewis pumps to provide better devices to the customers. The products are Lewis® Horizontal Process Pump, New Lewis® VL Axial Pump, and Lewis® Vertical High-Pressure Molten Salt Pump. These devices are examples of combining effective and advanced engineering along with unmatched pump performance supported by the long-term wear life of Lewmet nickel-chrome alloy.
In May 2019, ITT announced that it has completed the acquisition of Rheinhütte Pumpen Group, a market leader in the production of axial and centrifugal pump flow. The acquisition is following ITT's vision to enter the target market while also providing a new portfolio to the company's Industrial Processes (IP) segment. These new segments will allow the company to provide pumps suitable for harsh, corrosive, high-temperature, and abrasive environments.
Axial Flow Pump Market Report Scope:
Report Attributes
Report Details
Report Name
Axial Flow Pump Research Report
Number of Pages
187
Key Companies Covered
Grundfos, Xylem, Sulzer Ltd., KSB SE & Co. KGaA, Pentair, and Weir Group PLC.
Segments Covered
By Product Type, By Application, and By End Use
Forecast Units
Value (USD Billion), and Volume (Units)
Regions Covered
North America, Europe, Asia Pacific (APAC), Latin America, Middle East and Africa (MEA)
Countries Covered
North America: U.S and Canada
Europe: Germany, Italy, Russia, U.K, Spain, France, Rest of Europe
APAC: China, Australia, Japan, India, South Korea, South East Asia, Rest of Asia Pacific
Latin America: Brazil, Argentina, Chile
The Middle East And Africa: South Africa, GCC, Rest of MEA
Base Year
2021
Historical Year
2016 to 2020
Forecast Year
2022 - 2028
Customization Scope
Avail customized purchase options to meet your exact research needs. Request For Customization
Axial Flow Pump Market: Regional Analysis
Asia-Pacific to grow at the highest CAGR during the forecast period
The global axial flow pump market is expected to be dominated by Asia-Pacific owing to the high demand for axial flow pumps in regions like China and India which are highly agricultural economies. The increasing use of sewage systems, irrigation, and fishery is expected to drive regional growth. The Indian fisheries segment supports the livelihood of over 28 million people and is the world's second-largest fish producer. The government and the private sector are investing heavily in meeting the global demand from the fisheries segment which may aid global market expansion. India is expecting more than USD 9 billion of investment by 2025 in this sector.
Growth in China is anticipated to be driven by the increasing number of players in the market producing AFPS and other forms of flow pump to meet the exponentially rising demand for the devices. Europe and North America may also grow at a high CAGR majorly driven by the rising number of exploration activities. The growing chemical and petrochemical industry may also contribute to regional revenue. The US is the world's largest producer of chemical products with a market value of over USD 770.5 billion including the chemicals used in the pharmaceutical sector.
Axial Flow Pump Market: Competitive Analysis
The global axial flow pump market houses players like Grundfos, Xylem, Sulzer Ltd., KSB SE & Co. KGaA, Pentair, and Weir Group PLC.
The global axial flow pump market is segmented as follows:
By Application
Irrigation
Water Treatment
Evaporators
Others
By Product Type
By End-Use
Municipal
Chemical
Pulp & Paper
Agriculture
Food & Beverages
Others
By Region
North America
Europe

France
The UK
Spain
Germany
Italy
Rest of Europe

Asia Pacific

China
Japan
India
South Korea
Southeast Asia
Rest of Asia Pacific

Latin America

Brazil
Mexico
Rest of Latin America

Middle East & Africa

GCC
South Africa
Rest of Middle East & Africa