Electric Motors Market: Industry Perspective
The report analyzes and forecasts the electric motors market on a global and regional level. The study offers historical data from 2013 to 2018 and forecasts from 2019 to 2027 based on revenue (USD Million). The assessment of electric motors market dynamics gives a brief insight into the drivers and restraints of the market along with their impact on the demand over the years to come. Additionally, the report also includes the study of opportunities available in the electric motors market on a global level.
The report gives a transparent view of the electric motors market. We have included a detailed competitive scenario and portfolio of the leading vendors operating in the electric motors market. To understand the competitive landscape in the electric motors market, an analysis of Porter's Five Forces model for the electric motors market has also been included. The study encompasses a market attractiveness analysis, wherein all the segments are benchmarked based on their market size, growth rate, and general attractiveness.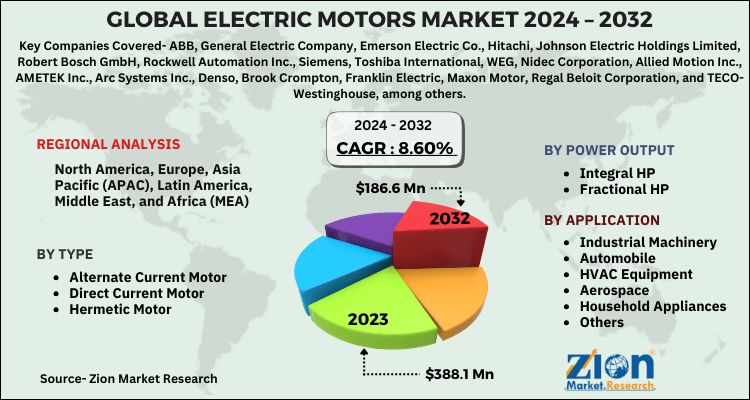 Request Free Sample
The study provides a crucial view of the electric motors market based on type, power output, application, and region. The regional segmentation comprises the current and forecast demand for the Middle East and Africa, North America, Asia Pacific, Latin America, and Europe with further classification of the U.S., Canada, Mexico, UK, France, Germany, Italy, Spain, China, Japan, India, Australia, South Korea, Brazil, Argentina, UAE, Saudi Arabia, and South Africa.
Some noticeable players in the global electric motors market include ABB, General Electric Company, Emerson Electric Co., Hitachi, Johnson Electric Holdings Limited, Robert Bosch GmbH, Rockwell Automation Inc., Siemens, Toshiba International, WEG, Nidec Corporation, Allied Motion Inc., AMETEK Inc., Arc Systems Inc., Denso, Brook Crompton, Franklin Electric, Maxon Motor, Regal Beloit Corporation, and TECO-Westinghouse, among others.
This report segments the global electric motors market as follows:
Global Electric Motors Market: By Type
Alternate Current Motor
Direct Current Motor
Hermetic Motor
Global Electric Motors Market: By Power Output
Integral HP
Fractional HP
Global Electric Motors Market: By Application
Industrial Machinery
Automobile
HVAC Equipment
Aerospace
Household Appliances
Others
Global Electric Motors Market: By Region
North America
Europe
Asia Pacific
Latin America
The Middle East and Africa